Meryl Streep Just Got Closer To an EGOT With This Grammy Nomination
Meryl Streep is coming for that EGOT. The nominees for the 63rd annual Grammy Awards were announced on Nov. 24, and while the internet was busy freaking out over Beyoncé, Taylor Swift, BTS, and Harry Styles' nominations, among others, they might have missed that The Meryl Streep also snagged a nomination.
Should Streep win her category, she will be one step closer to being added to the coveted—and very short—list of artists who have reached EGOT status.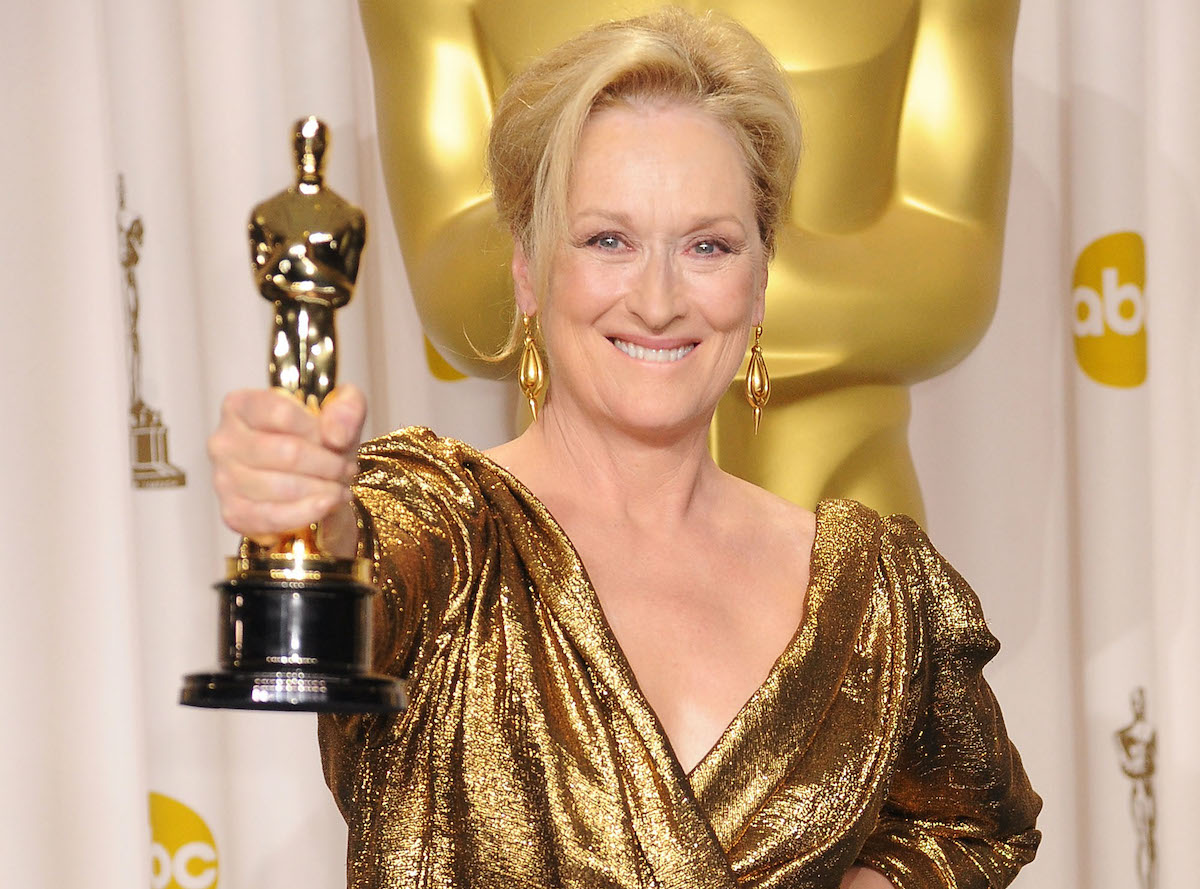 What is an EGOT?
The highest rewards an artist can receive for the various artistic mediums are Emmy Awards (TV), Grammy Awards (music), Oscars/Academy Awards (film), and Tony Awards (theater). Reaching EGOT status means an artist has won at least one Emmy, one Grammy, one Oscar, and one Tony. Reaching this level of success is considered the grand slam of show business.
There are only 16 people in history who have an EGOT—longtime Disney composer Alan Menken being one of the most recent.
Richard Rodgers, Helen Hayes, Rita Moreno, John Gielgud, Audrey Hepburn, Marvin Hamlisch, Jonathan Tunick, Mel Brooks, Mike Nichols, Whoopi Goldberg, Scott Rudin, Robert Lopez, John Legend, Andrew Lloyd Webber, Tim Rice, and Menken are all of history's EGOT winners.
Lopez, half of the music team behind the music in Frozen (the other half is his wife, Kristen Anderson-Lopez), is the only person in history to have EGOT'd twice.
RELATED: Does Cher Have an EGOT?
How close is Meryl Streep to an EGOT?
While Streep is the most nominated actor in the history of the Oscars, she has not yet reached EGOT status. She has, however, been nominated at all four of the major award shows.
Streep has collected 21 Oscar nominations in her lifetime and has won three (two for Best Actress, one for Best Supporting Actress). She has received five Emmy nominations, of which she won three. She has received one Tony nomination, and her Grammy nomination on Nov. 24 marks her sixth nomination for music's biggest night.
Streep is nominated for Best Spoken Word Album at the 2021 Grammy Awards for her reading of E.B. White's Charlotte's Web. Also nominated in the category are Jeopardy! interim host Ken Jennings for Alex Trebek – The Answer Is…, Ronan Farrow for Catch and Kill, Rachel Maddow for Blowout: Corrupted Democracy, Rogue State Russia, and the Richest, Most Destructive Industry On Earth, and Flea of the Red Hot Chili Peppers for Acid for the Children: A Memoir.
This isn't Streep's first nomination for a spoken word album. The 71-year-old was previously nominated for Best Spoken Word Album for Children in 2007 for The One And Only Shrek, The Tailor Of Gloucester and The Tale Of Peter Rabbit in 1988, and The Velveteen Rabbit in 1985. She was also nominated for Best Complication Soundtrack for Motion Picture in 2008 for Mama Mia.
If the Big Little Lies alum wins her category at the 2021 Grammys on Jan. 21, she will only need to win a Tony Award in order to reach EGOT status. And given her lifetime of award nominations and wins and her classical theater training from one the best drama schools in the world (Yale School of Drama), it's entirely possible she will.