Miles Teller Reveals How His 'Top Gun: Maverick' Character Got His Callsign
Miles Teller has seemingly done a little bit of everything in his relatively short acting career. He worked with Nicole Kidman in one of his earliest roles, starred in a Footloose remake, and had an acclaimed breakout role in Whiplash. Fans of the original Top Gun only have to wait a few weeks to see Teller and Tom Cruise take to the skies in Paramount's long-awaited sequel, Top Gun: Maverick. 
Teller plays Bradley "Rooster" Bradshaw, the son of Anthony Edwards' Goose from the first movie, in the sequel. According to Teller, the "Rooster" callsign was all him.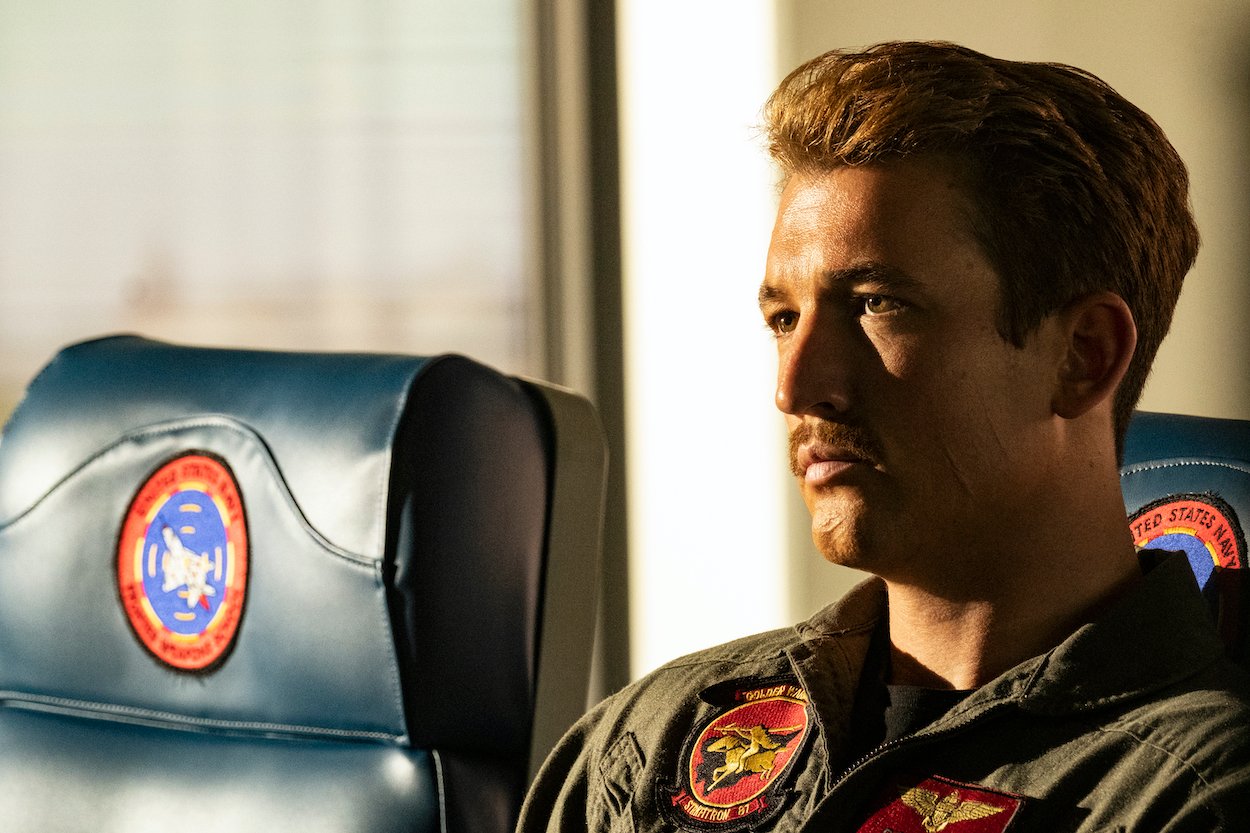 Teller says he came up with the 'Rooster' callsign in 'Top Gun: Maverick'
As a sequel nearly 40 years in the making (the original hit theaters in 1986), the creative team behind Top Gun: Maverick had quite a bit of time to hash out details.
Except for Bradshaw's callsign.
According to Teller, he came up with the "Rooster" callsign for his character. He put quite a bit of thought into it before getting approval from Tom Cruise, the star of both movies and a producer on the sequel, according to Empire.
"I thought it sounded like it was in the same family. I thought it was cool, and I got the seal of approval from Tom."

Miles Teller
When Top Gun: Maverick hits theaters, Teller's "Rooster" will join Cruise's "Maverick" and Val Kilmer's "Iceman" in the skies.
Teller had competition for the role
Unsurprisingly, Teller was hardly the only young actor who wanted to star alongside Cruise in Top Gun: Maverick. He beat out Glen Powell and Nicolas Hoult, among others, to win the "Rooster" role. And it wasn't easy.
Cruise is a producer of the movie. Instead of holding auditions on a sound stage or in a studio office, actors went to his house to read for the part.
Preparing for the role (once he won it) also pushed Teller to his limits. Keeping up with the energetic Cruise was no easy task. Neither was experiencing the extreme g-forces in training flights ahead of production and filming stunts live.
Teller wasn't the actor going through the rigors of training for Top Gun: Maverick. Though Powell lost out on the role of "Rooster" to Teller, he so impressed Cruise and co-producer Jerry Bruckheimer gave him the role of "Hangman" in the film.
What we know about 'Top Gun: Maverick' so far
Fans have been waiting for quite some time for Top Gun's sequel to hit theaters. Cruise teased the movie in 2016 and revealed the title in 2017 ahead of a July 2019 release. June 2020, December 2020, July 2021, and November 2021 release dates never came to fruition, according to Looper. May 27, 2022, is the release date (unless something else changes between now and then).
The plot details for Top Gun: Maverick are closely guarded, but the official trailer provides some clues. Cruise's Maverick has hardly advanced in rank in more than 30 years. He still covets a seat in the cockpit, and it appears that because of his experience and talents as a pilot, his naval superiors have tasked him with training the next generation of Top Gun pilots.
We see him launch from an aircraft carrier, speed along an active runway on his motorcycle, fly supersonic through narrow passes, and dive over a mountain upside down. 
Even though roosters can't fly, it appears Teller's "Rooster" will hardly touch the ground in Top Gun: Maverick.