'Moon Knight:' Ethan Hawke Almost Reveals Exactly Which Character He Will Play in the Marvel Cinematic Universe
Disney announced in Jan. 2021 that actor Ethan Hawke had officially joined the Marvel Cinematic Universe. The prestigious actor, known for his independent film work, is currently playing an undisclosed villain role opposite Oscar Isaac in Moon Knight.
The upcoming Disney+ series is based on the comic book character of the same name. Moon Knight, aka Marc Spector, is a former Marine with dissociative identity disorder who becomes a vessel for an Egyptian moon god. Isaac is playing Spector.
On a recent Late Night with Seth Meyers appearance, Ethan Hawke revealed major details about his upcoming role on the superhero show. Let's break down some of this new information.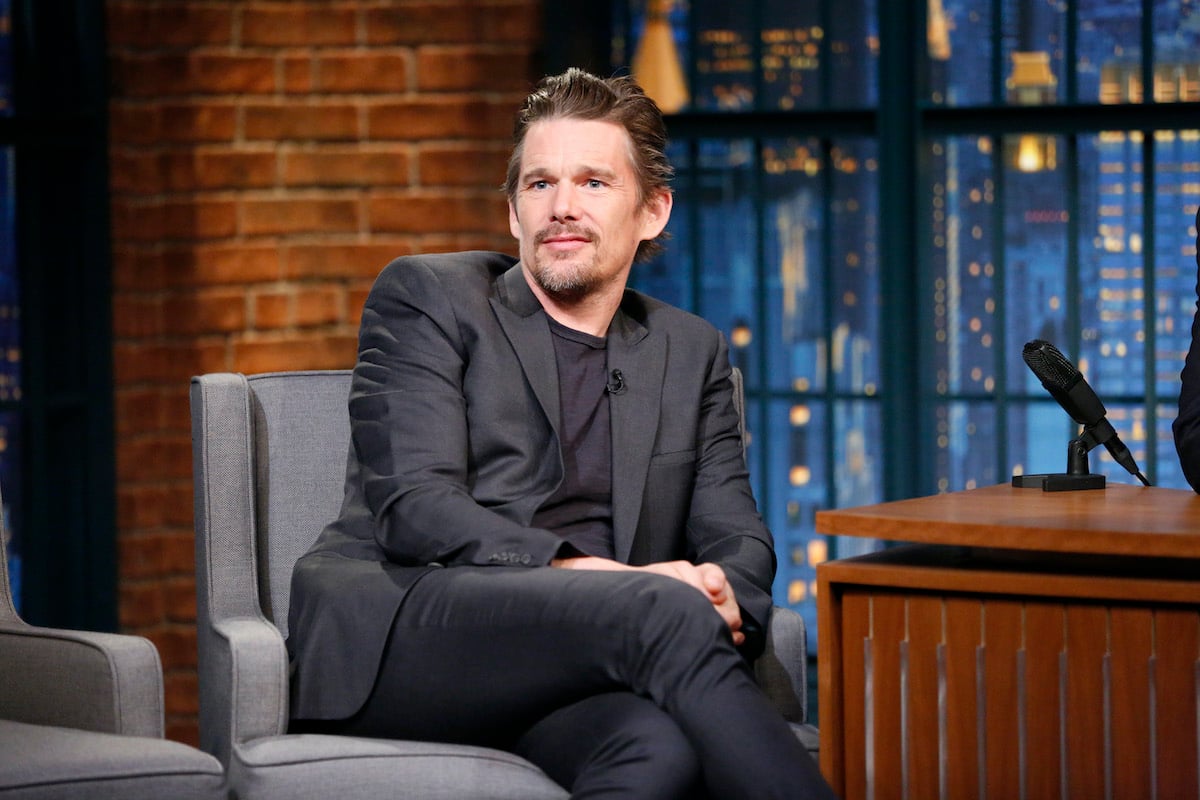 Oscar Isaac approached Ethan Hawke about 'Moon Knight' in a coffee shop
If you think most of Marvel's business dealings happen inside of a board room, think again. As Hawke told Meyers, Isaac initially offered him his role in Moon Knight in public. 
"I heard about it from Oscar Isaac, who lives like three blocks down the street from me in Brooklyn. I was at a coffee shop and he came up to me. He said, 'Hey. I really like The Good Lord Bird,'" Hawke recounted, referencing his Civil War miniseries about John Brown.  I was like, 'Oh, cool. I really like your work. You're amazing!'" 
The way Hawke tells the story, Isaac just asked him right after that. "He was like, "Want to be in 'Moon Knight' with me? I was like, "Yeah!" So it happened the right way." Obviously, Hawke met with Kevin Feige and the Marvel team to work out the kinks, but what was once asked at a Brooklyn coffee shop is now being film in Budapest.
He didn't reveal much more about what he and Isaac were doing in Hungary. However, he did say, "We're conjuring ancient gods and fighting for good and evil. It's very exciting."
Ethan Hawke had to sign NDAs for 'Moon Knight'
During his interview with Meyers, Hawke admitted that being a part of the Marvel Cinematic Universe was unlike "anything [he's] ever done before." In particular, the studio's notorious secrecy policy took Hawke off-guard. 
"I had to sign like 10,000 NDAs about what I would and would not say which I've never done, which I don't respect and I don't honor, so I'm happy to talk to you about it completely," the actor joked. 
Clearly, the actor does take the studio's secrecy seriously. While recounting how Isaac asked him to join the project, Hawke started a sentence that he quickly retracted. "[Isaac] was like, 'Want to be the… Want to be in 'Moon Knight with me?" he ended up saying.
Marvel's production team impressed Ethan Hawke
While Hawke remained tight-lipped about which specific character he will play, he did not hesitate to praise the production team behind Marvel and Moon Knight.
"I've been acting since I was 13. I did my first movie in 1985 and that's a long time ago. These are the best sets I've ever been on in my life," he gushed. Hawke's first film was Explorers, and went on to star in Dead Poets Society, Reality Bites, and Training Day. 
'The costumes, the set, the production design, the cinematography — all those elements are kind of mind-boggling. So I have entered some alternate universe, and it is kind of interesting," he concluded.