'Moon Knight:' Ethan Hawke is Basing His Marvel Villian on an Infamous Cult Leader
Ethan Hawke just dropped major details about the upcoming Moon Knight series. The veteran character actor Zoomed into Late Night with Seth Meyers on Aug. 12 from Budapest, where he is currently filming the Marvel project.
While joking about Hawke's appearance, Meyers got the actor to reveal one of his inspirations for his Moon Knight persona. It turns out Hawke is a true crime fan and based his not-yet-announced character on a famed cult leader. Though not much has been revealed about the project, this interview could confirm Hawke is playing the villain.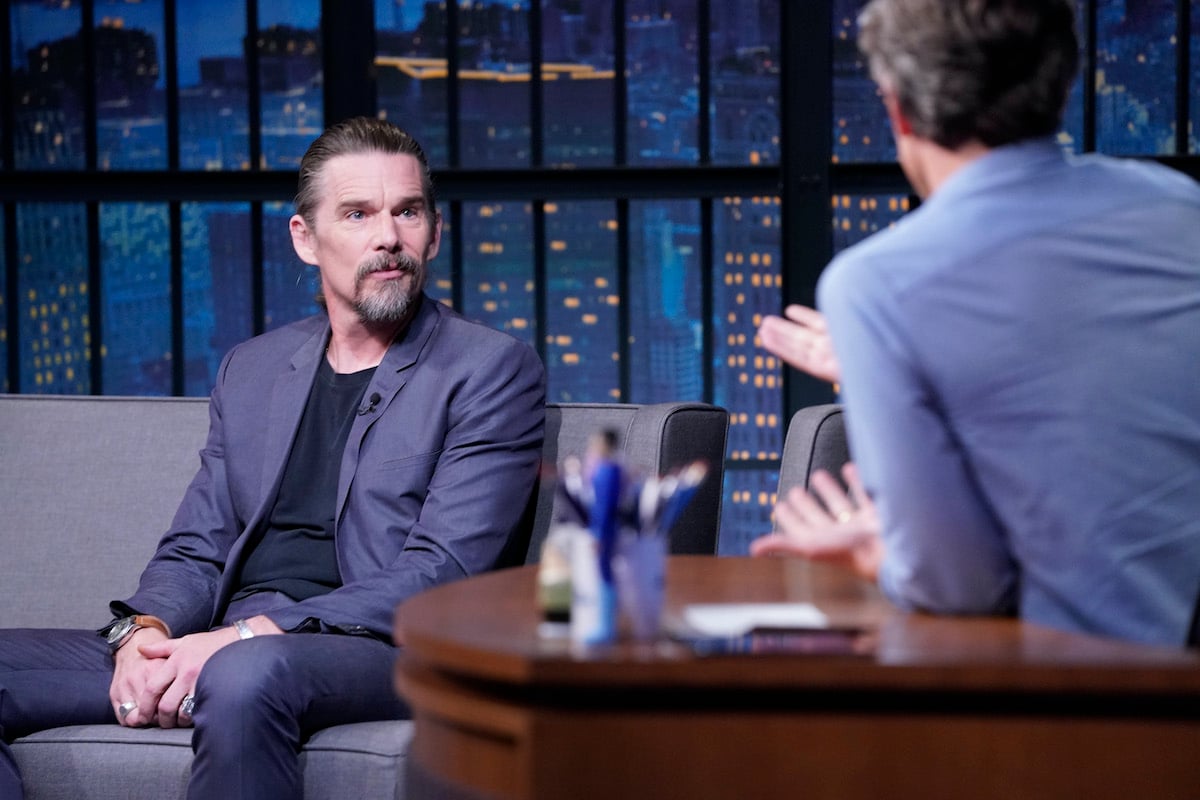 What we know about 'Moon Knight'
The upcoming Disney+ series will be based on the comic book character of the same name. Moon Knight, aka Marc Spector, is a former Marine with dissociative identity disorder who becomes a vessel for an Egyptian moon god. He is an expert at hand-to-hand combat. Per the official character's website, his strength, stamina, and reflex levels fluctuate with the moon's phases. Isaac is playing Spector.
Hawke's role is being kept under wraps. However, fans, as well as Screen Rant, speculate Hawke is playing Marvel's version of Dracula. This would bring more supernatural elements to the show and possibly set Dracula up to fight Blade in a recently announced project. Two-time Oscar winner Mahershala Ali is playing the vampire hunter.
Ethan Hawke is taking character inspiration from the Waco Siege
What started as a joke turned out to be true.
With long hair and big glasses, the actor looked more disheveled than usual, which Meyers commented on. "By the way, I should note that with those glasses, your long hair, and those candles [behind you], you're giving off a real David Koresh vibe," Meyers joked before laughing.
Hawke chuckled as he gave the host finger guns. "I've based my character on David Koresh!" the actor admitted. "I guess it's working!"
What aspects of David Koresh could Hawke be drawing from for 'Moon Knight'?
Koresh was the leader of the Branch Davidians, a small religious community based outside of Waco, Texas. The apocalyptic sect believed David was the son of God. Therefore, the Branch Davidians would be saved when the world ended.
In 1993, at the end of a 51-day stand-off with police and the FBI, Koresh set his compound on fire. He, along with 76 followers, died. 25 of the victims were children. During and after the siege, it was revealed Koresh used his power for sexual coercion and manipulation. He was also stockpiling weapons.
Koresh was known to drive a black Camaro around Waco, TX, before the siege. "I tell you, I wanted a Camaro. I wanted to ride in on a Camaro," Hawke told Meyers. Later on in his interview, the actor admitted he was a fan of crime writing.
"I will say he is the basis of great character inspiration," Hawke told Meyers of the cult leader. By all accounts, Koresh was extremely charismatic and selfish. Those two qualities could easily transfer to Dracula if that is the character Hawke is playing. Moon Knight is expected to be released in 2022.
RELATED: 'Moon Knight': What Did Ethan Hawke Say About Superhero Movies Before Joining the MCU?