'Moon Knight': Which Villain Does Ethan Hawke Portray in the Marvel Disney+ Show?
Marvel has kept the identity of Ethan Hawke's character in 'Moon Knight' under wraps, but the trailer might have revealed which villain he plays.
The trailer for Marvel's newest Disney+ show is finally here, and Moon Knight looks ridiculously good. Marvel Cinematic Universe fans are raving about the first look at the series, and they are already counting down the days until the premiere. Until then, though, everyone will start to pick apart the trailer and theorize about what will happen in the show. Notably, many speculate that Ethan Hawke plays an iconic villain in Moon Knight.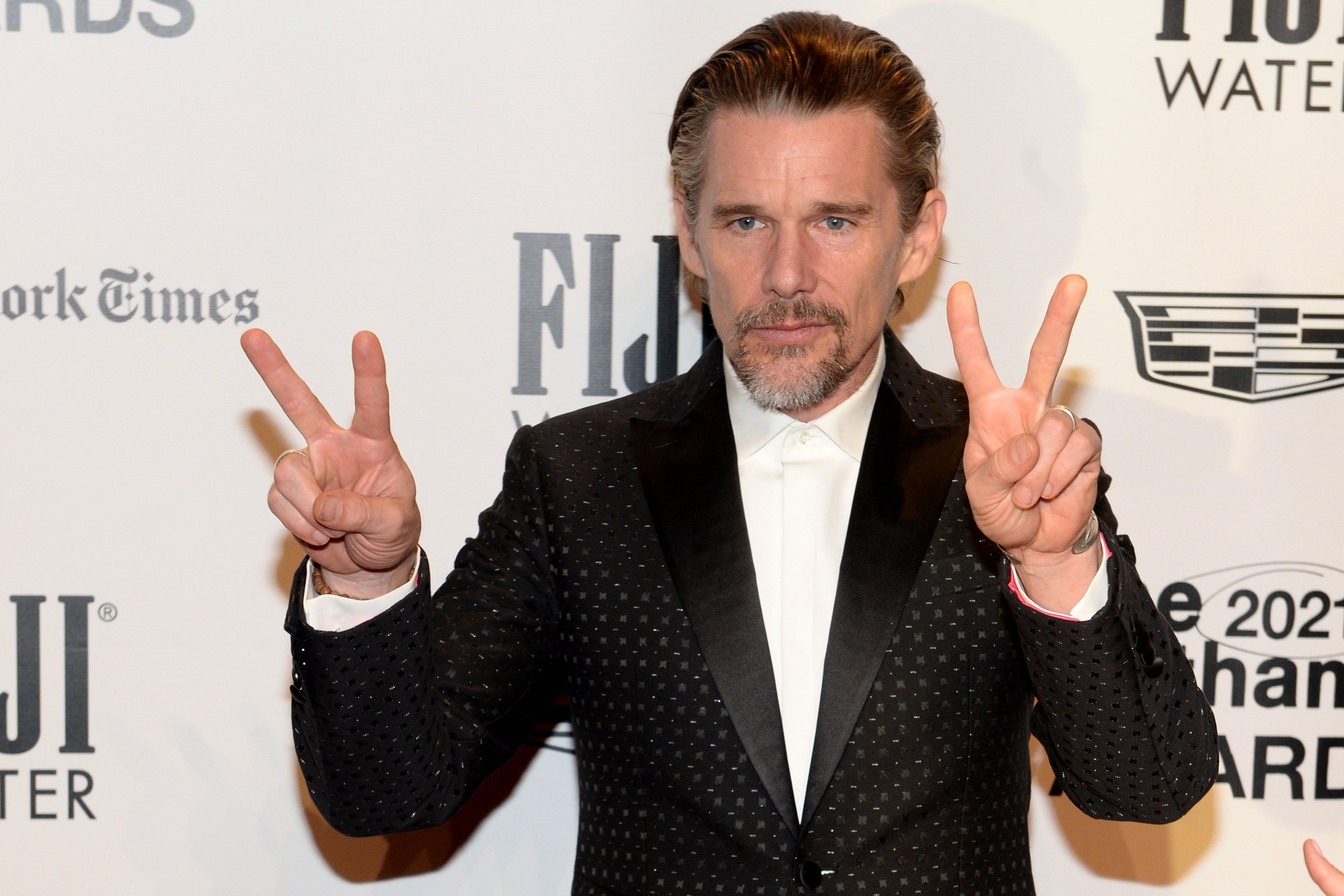 Fans get their first look at Oscar Isaac and Ethan Hawke in the 'Moon Knight' trailer
Many believed that Oscar Isaac would start out playing Marc Spector in Moon Knight. However, the trailer revealed that fans are first introduced to Steven Grant, one of Marc's personalities.
Marc is a marine in the comic books who becomes a mercenary. While on a mission in Sudan, he dies while lying in front of a statue of the Egyptian moon god Khonshu. The god saves him, but, as a result, Marc must fight crime as a superhero. He also develops dissociative identity disorder, which causes him to have multiple personalities. Besides Marc and Steven, the superhero's other personality is Jake Lockley, a taxi driver who is absent from the trailer.
Fans can also see Ethan Hawke's mysterious character in the video. He appears to be a cult leader flanked by followers who bow down to him. He tells Steven, "It must be very difficult. The voices in your head. There's chaos in you. Embrace the chaos."
Prior to the trailer premiere, only a couple of actors had confirmed roles in the upcoming Marvel Disney+ series. Oscar Isaac plays the titular character, and Gaspard Ulliel portrays Anton Mogart. Meanwhile, Ethan Hawke and May Calamawy were cast in undisclosed roles in Moon Knight. Now, thanks to the trailer, we know the identity of Hawke's character.
Many believe that Ethan Hawke is playing the Sun King in 'Moon Knight'
When the closed captioning is turned on during the Moon Knight trailer, it's revealed that Ethan Hawke is playing a character named Arthur Harrow. Per Inverse, Harrow has connections to Moon Knight in the comic books. He is a minor character who stole findings from secret Nazi experiments regarding "pain theory." Harrow came face-to-face with Moon Knight after abducting people to continue the experiments.
The series will likely deviate from the comic books regarding Arthur Harrow. Since it's rumored that Hawke is playing the main antagonist of Moon Knight, many believe that he is actually portraying the Sun King, one of Moon Knight's most nefarious foes. In Marvel comics, the Sun King starts a cult and becomes obsessed with killing Moon Knight.
During an interview with Late Night with Seth Meyers, Ethan Hawke revealed that he based his Moon Knight character on the real-life cult leader David Koresh. So, the actor may be playing the Sun King in the Marvel Disney+ series since there are many similarities between the two. However, Marvel has yet to confirm this theory.
Everything we know about the next Marvel Disney+ series
Moon Knight, created by Jeremy Slater, will consist of six 40-50 minute episodes. Slater will serve as the head writer, while Mohamed Diab is directing four episodes, and Justin Benson and Aaron Moorhead are directing the other two.
Per ComicBook.com, the show's synopsis reads, "The series follows Steven Grant, a mild-mannered gift-shop employee, who becomes plagued with blackouts and memories of another life. Steven discovers he has dissociative identity disorder and shares a body with mercenary Marc Spector. As Steven/Marc's enemies converge upon them, they must navigate their complex identities while thrust into a deadly mystery among the powerful gods of Egypt."
Moon Knight, starring Ethan Hawke, premieres on March 30 on Disney+.