'Outlander': Brianna and Roger Are Related — Here's Their Complicated Family Tree
Time travel in Outlander is still a bit of a mystery. But one thing that's certain is the ability to time travel can be hereditary. Brianna and Roger can both time travel, as can their son, Jeremiah. And the events of Outlander Season 5 made some fans wonder if Brianna and Roger were related. And…they are. They're very distant cousins. But what some might not realize is Brianna and Roger are related on both sides of Brianna's family. Let's take a look into their family tree, shall we?
[Spoiler alert: This article contains spoilers for the Outlander books and Outlander Season 5.]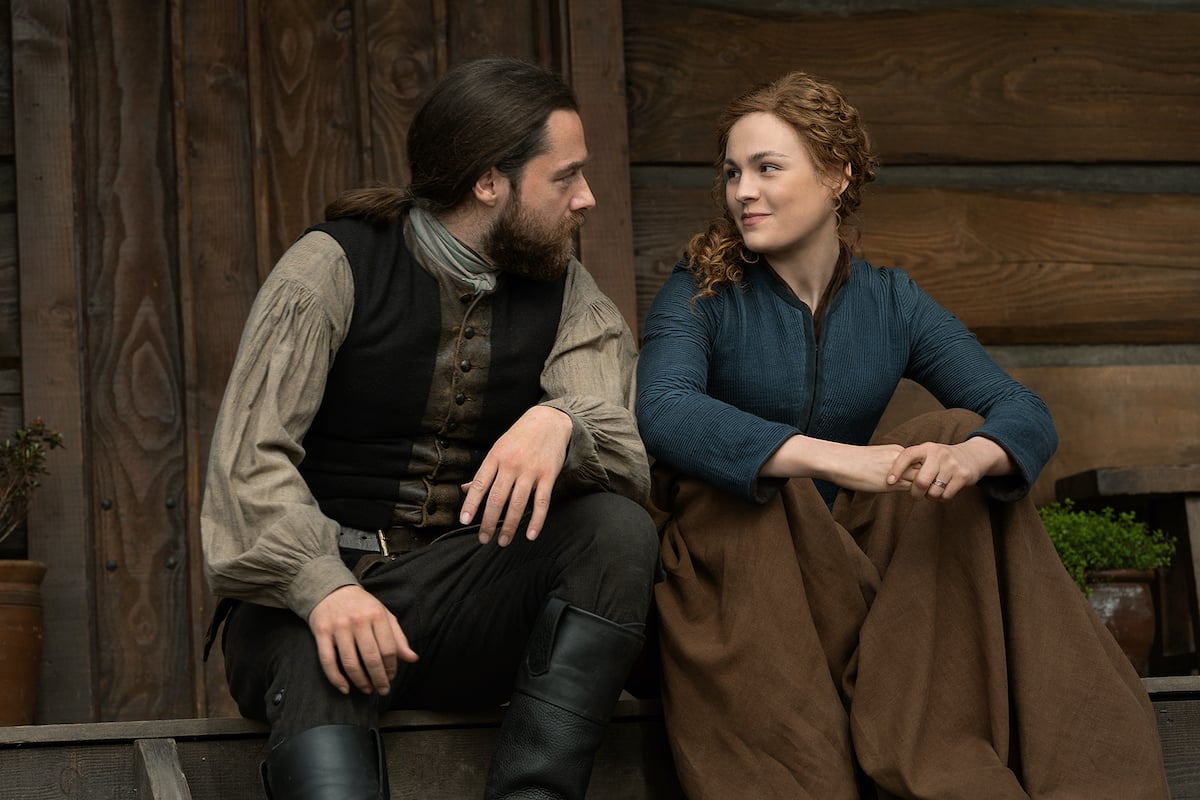 Are Brianna and Roger technically related?
Roger MacKenzie met some of his ancestors when traveling back in time in Outlander. Fans always knew his family are descendants of Clan MacKenzie. But more specifically, he's a direct descendant of William Buccleigh MacKenzie, aka Buck.
Buck is the illegitimate son of Geillis Duncan and Dougal MacKenzie. This is the son Geillis was pregnant with when she survived the Cranesmuir witch trial in season 1. In season 3, Geillis told Claire Dougal got the baby to safety with a new family and helped Geillis escape her fiery fate. Graham McTavish returned to Outlander Season 5 to play the adult Buck. And this connection is what ties Roger to both sides of Brianna's family.
RELATED: 'Outlander': The Real Geillis Duncan Who Inspired Lotte Verbeek's Character
Brianna and Roger are related on both sides of Brianna's family
Outlander author Diana Gabaldon confirmed on her website that Claire and Geillis are related through the "prehistoric time traveler," Master Raymond. He was the mysterious apothecary owner in Paris in Outlander Season 2. Claire and Geillis being distantly related means Brianna is related to Geillis as well. And Roger's ancestor, Buck, being the son of Geillis and Dougal—Jamie Fraser's uncle—makes him related to Jamie's side of the family as well.
So, yes. Brianna and Roger are distant cousins many times removed. The time traveling aspect of their family tree makes things a bit confusing. But Roger, Brianna, and Claire were born in the 20th century (even though Brianna was conceived in the 18th century), making their family ties hundreds of years older than them.
RELATED: 'Outlander' Season 6 Cast: Will Duncan Lacroix Return as Murtagh Fitzgibbons Fraser?
Is Roger the father of Brianna's baby in 'Outlander'?
One big question in Outlander Season 5 was whether or not Roger was Jemmy's biological father. Brianna was sexually assaulted by Stephen Bonnet in season 4 just after she married Roger in a handfast, raising questions about Jemmy's biological parentage. But Outlander book 6, A Breath of Snow and Ashes (the basis of Outlander Season 6) subtly confirms Roger is his father. Gabaldon also told fans in a 2019 Facebook post as much.
"Jemmy's always thought Roger is his dad. Which he is," she said, adding "Of course he's his biological father" in another comment.
It's not clear if Brianna and Roger are aware they're related in the Outlander series. Given how distant the relations are, it's possible they wouldn't care. Outlander Season 6 comes out in early 2022.