'Outlander': Caitriona Balfe Admits That Claire's 'Secret' Will Come Between Her and Jamie in Season 6
Outlander season 6 is finally here after a nearly two-year Droughtlander. Star Sam Heughan (Jamie Fraser) has already revealed that there will be a bit of a time jump in the premiere after the traumatic events of the season 5 finale. But when the story picks back up, viewers will see that Caitriona Balfe's Claire is still struggling. However — like the "strong female" that she is — she's struggling in "secret."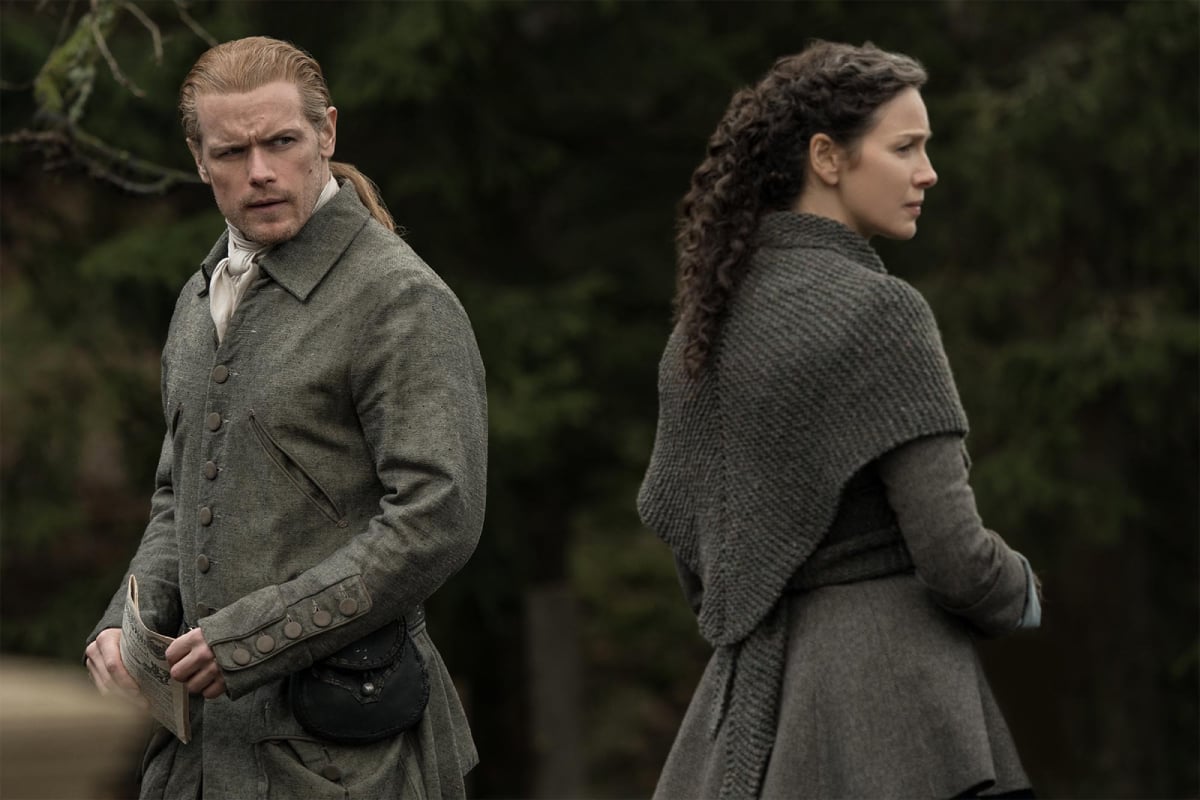 Claire was the victim of a brutal assault in the 'Outlander' season 5 finale
The last time fans saw a new episode of Outlander was when the season 5 finale aired on Starz in May 2020. In that episode, Claire was the victim of a brutal gang rape at the hands of Lionel Brown and his men. This shocking event has left her traumatized, and viewers will see the aftermath in season 6.
"Even before we filmed it, we had already started the conversations about how important it was to see the recovery and the fallout," Balfe told the Radio Times. "I'm so grateful that our writers were prepared to give a lot of airtime to that."
Balfe added that it's important to see a character like Claire — who often "gets this moniker of being a strong female"– deal with the trauma of her sexual assault.
"Whether you appear to be strong on the outside, something like this will really shake you to your core. For Claire, who's always been able to compartmentalize and move on from traumas before, we see her experience PTSD and make some missteps along her journey of recovery," Balfe said.
Caitriona Balfe admits that Claire has a "secret" that will come between her and Jamie in season 6
Balfe says that a common thread in a lot of stories from survivors of sexual assault is making the misstep of self-medicating. She noted that this happens to Claire — who is really good at giving help, but very bad at asking for it.
"I think, when any one person is going through trauma, there's a side of them that they're trying to protect, that they're holding back from sharing with somebody else. And I think we see this with Claire and Jamie," Balfe told Cinema Blend.
"She ends up having a secret, right? You know, her secret is that she's struggling, and that she's leaning on something other than her family and her relationship to get through it."
Balfe believes that "a very common thing" with trauma is that people end up hiding in a certain way. Or, hiding a part of themselves. She notes that any secrets between a couple can "drive a slight wedge between them."
Sam Heughan says Jamie suspects something is going in with Claire in 'Outlander' season 6
From Jamie's perspective, Heughan says that his character suspects that something is going on with Claire. But he also wants to give her time and space. Jamie knows that Claire will come to him and talk about it "if and when the time is right."
Heughan does admit, however, that Jamie is distracted from the issues in his marriage because all of this is happening in the months leading up to the American Revolutionary War.
"I think also he's distracted by a lot of the other external forces, you know, with the loyalties and where they lie," Heughan said. "So yeah, I guess they lose their connection or sight of each other briefly, but again, obviously, to get through any of these kinds of traumas they need each other. And that is the same in this case."
Outlander season 6 premieres Sunday, March 6 on Starz.