'Outlander': Caitriona Balfe Gushes Over Sam Heughan's Acting in Season 6
Outlander Season 6 is just a few months away. Ahead of its premiere in early 2022, Outlander's Caitriona Balfe and Sam Heughan are teasing what's to come. They've commented on what fans can expect in terms of plot in several interviews. But in a recent one, Balfe gushed over Heughan's performance in Outlander Season 6, saying he did "amazing work" on the new episodes.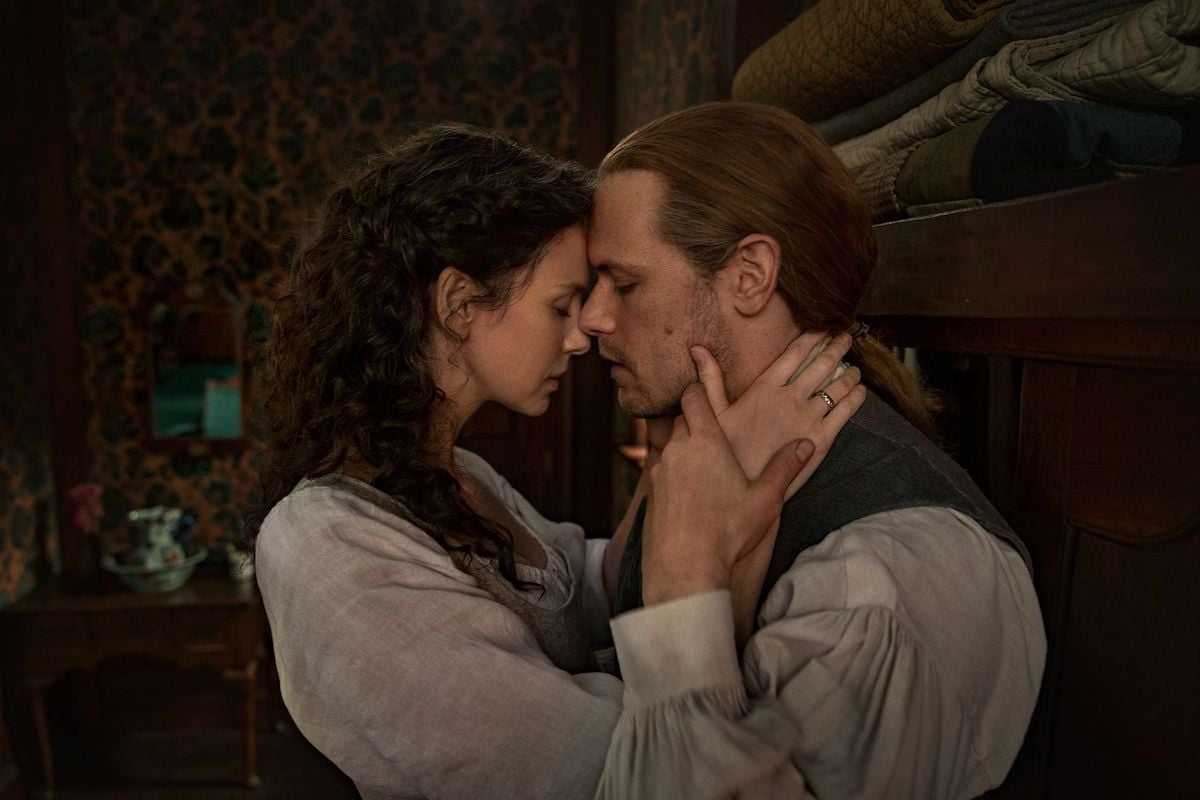 'Outlander's Caitriona Balfe praises Sam Heughan's acting in season 6
Heughan and Balfe have played Jamie and Claire Fraser since 2014. While every season has its challenges, Balfe told Variety's Awards Circuit podcast Heughan did some especially good work on Outlander Season 6. She started off by teasing Jamie's struggles this season, which is set in 1775.
"He's trying to straddle a couple of different political lines," she said. "So he's, on one hand, trying to placate the British, but also he knows that the British are gonna lose the war, so he doesn't want to be caught on the wrong side."
"Sam has some amazing work and I think everyone's gonna be excited," Balfe said of her co-star.
RELATED: 'Outlander' Season 6 Reveals What Happened to Young Ian, John Bell Says
'Outlander' Season 6 will be short, but full of action
As for Claire, she'll be dealing with the emotional aftermath of season 5. And the Christie family and other members of their community will cause even more turmoil. Outlander Season 6 will be the shortest season yet at just eight episodes. The shorter season was the Starz series' way of getting the show produced sooner than later during the coronavirus (COVID-19) pandemic. (Outlander Season 7 will also be longer because of the pandemic.) Balfe told the podcast the short season doesn't mean they sacrificed any drama.
"It's a bit of a truncated season, but it's very… there's a lot going on," she said. "There's some new people that arrive at the Ridge and they really kind of throw things into disarray."
"For Claire, it's a really cool season, actually," the Belfast star added. "You're gonna see Claire destabilized in a way that we've never really seen her before. And a lot of that has to do with the repercussions of what happened at the end of last season."
"It's really good stuff," Balfe concluded. "I'm excited for everyone to see."
RELATED: Sam Heughan Has a New TV Show, but Don't Worry — He's Not Leaving 'Outlander'
'Outlander' Season 6 will make Jamie and Claire question their place
So, what could happen to Jamie and Claire that will cause their lives to flip upside down? A press release on World Outlander Day (June 1) teased what's to come. It said:
"If season 4 asked 'What is home?' and season 5 asked, 'What are you willing to do to protect your home?' then season 6 explores what happens when there is disharmony and division among the inhabitants of the home you've created: when you become an outsider, or an 'outlander,' so to speak, marginalized and rejected in your own home."
Balfe and Heughan told Entertainment Weekly their home on Fraser's Ridge will be forever changed by the events of this season.
"It's sort of the beginning of the end of Fraser's Ridge as we know it," Heughan said. Balfe added:
"I think we see a lot of things come to roost this season that change Claire and Jamie's perspective of where they stand within their community. And definitely some of her bullishness and that blind faith in doing the right thing get a little bit knocked within Claire."
Outlander Seasons 1-4 are currently on Netflix. All five seasons are on the Starz app.