'Outlander' Celebrates 7 Years With Behind-the-Scenes Photos From Season 1
Happy anniversary, Outlander! The STARZ series celebrates the seventh anniversary of its series premiere on Aug. 9. And to commemorate the day, the Outlander cast and crew shared fun behind-the-scenes photos from Outlander Season 1 Episode 1, "Sassenach."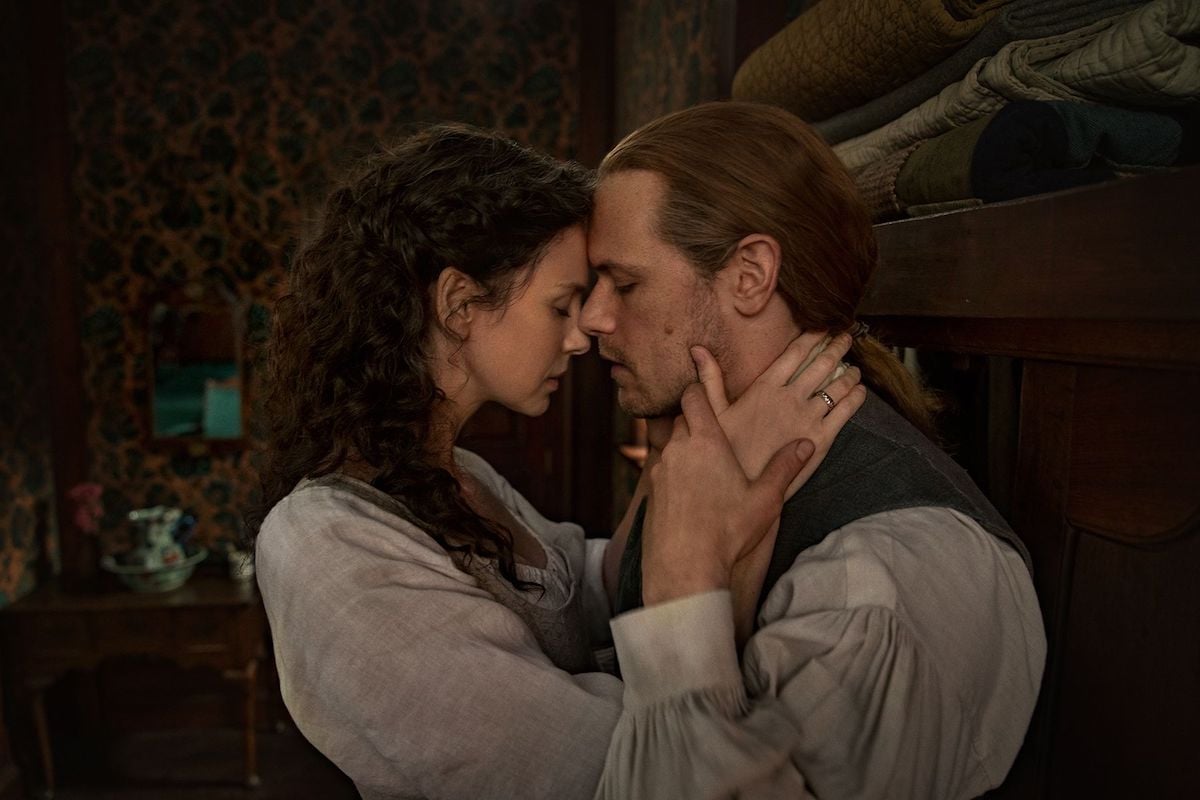 When did 'Outlander' start?
Outlander began with Diana Gabaldon's book series of the same name. The first Outlander book was published June 1, 1991, and the ninth Outlander book comes out Nov. 23, 2021. The TV show debuted on STARZ on Aug. 9, 2014, starring Sam Heughan, Caitriona Balfe, Tobias Menzies, and more.
The Outlander pilot started in post-World War II Scotland. Balfe and Menzies played married couple Claire and Frank Randall, who were on a second honeymoon to Scotland following the war, in which Frank served as an officer and Claire a nurse. They traveled to the Scottish town of Inverness to stay with a Reverend and look into the history of Frank's ancestors. They stopped to see the stones at Craigh na Dun, and Claire later returned to collect herbs.
It was during this second trip that Claire heard a mysterious and unexplainable buzzing sound coming from the stones. She got closer, and then when she touched the stones, Claire was sent back in time to the 1770s. She soon met Jamie Fraser, who changed her life forever.
RELATED: 'Outlander': Sam Heughan Reveals the Downsides of Playing Jamie Fraser
Sam Heughan and Caitriona Balfe celebrate 7 years of Jamie and Claire Fraser
The stars of the beloved series took to social media to celebrate the anniversary of the pilot's debut. Balfe tweeted a selfie from season 1 that showed her with stage makeup bruises and a tousled Claire hairstyle and said:
"7 years!!!!! The anniversary of our first airing and what a thrilling ride it's been since then.. Thank you to all our fans who've stuck with us so faithfully year after year. And to @Writer_DG for giving us all this gift. And @Outlander_STARZ @SPTV for the continued support."
Jamie Fraser actor Heughan took to Instagram. He shared a hilarious collection of photos of himself and Balfe posing with fake dead bodies on set. He said:
"7 years ago today @outlander_starz premiered! These are the first photos I have on my phone (I actually lost my phone on set in the prison whilst filming the season 1 finale). After 7 years, looks like nothings changed, still learning my lines whilst Cait sleeps."
Outlander's Twitter account shared photos of the cast between takes in Scotland. The first photo showed Heughan in a bloodied shirt with Balfe at his side in a puffer coat. Another showed the actors from the "Dance of the Druids" scene in "Sassenach." The third was of Heughan, Graham McTavish, Duncan LaCroix, and other cast members.
LaCroix, who played Murtagh Fitzgibbons in seasons 1 through 5, posted on Instagram as well. But his photo was from the episode itself. He shared a shot of him holding his hand over Balfe's mouth. Of course, they were only acting. He wrote:
"Seven years ago today Outlander first appeared on your screens where I got to bash @caitrionabalfe on the head with my Dirk and take her back to see the lads for a nice cuppa and a chat," he wrote.
RELATED: 'Outlander': Playing Claire Fraser Helped Caitriona Balfe Evolve Her Relationship to Aging
'Outlander's first episode made producers realize it would be a hit
The first episode of Outlander is, indeed, iconic. It introduced Claire as a television character with a healthy relationship with sex right off the bat, which made the future Outlander sex scenes with Heughan possible. It gave the thrilling Frank/Jack Randall plot twist. And it had Jamie's ghost! His presence in 1940s Scotland still has fans scratching their heads to this day. And they're hoping future seasons of the series reveal how Ghost Jamie came to be.
It didn't take long for Outlander to become a hit. But executive producer Maril Davis said they weren't always sure Gabaldon's hit novels would get an equally successful TV audience. She said on the official Outlander podcast in May they knew they had a hit on their hands when Outlander fans reacted overwhelmingly positively to an early screening of the pilot episode.
"It was really our first big event," she said. "We invited fans to come see the first episode and a Q&A. After that and how well that did, I was like, 'OK, I think this is going to do really well."
Davis took part in the anniversary celebrations as well. She tweeted:
"I can't believe that it's been 7 years since this amazing show first premiered. Congrats to all the amazing people who have been on this journey. And thanks to the fans for being on this ride with us. So excited we have much more to share with everyone!!!"
Outlander Season 6 debuts in early 2022. The series has been renewed through season 7. And there's a possible Outlander spinoff in the works!