'Outlander': Playing Claire Fraser Helped Caitriona Balfe Evolve Her Relationship to Aging
Caitriona Balfe is younger than Claire Fraser will be in Outlander Season 6. Balfe has played Claire throughout the decades of her life, starting in her 20s in season 1 and now in her 50s in seasons 5 and 6. And as it turns out, seeing herself in Claire's aged hair and makeup helped Balfe evolve her own perspective on aging.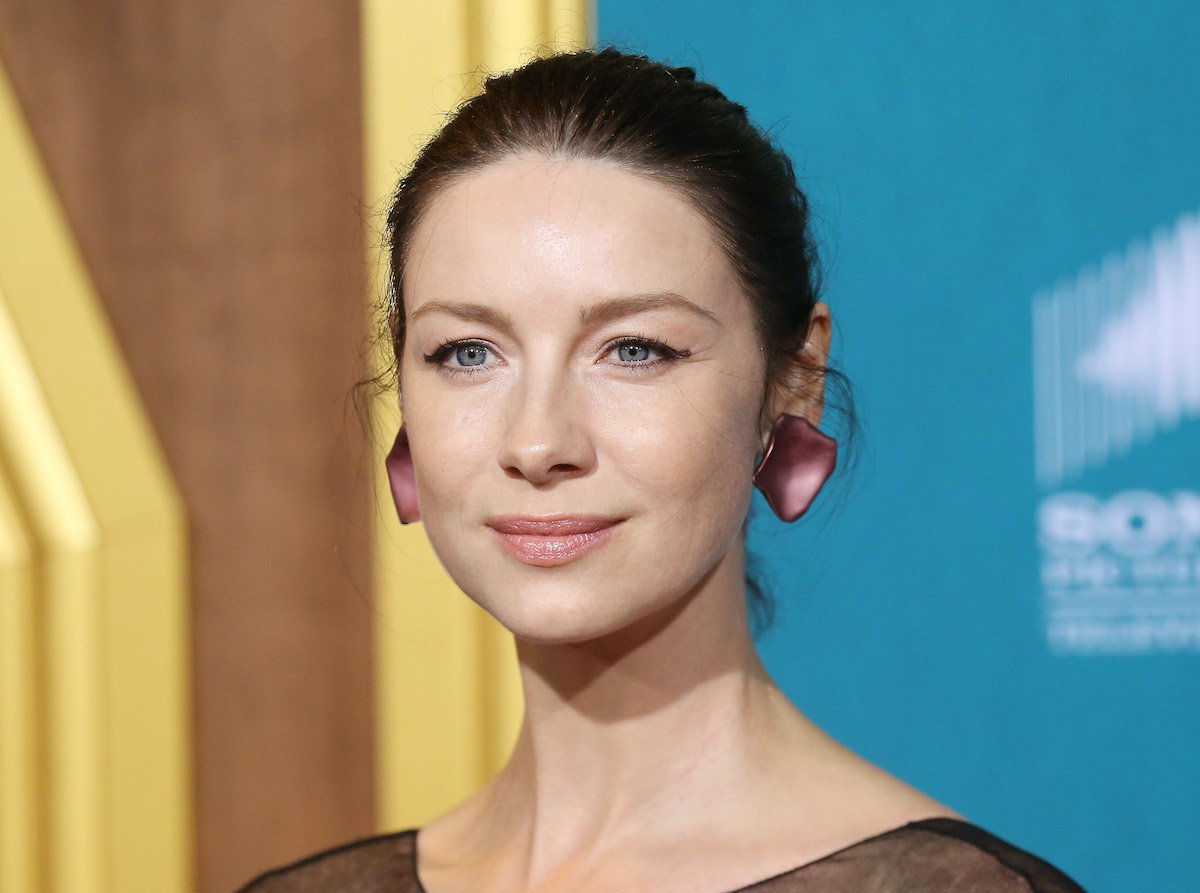 Caitriona Balfe age
Balfe's big acting break was Outlander. Before landing the lead role on the STARZ series alongside Sam Heughan, Balfe was a model. And a rather successful one at that. She walked in Chanel, Givenchy, and Dolce & Gabbana runway shows, and even worked with the late Karl Lagerfeld. Balfe signed with the Ford Modeling agency when she was 18 and is now 41. Heughan is also 41 — just six months younger than his co-star.
Balfe's other acting credits include Ford v. Ferrari, Super 8, Lost Angeles, Now You See Me, The Beauty Inside, and more. But Outlander changed her life forever. And it has landed Balfe four Golden Globe nominations for her portrayal of the time-traveling surgeon.
Claire's aged hair and makeup helped Caitriona Balfe get comfortable with aging
Balfe has learned a lot from playing Claire. And one particular lesson will help her in the long run long after Outlander ends. (Don't worry, it's not ending yet. Outlander Season 7 has already been green-lit at STARZ, and it will be the longest season since season 1.)
In November 2019, Balfe participated in an #AskCait Q&A on Twitter. One fan asked if it was hard to see herself in Claire's aged hair and makeup. Balfe responded saying it actually had the opposite effect. She said:
"No it's good…. it helps counter balance all the crap pressure I feel from all the bombardment of pictures and ads about how we should all look like teenagers. We shouldn't. Wrinkles equals time equals life … trying to love them #AskCait."
Working in the beauty and fashion industry from such a young age would make anyone feel self-conscious about their faces and bodies changing. Balfe told the Thanks a Million podcast the pressure to be "perfect" was a struggle for her during her modeling days. She said:
"There's so many times where you would go into castings or even fittings for jobs that you already supposedly had and somebody in the room would just be annihilating how you look or your lack of personality or you talk too much. All in front of you. It's really tough. I have so much admiration for girls who can come through that unscathed."
Playing a character older than herself helped Balfe rethink her perspective on what it means to age. But aging was even a difficult conversation for Jamie and Claire to have when they were reunited.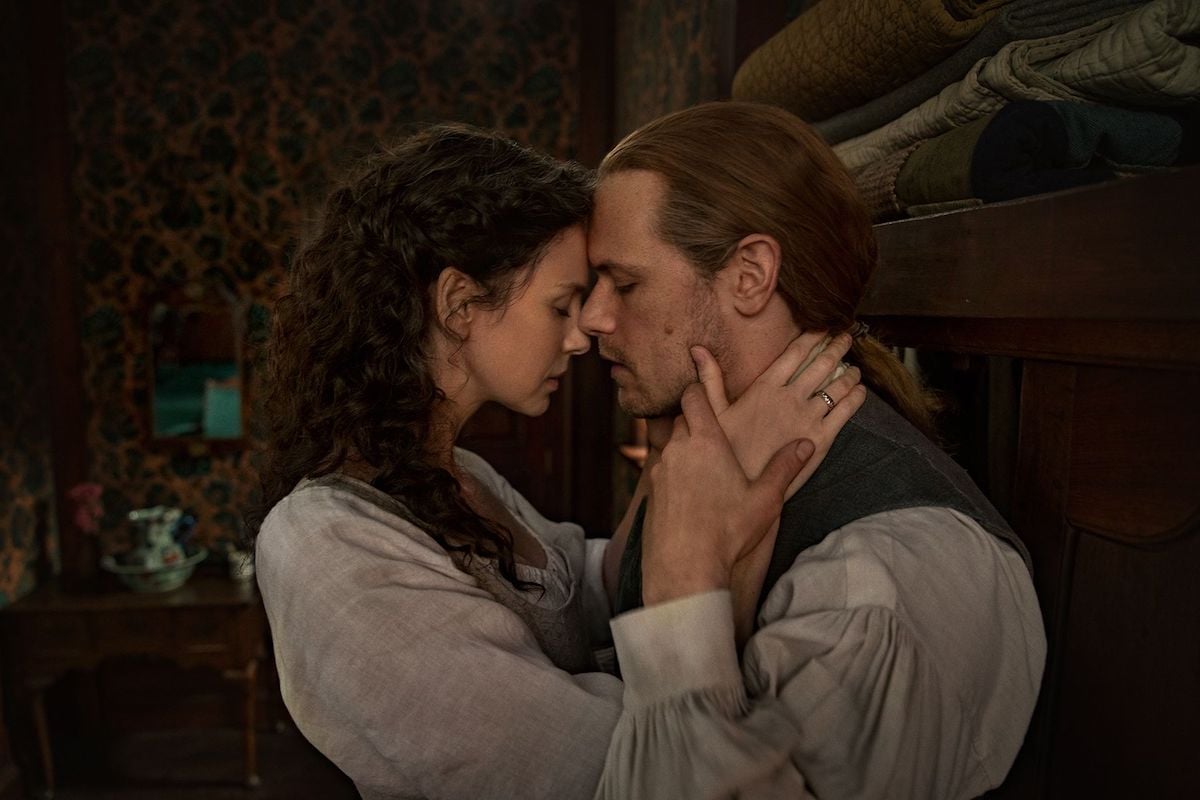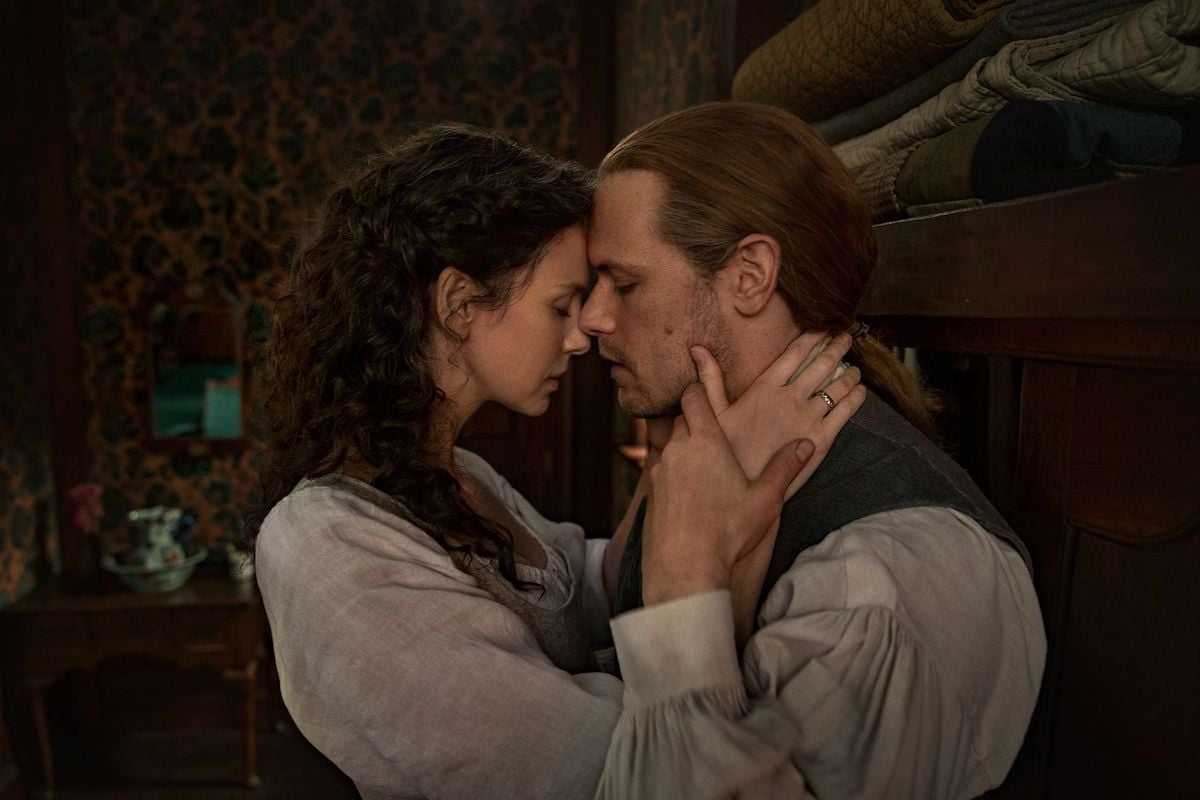 How old are Jamie and Claire at the beginning of Outlander?
For Outlander fans, it has been a delight to see Jamie and Claire get to grow old together. Their epic romance began in season 1, when Jamie was 23 and Claire was 27. They were together in Scotland/France for three years before Jamie sent Claire back through the stones at Craigh na Dun in order to protect their child, with whom Claire was pregnant. She ended up raising their daughter, Brianna, with her first husband, Frank Randall, for 20 years.
When Jamie and Claire were reunited in Outlander Season 3, Claire was in her early 50s. In season 5, Jamie was 50 years old and Claire was 54. They'll likely be around the same age in season 6, given there won't be a large time jump from season 5 to 6.
Balfe and Heughan are also playing grandparents in the series now, as Brianna and Roger share a toddler, Jeremiah. Author Diana Gabaldon's Outlander book series hasn't ended yet (it will conclude with book 10). But hopefully Jamie and Claire will be able to continue to grow old together.