'Outlander': How Did Jamie Fraser and Tom Christie Meet in the Books? Their Tense History Will Impact Season 6
Outlander Season 6 is going to be a doozy. With the end of Droughtlander (mercifully) drawing near, now's as good a time as any to get acquainted with the new characters. In particular, the Christie family. Tom Christie is Outlander's newest patriarch joining the fold. He's a resident of Fraser's Ridge, along with his two grown children, Allan and Malva Christie. The intriguing thing about this family is Jamie Fraser and Tom knew each other in Scotland. But they weren't exactly friends. How Jamie and Tom met in Outlander will inform their dynamic in season 6.
[Spoiler alert: This article contains spoilers for Outlander book 6, A Breath of Snow and Ashes — the source material of Outlander Season 6.]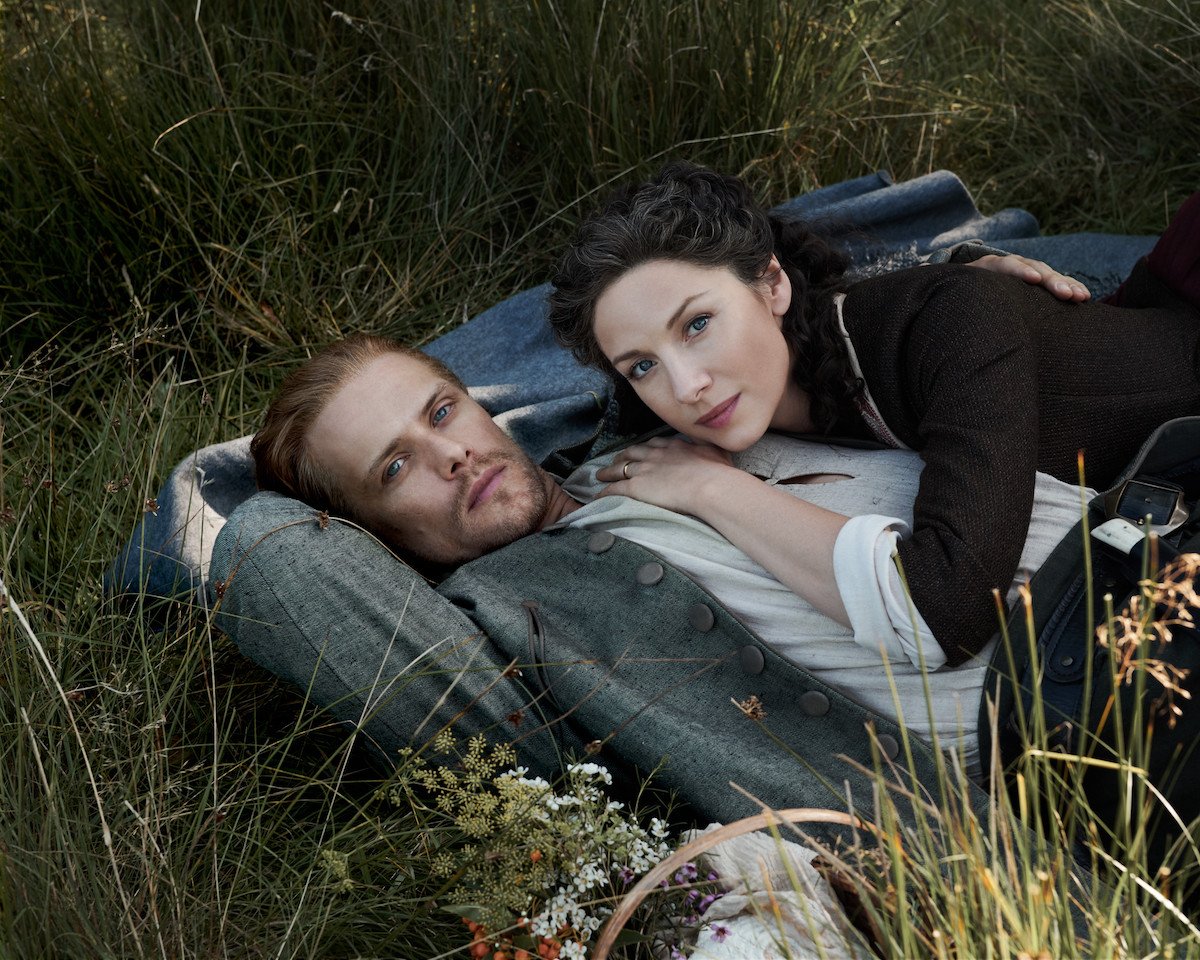 How does Jamie Fraser know Tom Christie in the 'Outlander' books?
In a video promoting production for season 6, Sam Heughan called Tom "a blast from Jamie's past." Heughan and co-star Caitriona Balfe exchanged some knowing looks after bringing him up in the video, implying he could cause some trouble. And trouble the Christies do, indeed, cause.
In the Outlander books, Jamie and Tom met in Ardsmuir Prison after the Battle of Culloden. Jamie, Murtagh Fitzgibbons, and other Jacobite rebels spent years in the fortress after the rebellion failed. Tom was among those prisoners. In season 3, Jamie became a leader for the men, advocating for them in his meetings with Lord John Grey. Despite Jamie being a champion for the other prisoners, he and Tom didn't get along.
In Outlander book 6, A Breath of Snow and Ashes, Tom's backstory is revealed. He was a commissary officer in the Jacobite rebellion, but didn't actually fight in the Battle of Culloden. Still, he was nearby when the battle was lost and was arrested by British forces. He was eventually transferred to Ardsmuir Prison, where Jamie arrived one year later.
Tom was a leader in the prison, but of the Protestant men. Jamie led the Catholic men. And the groups and their leaders weren't exactly friends. But Jamie eventually became an apprentice for prison governor Harry Quarry's Masonic lodge and rose up to Master of his own lodge over time. Tom became one of his apprentices, slightly improving their relationship.
Mark Lewis Jones plays Tom Christie in 'Outlander' Season 6
In Outlander book 5, The Fiery Cross, Tom is in North Carolina seeking a place to call home for himself and his children. He had recently been freed of the indentured servitude that brought him to the American colonies. And Allan and Malva were brought over to the colonies to be with their father.
Tom knew Jamie had an open invitation for Ardsmuir men to live on Fraser's Ridge. In The Fiery Cross, Roger tells Tom he and his family can settle on the ridge while Jamie is recovering from a snake bite. That snake bite took place in Outlander Season 5 Episode 9. But the Christies won't be introduced until season 6. Outlander Season 6 is based on A Breath of Snow and Ashes, in which the Christies play a huge role. In fact, other than the impending American Revolution (season 6 is set in 1775), the drama with the Christies is the main conflict.
Mark Lewis Jones plays Tom, and according to the book, he will fall in love with Claire Fraser. His daughter, Malva, becomes pregnant and claims the child is Jamie's. That's all we'll say about the trouble the Christies cause for Jamie and Claire for now.
When is 'Outlander' Season 6 coming out?
Fans will meet the Christies when Outlander Season 6 debuts in early 2022. The STARZ series hasn't revealed when Droughtlander will end. But Heughan tweeted it will likely be out in February 2022.
The show will have to address all of the Christie drama with haste, given that the sixth season of Outlander is only eight episodes long. The cast and crew had to shorten the season due to coronavirus (COVID-19) safety restrictions. But they made the season premiere 90 minutes long to make up for it, and Outlander Season 7 will be twice as long with 16 episodes.
The season might be the shortest one yet and this Droughtlander may be the longest in the show's history. But the plus side is because they waited until it was safer to start filming the new season, that gave them time to make a COVID-safe set. The safety bubble they created for the cast and crew allowed the famous Outlander sex scenes to still be part of the show. And honestly, thank god. Nothing Tom does can take that away from us!