'Outlander': Sam Heughan and Caitriona Balfe Spill on Shooting That Shocking Season 6 Finale and What It Means for Season 7
The 'Outlander' Season 6 finale left a number of questions unanswered, including who really killed Malva Christie.
Warning: Spoilers ahead for the Outlander season 6 finale
Outlander fans who haven't read Diana Gabaldon's books will have to wait to find out who killed Malva Christie. The season 6 finale left that a mystery while also leaving a number of other questions unanswered.
The finale did, however, separate Jamie (Sam Heughan) and Claire Fraser (Caitriona Balfe) after a gun battle with Richard Brown (Chris Larkin) and the committee of safety, plus a revolt at Fraser's Ridge with accusations of Claire being a murderer and a witch. Here's what Heughan and Balfe have to say about shooting that shocking season 6 finale.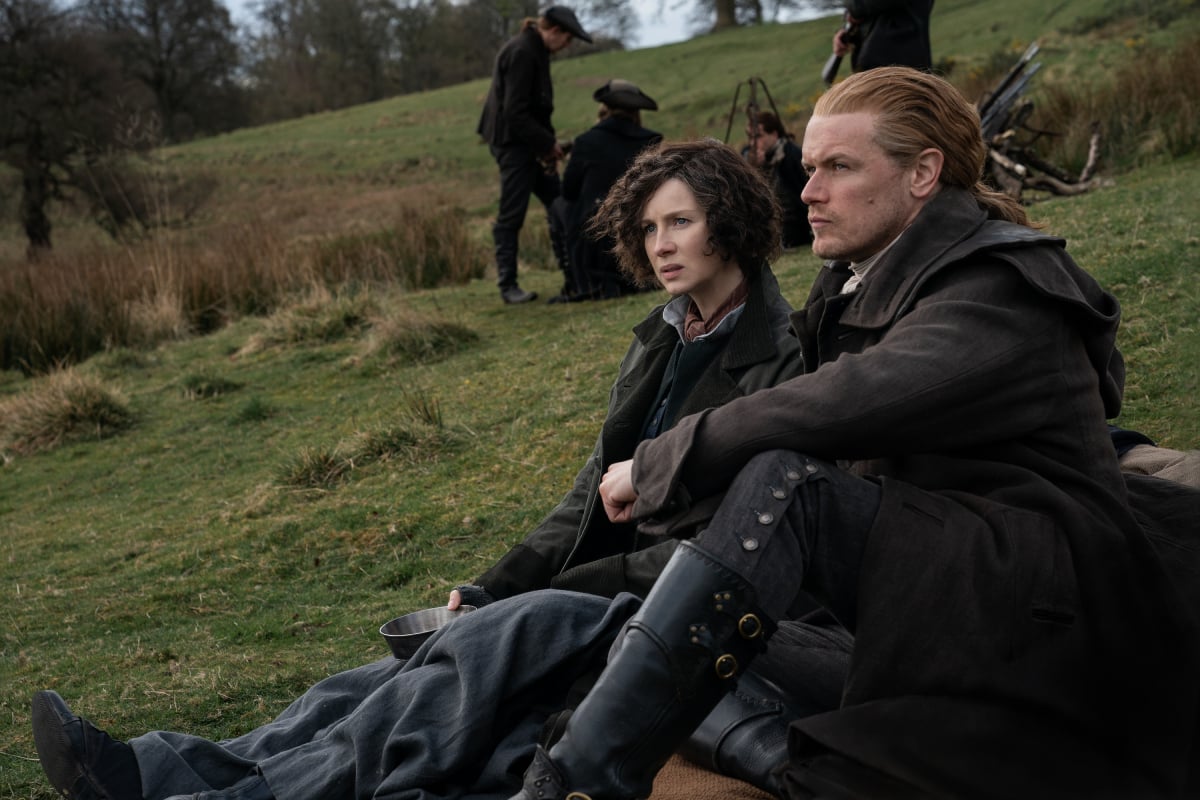 'Outlander' Season 6 was supposed to have 12 episodes
Season 6 was cut down to just eight episodes due to the pandemic, but that wasn't the original plan. Which meant the recent episode "I Am Not Alone" wasn't supposed to be the season 6 finale. Balfe revealed that they were going to shoot 12 episodes, but the COVID protocols made filming difficult. And her pregnancy posed an even bigger challenge.
"There was going to be a point where I wouldn't be able to shoot anymore," Balfe explained to Entertainment Weekly. "Instead of writing Claire out of a few episodes, they decided instead to stop at a certain point, and then tack whatever episodes we didn't do onto this season that we're shooting now [season 7]. But that decision wasn't made, probably, until halfway through shooting."
Heughan added that they were originally going to take a break and come back after Balfe had given birth, which he admits "would have been interesting." But Balfe wanted her maternity leave to last longer than eight weeks, so they ultimately decided to truncate the season.
The season 6 finale featured Sam Heughan and Caitriona Balfe's first action scene together
Heughan and Balfe are known for their steamy sex scenes on Outlander. But in the season 6 finale, they also added in quite a bit of action. As Heughan noted, it was "the first time we've done action together."
The Scot says that Balfe is "pretty good at loading rifles" and she's also "a pretty damn good shot." He also noted that Jamie and Claire were a good team, and it's "them against the world."
"It's fun to see them now literally fighting people off to protect their home," Heughan said, with Balfe adding, "It's the first time I've ever smoked a gun, unintentionally." And, she did it when she was six-and-a-half months pregnant.
There's 'a lot going on' in 'Outlander' Season 7
The Outlander cast and crew has been back on set since late March filming season 7, and Balfe says they are "almost done with our first block." The Irish beauty teased that "there's a lot going on next season," and "everybody's really excited about it."
"It's going very well. And it feels really positive. It feels like a really strong start. So there's a lot to look forward to," Heughan shared.
Balfe also revealed that there will "definitely be a conclusion" to the season 6 threads, with some being "tied up early on." There will also be a lot of new characters joining the series who will be "very meaningful to the series."
Outlander seasons 1 through 5 are available on Netflix, and season 6 is now playing on the Starz app. Season 7 will premiere in late 2022 or early 2023 on Starz.