'Outlander': Sam Heughan's Reaction to Tobias Menzies' Emmy Win Is so Pure
The Crown won big at the 2021 Emmy Awards on Sept. 19. On top of winning the top honor of Outstanding Drama Series, the Netflix show swept all of the drama acting categories. Outlander has never won an Emmy, but thanks to The Crown, one of its former cast members just did. Outlander star Sam Heughan's reaction to Tobias Menzies' Emmy win is a heartwarming show of support. And fun fact: the last time Outlander was nominated for an Emmy, it lost to The Crown.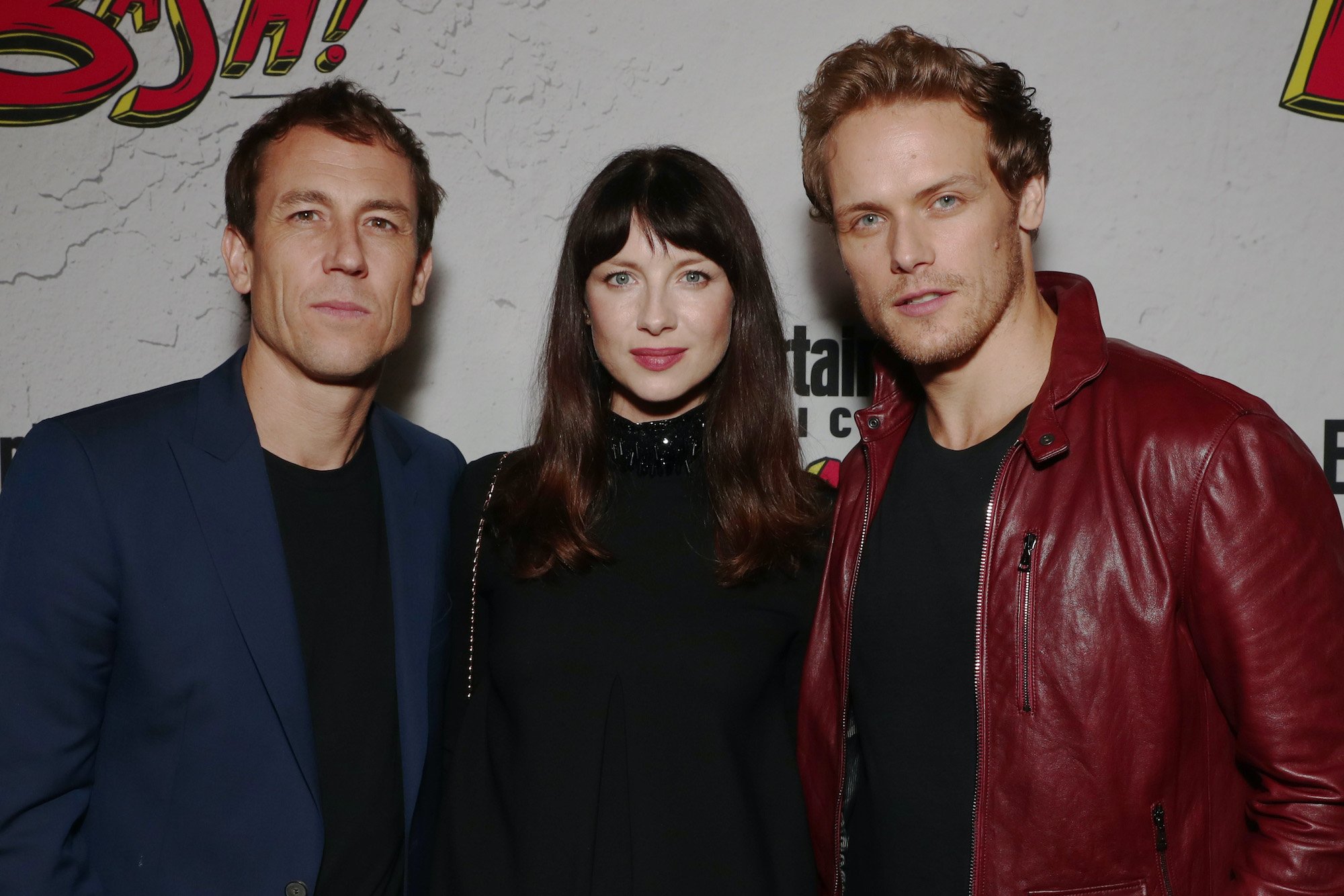 Why did Tobias Menzies leave 'Outlander'?
Heughan and Menzies played Jamie Fraser and Black Jack Randall in Outlander. The characters were sworn enemies, and their years of brutal feuding came to an end in Outlander Season 3. Menzies also played Frank Randall in the STARZ series — Claire Fraser's first husband and a descendant of Black Jack. Both of Menzies' characters died in Outlander Season 3, marking his exit from the series.
Menzies left Outlander because the Outlander books told him so. In the Outlander books, Frank dies after blowing off some steam following a fight with Claire. This happens in the show as well, except through slightly different circumstances. Frank died in Outlander Season 3 Episode 3, "All Debts Paid." He made a return for Outlander Season 4 Episode 7, "Down the Rabbit Hole."
Leaving Outlander allowed Menzies to take on new projects and return to old ones. He played Edmure Tully in Game of Thrones from 2013 to 2019. And in 2018, he was cast as the new Prince Philip, Duke of Edinburgh, in The Crown.
RELATED: 'Outlander' Characters That Are Based on Real People
Tobias Menzies' Emmy win celebrated by 'Outlander's Sam Heughan
Like all cast past members of The Crown, Menzies only signed on for two seasons. He played the late Prince Philip in seasons 3 and 4, replacing Matt Smith. And Menzies' work in The Crown Season 4 earned him his first Emmy nomination and win. However, the actor wasn't present at the ceremony. Presenter Kerry Washington accepted the award on his behalf.
Menzies beat the late Michael K. Williams for Outstanding Supporting Actor in a Drama Series. Williams, who died on Sept. 6, was nominated for Lovecraft Country and was considered the category frontrunner. Bradley Whitford, O-T Fagbenle, John Lithgow, Chris Sullivan, Giancarlo Esposito, and Max Minghella were also nominated in the category. Following Menzies' Emmy win, Heughan took to Twitter to congratulate his friend.
"Well done Tobias!!!!!" the actor tweeted excitedly. He also liked the Television Academy's tweet announcing Menzies' win.
Olivia Colman, Gillian Anderson, and Josh O'Connor also won for The Crown at the Sept. 19 ceremony. And former Queen Elizabeth II actor Claire Foy won Outstanding Guest Actress in a Drama Series for her brief appearance in season 4.
RELATED: How 'The Crown' Season 4 Challenges the Royal Family's 'Stiff Upper Lip' Policy
'Outlander' Emmy nominations
Outlander and The Crown have more than just its cast members in common. The last time Outlander was nominated for an Emmy, it lost to The Crown. Both of the dramas were nominated for Outstanding Period Costumes at the 2018 Emmy Awards. The Crown's "Dear Mrs. Kennedy" and Outlander's "Freedom & Whisky" received the nominations. But The Crown won out.
Outlander was nominated in the same costume category in 2016, but Game of Thrones — another show Menzies was part of — won. Outlander's other two Emmy nominations were for Outstanding Production Design in 2016 and Outstanding Music Composition for a Series in 2015.