'Outlander' Season 6 Cast: Signs Maria Doyle Kennedy's Aunt Jocasta Will Return, but Not for Season 7
It's almost Fall 2021, which means it's almost Winter 2022. And you know what that means: Outlander Season 6. OK, it's a bit of a stretch to already be counting down. But this Droughtlander has been too long! We'll take any excitement we can get. That said, leading up to the Outlander Season 6 release date in "early 2022" (February 2022 to be precise, according to Sam Heughan), let's look into Outlander Season 6 cast member Maria Doyle Kennedy, who plays Aunt Jocasta. It's likely Kennedy will be in the upcoming sixth season. But it could be her last appearance for a while. Here's everything we know about Jocasta's possible place in season 6 and her character's arc in the Outlander books.
[Spoiler alert: This article contains spoilers for Outlander Season 5.]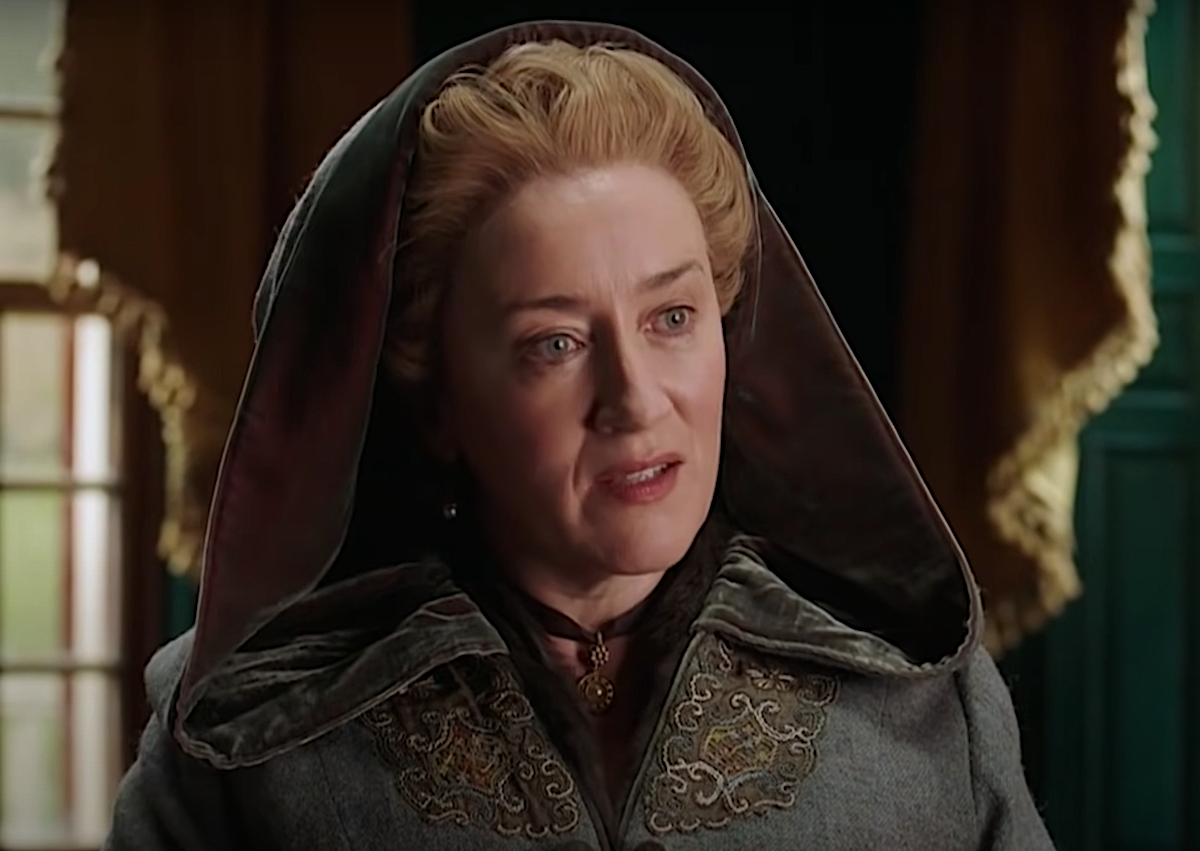 What happens to Aunt Jocasta?
Aunt Jocasta is Jamie Fraser's maternal aunt. Her siblings are Jamie's late mother, Ellen Fraser, Dougal MacKenzie (who has an interesting familial connection to Roger), and Colum MacKenzie. Jocasta has outlived all of her siblings and is living in colonial North Carolina. She runs the River Run estate, which Jamie, Claire, Brianna, and Roger all stayed at in Outlander Season 4. Jocasta wanted to leave River Run to Jamie, but he and Claire couldn't stomach owning slaves and it was clear buying their freedom was out of the question. They accepted Governor Tryon's offer of 10,000 acres instead and established the Fraser's Ridge settlement.
Jocasta is played by Kennedy, who is also a singer. In Outlander Season 5, Jocasta and Murtagh Fitzgibbons fell in love. But she couldn't handle a life with a regulator, as she had already lived through the heartbreak of the Battle of Culloden's aftermath. Later in season 5, Jocasta is heartbroken by Murtagh's death at the Battle of Alamance. She also parts ways with Ulysses, a slave whom she had developed a close friendship with. And she eventually married a man named Duncan Innes.
Is 'Outlander's Maria Doyle Kennedy in season 6?
Outlander Season 6 is going to be a shortened season at just eight episodes. Due to coronavirus (COVID-19) safety restrictions, Outlander had to delay filming until it figured out how to maintain the quality and style of the show's past seasons while keeping the cast and crew safe. This meant daily COVID-19 testing at its on-set testing facility and a shortened season. Thankfully, the precautions the show took allowed for a lot of cast members to come back whose characters are in Outlander Book 6, A Breath of Snow and Ashes.
Jocasta is in A Breath of Snow and Ashes. Kennedy was also in the World Outlander Day video released by the Starz series on June 1. In the video, Outlander cast members Heughan, Caitriona Balfe, Sophie Skelton, Richard Rankin, and more appeared dressed as their characters. They appeared to be on set for season 6, based on the costumes and hair styling each actor was sporting. Kennedy was part of the video praising Outlander fans' creativity and dedication to the series.
Based on this, and Jocasta's presence in the book the upcoming season is based on, it seems Kennedy will likely be part of the Outlander Season 6 cast.
What happens to Aunt Jocasta in the 'Outlander' books?
Kennedy is also part of a new series called Kin, which co-stars Game of Thrones alum Aidan Gillen and Daredevil star Charlie Cox. The AMC+ originals series premieres on Sept. 9. And Kennedy reportedly filmed the first season and Outlander Season 6 around the same time, according to comments made at the Aug. 17 AMC+ summer TCA panel. Further comments also implied Kennedy won't have Outlander filming conflicts if Kin is renewed for season 2, implying she won't be in Outlander Season 7.
While a bit ominous, that doesn't necessarily mean Aunt Jocasta will die in season 6. In fact, that doesn't happen in book 6. The book (and the season) are set just before the beginning of the American Revolutionary War. Jocasta doesn't want to relive the horror of what happened to Scottish Highlanders after the Battle of Culloden. And being a landowner could put her at risk from either sides of loyalty in the war. So, she and her husband, Duncan, sell River Run and move to Nova Scotia, Canada, when tensions in North Carolina start to rise.
It's possible Jocasta will only make a small appearance in Outlander Season 6. And that appearance could be to inform her family of her decision to move before the colonies are thrown into more chaos. Outlander Season 7 will be based on Outlander Book 7, An Echo in the Bone, in which Jocasta doesn't appear. She could appear in future seasons and Outlander books (there are still two books left in the series). But it seems that season 6 will be the last fans see of Kennedy on the Starz series for a while.