'Outlander' Season 6 Sex Scenes Required Hilarious 'New Acting Challenge,' Sam Heughan Says
It's impossible to imagine a future without Outlander Season 6 sex scenes. Thankfully, fans won't have to do that. The STARZ series figured out how to film Jamie and Claire's sex scenes with coronavirus (COVID-19) safety protocols in mind. And part of that plan included a "new acting challenge" for stars Sam Heughan and Caitriona Balfe. Heughan tweeted a glimpse of what filming Outlander sex scenes was like during season 6 production. And it's hilariously awkward. It's a good thing these actors have a good sense of humor.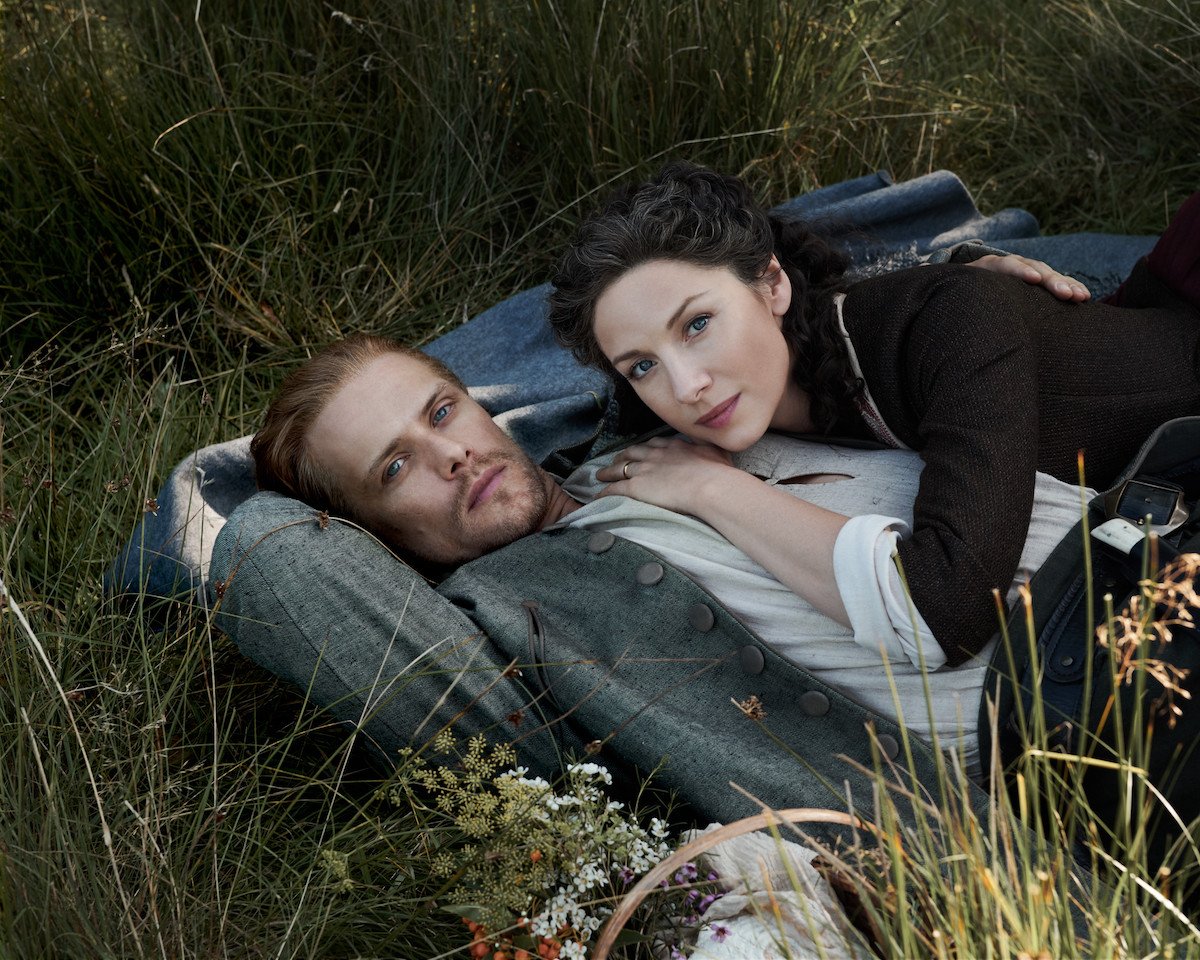 How 'Outlander' Season 6 sex scenes were filmed during the COVID-19 pandemic
Outlander Season 6 was supposed to start filming in May 2020, right after the Outlander Season 5 finale aired. But that plan was thrown to the wayside when the world went into lockdown. Although other shows like The Handmaid's Tale made plot adjustments in order to get back to set sooner, filming for Outlander Season 6 didn't start until January 2021. And that's because the producers deliberately chose not to film until they could make the show they wanted. Executive producer Maril Davis told CinemaBlend:
"We don't have the kind of show, unfortunately, that can be COVID friendly. That's something that a lot of studios are talking about, and some shows have the luxury to do that, we do not. It's the least COVID-friendly show ever. It means that maybe there's no kissing, there's no interaction; there's not a lot of actors and extras."
Keeping the set COVID-safe in order to preserve key Outlander elements required a huge investment. The STARZ series spent $200,000 building a private COVID testing site, according to Glasgow Live. It was set up in the parking lot of Wardpark Film Studios in Cumbernauld, Scotland, where Outlander films its indoor scenes. (Yes, even the ones set in North Carolina. All of Outlander films in Scotland, with the exception of some B-roll of North Carolina landscapes.)
The cast and crew were tested for COVID-19 daily while filming season 6. And it turned out to be a worthwhile investment, as principal production successfully wrapped in June 2021.
Sam Heughan and Caitriona Balfe's sex scenes required awkward voice over work
An actor's job isn't done when filming wraps, however. Most TV shows need actors to complete automated dialogue replacement (ADR) in post-production. It basically means fixing audio mistakes with voice over. And that's exactly what Heughan and Balfe had to do with some of their season 6 sex scenes. Heughan tweeted a screenshot of his voice over lines on Aug. 12, except they weren't really lines at all.
"ADR FINISHED! Season 6! @Outlander_STARZ," he said. "Some new 'acting challenges' this season."
Heughan couldn't help but laugh at what he had to record. Next to "Line," the screenshot said, "(Love making groans and breaths)." Ah, the life of the actor.
Outlander composer Bear McCreary tweeted an equally hilarious response.
"Don't worry, we're slathering bagpipes over all that scene anyway!" he wrote. *Cue the Jamie and Claire musical theme*.
When does 'Outlander' Season 6 come out?
Heughan's ADR wrapping means Outlander is one step closer to releasing season 6. The actor talked about filming during the pandemic on the Just the Facts podcast on June 15, saying it was eery. He said:
"It's been challenging. I think shooting through a Scottish winter during a pandemic, it was weird. We would go to work, especially at the start, and we didn't know what was going to happen. I'd just finished a movie in London which had similar protocols. But to be in Scotland and to see no one on the roads driving to work — and just to be in this world where it felt like we were the only people at work — it was kind of crazy."
Nevertheless, he's proud of the "small, but mighty" Outlander Season 6. And he's sure fans will be entertained by it, although it will be the shortest season in the show's history.
"I'm really pleased with this season," Heughan said. "It feels almost like early western vibe. And, you know, we're building to the War of Independence. Obviously, there's time travel as well and all the other elements. It feels like a small, but mighty season."
Outlander Season 6's release date has not been confirmed. But after the season wrapped, Heughan said to expect it in February 2022.