'Outlander' Season 6 Trailer Shows Fraser's Ridge in Chaos as Revolutionary War Begins
Sing me a song of a lass that is gone! The first Outlander Season 6 trailer is finally here. And it's intense. The teaser trailer debuted during Outlander's New York Comic Con 2021 panel on Oct. 9. And in it, Jamie and Claire Fraser watch in fear as conflicts that spark the Revolutionary War take place around them. The trailer also reiterated that Outlander Season 6 comes out in "early 2022," but didn't reveal an exact release date.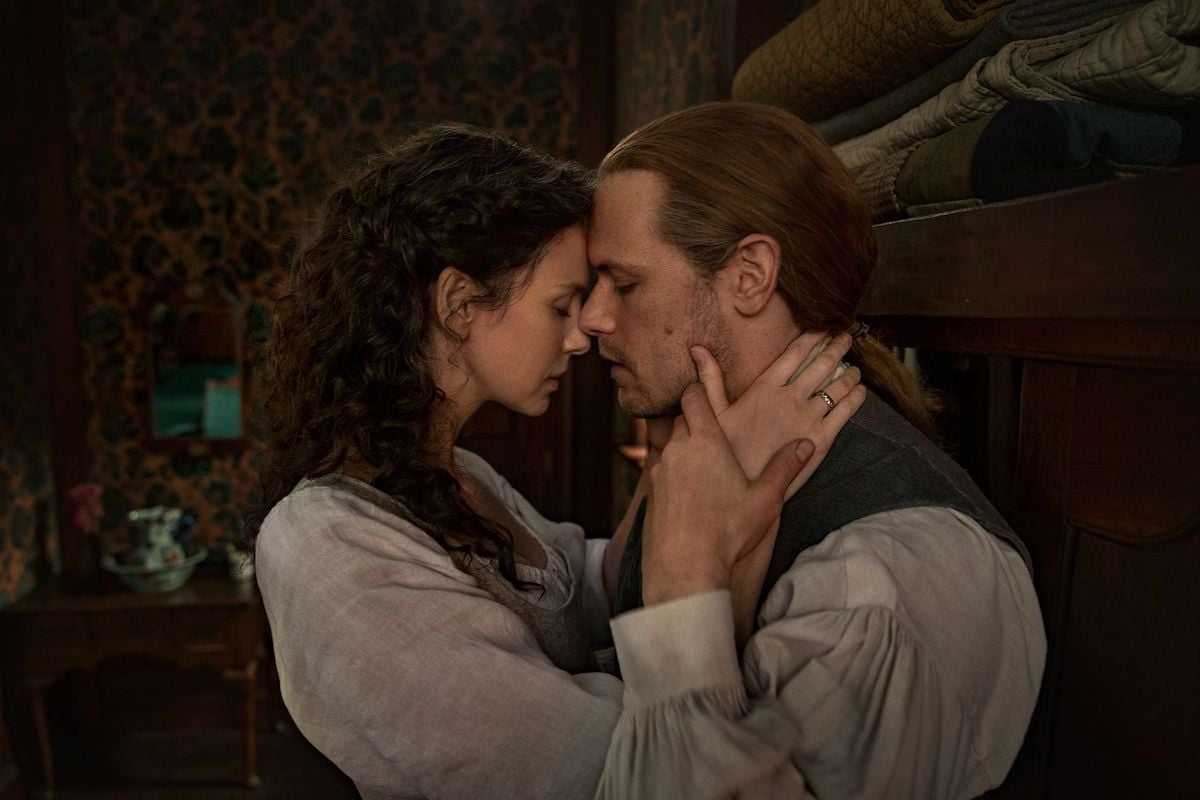 'Outlander' Season 6 trailer shows trouble on Fraser's Ridge
The teaser starts off by showing your favorite Outlander couples. Jamie and Claire appear first, smiling as they ride in a wagon. Then come Brianna and Roger sharing an intimate moment. Young Ian and Malva Christie then appear, hinting at a romance between them. And then, Marsali and Fergus appear holding a baby.
The happy couples are then interrupted by the impending war. After a man nails a flyer saying "Refuse British Goods" on a community building, Claire ominously says, "It's starting. The storm, the war. It's almost here."
British soldiers ride up to Jamie and Claire's house on Fraser's Ridge. Armed rebels descend from a wagon. Fergus appears seething with anger and drenched in water as Marsali tries to comfort him. Someone carries what looks like a dead body up the porch of Jamie and Claire's house. Brianna gives Roger a terrified glance. And Jamie and Claire are shown looking concerned and tearful. Based on the tension displayed in the trailer, it looks like Outlander Season 6 could be the most action-packed yet.
Sixth season of 'Outlander' is the shortest one yet
In a cover interview for Entertainment Weekly's Outlander Collector's Edition issue, Sam Heughan and Caitriona Balfe said life on Fraser's Ridge will never be the same after season 6.
"It's sort of the beginning of the end of Fraser's Ridge as we know it," Heughan said.
"I think we see a lot of things come to roost this season that change Claire and Jamie's perspective of where they stand within their community," Balfe added. "And definitely some of her bullishness and that blind faith in doing the right thing get a little bit knocked within Claire."
During the Outlander NYCC 2021 panel on Oct. 9, the stars of Outlander shared more details about what's to come in the new episodes. Heughan commented on Outlander Season 6 being the shortest season yet with just eight episodes. However, the season premiere will be an extended episode running 90 minutes long.
According to Elite Daily's Ani Bundel, Heughan implied more of Outlander Season 6's episodes could be extended as well. Heughan said during the panel that filming the eight episodes felt like they were filming 20. And the longer episodes allowed for the actors to build full character arcs for each episode.
Hang in there, Outlander fans! The Droughtlander is almost over.