'Outlander' Season 6 Has 'Very Traumatic' Scenes, EP Maril Davis Says
Hang in there, Outlander fans. The end of the Droughtlander is in sight. Production for Outlander Season 6 is underway, although it was delayed nine months by the pandemic. To make up for lost time, the show's creators have made an official podcast where they answer fan questions and discuss seasons past and future. The inaugural episode of the podcast featured season 6 updates from executive producers Maril Davis and Matthew B. Roberts. And brace yourselves: they say season 6 has "very traumatic and very emotional" scenes.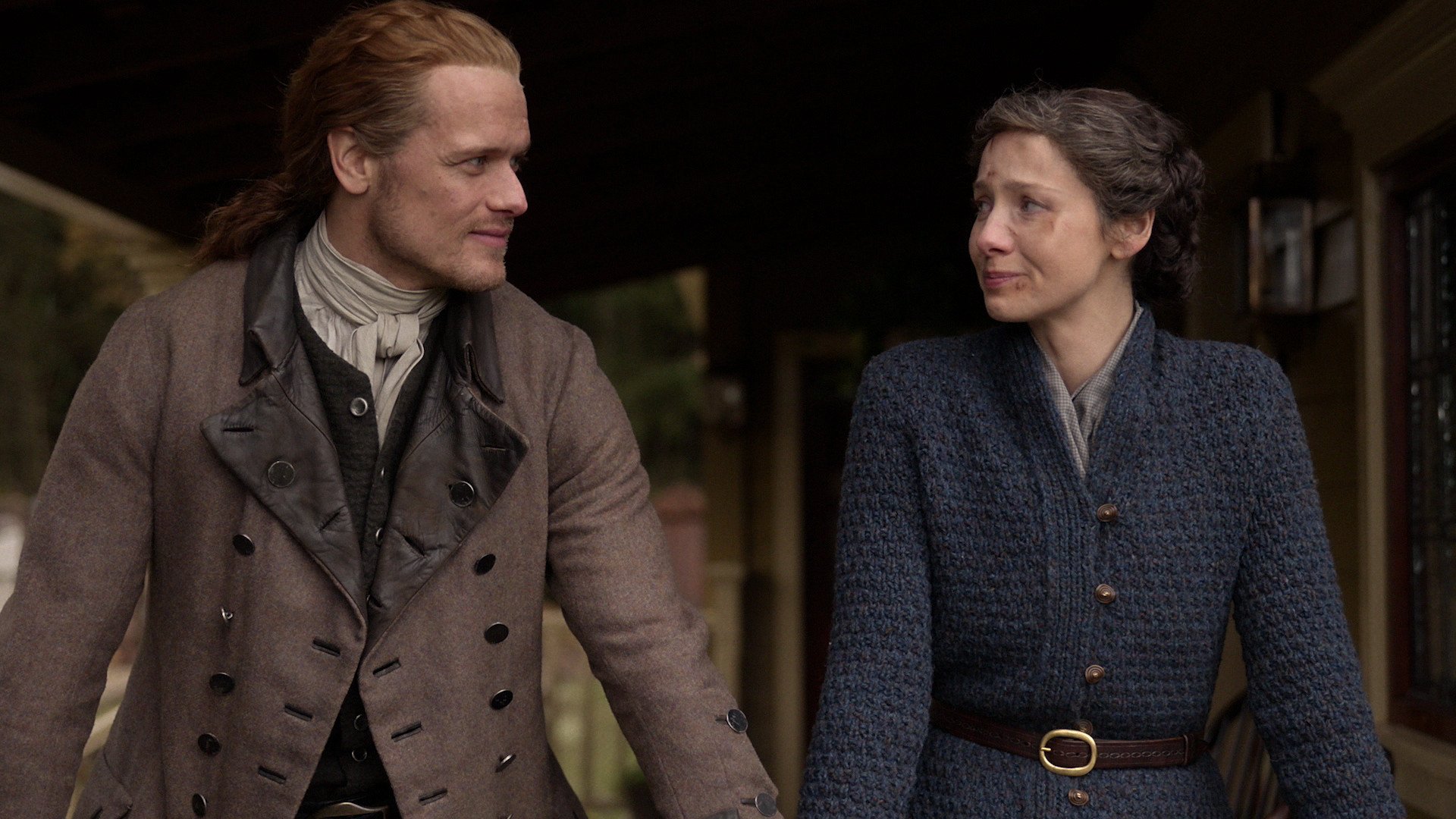 'Outlander' Season 6 updates
The entire TV/film industry had to figure out how to work within COVID-19 safety guidelines. For many shows, that meant delaying production altogether. That's what the Starz series' creative team decided to do in order to preserve the quality of Jamie and Claire Fraser's intimate scenes.
"I don't know how to write 'COVID-friendly scenes,'" Roberts told Elle.
Season 6 began production in January 2021, and the episodes are likely to air by early 2022. The first episode is titled "Echoes." Roberts wrote the script, and Kate Cheeseman directed.
As for the cast, Sam Heughan and Caitriona Balfe are, of course, reprising their roles as Jamie and Claire. Sophie Skelton and Richard Rankin are back as Brianna Randall Fraser and Roger MacKenzie. Newcomers Mark Lewis Jones, Jessica Reynolds, and Alexander Vlahos are playing the Christies—a family Outlander readers know will drive much of season 6's plot.
'Outlander' Season 6 is 'a difficult season for Jamie and Claire'
Outside of Jamie and Claire's lives at Fraser's Ridge, the American Revolutionary war is brewing. Season 6 will be set in 1775. In the first episode of the podcast, Roberts and Davis answered fan questions about the upcoming season. While Roberts has a personal no-spoiler rule, Davis was happy to share some details.
A fan asked the producers to comment on a scene Vlahos and Outlander author Diana Gabaldon called "incredible." And Davis' response confirmed Jamie and Claire will experience hardship this season. She said:
"Some of the magic of the show gets taken away a little bit when you have our jobs. And same for the actors on set and same for the crew. You do tend to see the same scenes filmed multiple times. It's over, and over, and over. It's probably not until we see what's called the 'playback' on the big screen. You're seeing it in a way it's all been put together. Editing's been done, everything's been done. And that's usually the moment that I get very emotional about certain things.

Certainly this season, we've had a lot of moments. There are some very traumatic and very emotional times. It's a difficult season for Jamie and Claire and everyone. Yes, and I know the scene Diana's talking about, and I would say I agree."
Davis said the "incredible" scene involves the three new characters.
"It might involve the Christies, let's put it that way," she said.
Will there be a season 7 of 'Outlander'?
Readers of the Outlander novels already know what's in store for season 6, which is based on Gabaldon's A Breath of Snow and Ashes. For those who just watch the show, it's undoubtedly sad to learn Jamie and Claire and company will experience even more hardship in future episodes.
Season 5 featured Roger surviving a brutal attack and Claire being the victim of sexual assault, providing some of the darkest episodes in the show's run. But whatever happens in season 6, just know season 7 is already confirmed.
With the Revolutionary War on the horizon and trouble brewing at home, the sixth season of Outlander is sure to deliver the drama.