'Outlander' Spinoff 'Conversations Are Underway,' Producer Says — Here's the Likely Star
Jamie and Claire fans, rejoice: Outlander could be getting a spinoff. Executive producer Ronald D. Moore said "conversations are underway" for another branch of the popular STARZ series, noting he's "optimistic" about the its prospects. But Outlander has already been renewed for an extended season 7, making stars Sam Heughan and Caitriona Balfe booked and busy. Based on what we know about Diana Gabaldon's books, who could star in an Outlander spinoff?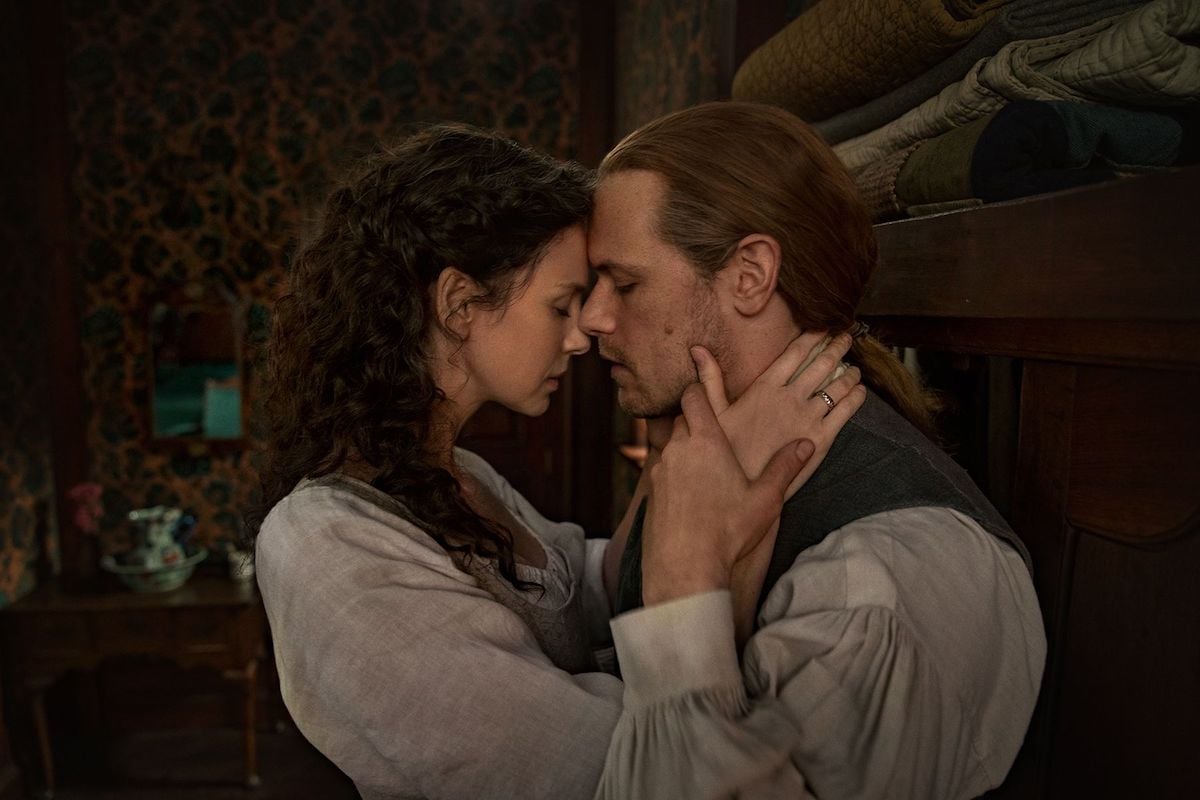 Will there be an 'Outlander' spinoff?
With such rich source material in Galbaldon's eight, soon to be nine Outlander books, it's surprising the STARZ series hasn't made a spinoff yet. Heughan, Balfe, and co-stars Sophie Skelton, Richard Rankin, and more have helped create a massive fanbase for the series. And there are plenty of people who would revel in seeing new stories about supporting characters.
Moore told The Hollywood Reporter in February 2021 he's just as surprised as anyone that a spinoff hasn't been made yet. He said:
"Conversations are underway on both season seven and on a spinoff and I think we're going to have good news on both those fronts before too long so I feel very optimistic about it. I agree that I would've been happy to see it happen sooner than this but everything happens in its time. I think both those things are probably going to happen and hopefully we'll be able to say something about it before too long."
Lord John Grey already has an 'Outlander' spinoff series
Moore didn't comment on which members of the Outlander cast could star in the spinoff, should it happen. But Gabaldon has already written Outlander spinoff books. And they're all about Lord John Grey, played by David Berry in the show. Lord John is a British military officer. But Jamie once saved his life, resulting in John's brother saving Jamie's after the Battle of Culloden was lost and Scottish Jacobites were being rounded up and killed.
Jamie and John developed a friendship over the 20 years of Jamie and Claire's separation. John is gay, and he fell in love with Jamie. Jamie didn't reciprocate the feelings. But their friendship endured, and John ended up marrying Isobel Dunsany — Geneva Dunsany's sister. Geneva is the mother of Jamie's son, William. John and Isobel raise William as their son. John never falls out of love with Jamie.
Gabaldon decided he was the best character to base her Outlander spinoffs on. The stories are called the Lord John Grey Series. The first started as a short story, and then Gabaldon was inspired to write four novels total for the series. The stories exist within the Outlander universe, but there's no time travel involved. And there are references to Jamie and other Outlander characters.
John seems like the most likely star of an Outlander spinoff. And Berry told Digital Spy he'd be interested in starring in a solo series. He said:
"I really enjoy those novels. He's sort of in the realm of hypotheticals so in a hypothetical world, yeah, I'd jump at the chance to play the character again in the right series. The source material is really strong. Diana has written a wonderful character and a wonderful series of books, and I really enjoyed playing him."
Is David Berry coming back to 'Outlander'?
Berry will be part of Outlander Season 6, coming out early February 2022. In a June 1 video commemorating World Outlander Day, Berry appeared with the other cast members to thank fans for their support. This seemingly confirmed his presence in Outlander Season 6, as they were on set filming the new episodes when the video was made. Along with Berry were Balfe, Heughan, Skelton, Rankin, and other Outlander supporting characters both new and old.
Outlander Season 6 will be loosely based on A Breath of Snow and Ashes, the sixth Outlander book. And John does appear in that book. So his presence makes sense. Berry's also a welcome addition to every episode he's in, so fans will be excited to see him return. The character also has an even more important development later on in the Outlander books that will shake fans to their core if shown in the show. But we're going to stay mum on that for now.