Padma Lakshmi Is Open With Her Daughter About Racism – 'She's a Biracial Child'
Top Chef host Padma Lakshmi shared from her heart this week that she's exposed her daughter to honest conversation about racism – because she's had to.
RELATED: Padma Lakshmi's Response to Being Called 'Immoral' in a Recent Instagram Post
Lakshmi is Indian, while her daughter's father, Adam Dell, is white. Her daughter's heritage compels the television personality to dialogue consistently with her, about racism in general and about the racism she may have to confront in her life.
Lakshmi at first didn't know who the father of her daughter was
Lakshmi, after her 2007 divorce from renowned novelist Salman Rushdie, began dating two men:  businessman Teddy Forstmann and venture capitalist Adam Dell. Eventually, she became pregnant but wasn't sure which man had fathered her baby.
The star of Hulu's travel/food program, Taste the Nation, told Matt Lauer in 2016 on Today about the crossroads at which she found herself.
RELATED: How Many Kids Does Padma Lakshmi Have?
"It probably wasn't the best choice," she admitted, "but it was the choice that I made at the time. I didn't want to be in a serious relationship. I was still really hurting from my divorce. I probably shouldn't have been with anybody and just taken the time I needed for myself."
However, the Indian-born model felt that if men could be multiple-daters, there was no reason why she could not do the same.
Lakshmi recalled, "I was presented with two very different, very interesting men. Men do it all the time. I chose to do it, and I was open with the men involved. I'm going to own my history."
Adam Dell was surprised at how 'light' his daughter was
Lakshmi found out during her pregnancy that the father of her coming baby was Dell. The 49-year-old former model described in her memoir, Love, Loss, and What We Ate, Dell's surprised reaction upon seeing the baby after Lakshmi gave birth in 2010.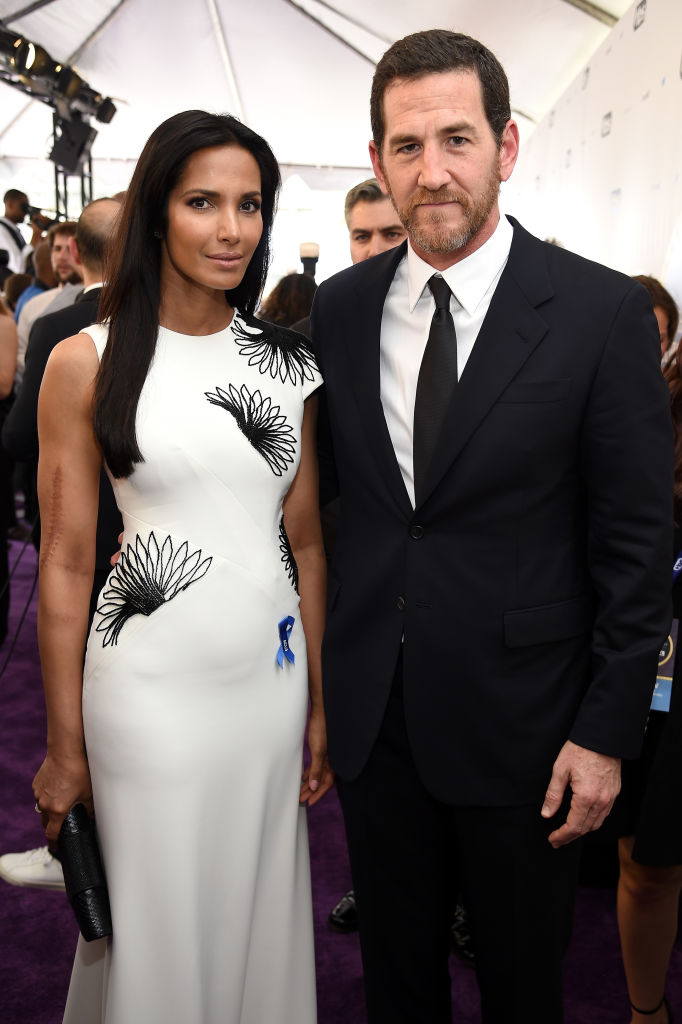 "Adam flew in from Texas the day after Krishna was born," Lakshmi recalled. "He saw and held the baby for the first time at Lenox Hill. He kept saying how "light" she was. At first, I thought he meant her weight, but he meant the color of her skin."
The food writer explained that everyone, herself included, expected Krishna to resemble her side of the family. Instead, all parties were thoroughly shocked at the little human who arrived.
"We were all expecting a brown-eyed, tawny-skinned little thing with jet-black Asian hair to appear," she wrote, "and instead, out came this pale white baby with blue eyes and downy light-brown hair."
Lakshmi has always talked to her daughter about racism
As she stated in a conversation with Page Six this week, Lakshmi knows talking to her now ten-year-old daughter about racism is a must.
"This is a subject that we have talked about all through her childhood," Lakshmi said. "She's a biracial child, she's also someone who's traveled extensively with me, not only domestically but internationally so she's very aware of these issues of inequality, also because of my work with the ACLU, I've been able to take her to rallies and things like that."
It's clear that, for Lakshmi, talking to her daughter frankly about racism needs to take place on an ongoing basis.
"I try to expose her to as much in an age appropriate way," she said, "it's not always a perfect science. I think it's better to do it with children in small doses all through their lives rather than, 'OK we have to hurry and bring them up to speed.' "
RELATED: What Padma Lakshmi's Young Daughter Said That Scared The 'Top Chef' Host