Paul Bettany's Vision Reveal Was Almost Very NSFW in 'Avengers: Age of Ultron' Thanks to Joss Whedon
While Marvel movies aren't walks in the park and full of rainbows and butterflies, they're pretty tame on the sensual side of things. While there are love interests, there really aren't steamy sex scenes, nor are there really overtly sexual in any way. However, with that said, Joss Whedon wanted Vision's reveal in Avengers: Age of Ultron to be very NSFW, according to Paul Bettany. 
Paul Bettany said that Joss Whedon originally wanted Vision's 'birth' to include a naked Vision with a penis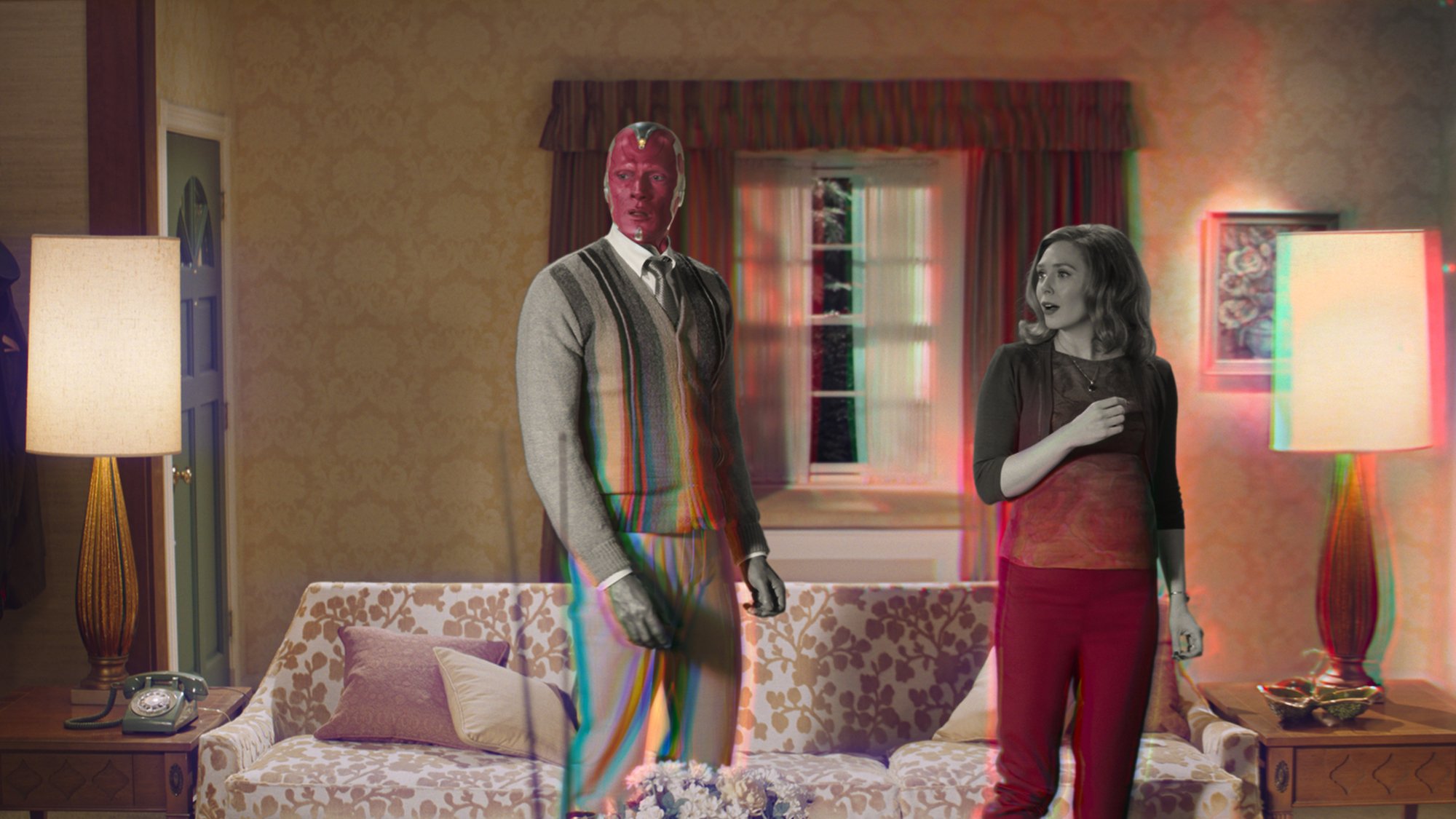 Bettany has physically been in the Marvel Cinematic Universe since 2015's Avengers: Age of Ultron, but he's been the voice of J.A.R.V.I.S. since 2008's Iron Man. Which is, of course, what Vision is; he's the physical embodiment (a synthezoid) of Tony Stark's AI system powered by the Mind Stone. 
So, when it came time to bring Bettany from just a voice in the MCU to a physical actor and character, Whedon had to figure out how to visualize that. Whedon wrote and directed the 2015 film, and apparently wanted Vision to really have a birthday suit when he was born. 
"I know Joss Whedon apparently really, really wanted the rendition of him, when Vision first is born, before he was clothed, he was like, 'He's gotta have a penis,'" Bettany said in an interview with the Lights, Camera, Pod podcast on Jan. 26.
Bettany recalled that Kevin Feige and Louis D'Esposito were very apprehensive about it, saying they "weren't sure." But Whedon was very adamant that Vision appear naked. So much so that he had artists mockup storyboards with Vision and his nude body. However, this changed his tune a bit. 
"Actually, somewhere is the rendition of Vision's birth with these penises and they put them all up on the wall," Bettany said. "And they all went in and they sat down and Joss went, 'Yeah, I'm 100-percent wrong, I don't need to see any of these.'"
This isn't the first time Bettany has shared information on that body part of Vision's in particular
It's unclear whether this would have actually been shown on screen — most likely not, considering the rating — but it must have been more so for added effect and realism for the actors. And it probably would have been something commented on by a character. 
It, of course, never went through, but to think it could have? Wild. Instead, Vision does appear for the first time in the film without clothes on in a cloud of smoke, but he doesn't have any bodily appendages that would be seen as inappropriate. It just looks like a suit, since he's a synthezoid. 
But this isn't the first time Bettany has shared information on Vision's body and male-human body parts. 
While appearing on Comedy Central's Stir Crazy YouTube interview series with Josh Horowitz, Bettany shared more about what Vision looks like… there. 
"He's purple," Bettany said. "Vision can change his density, so there's that." 
The "change density" part comes from the comics, meaning that Vision can change how much he weighs and such, but Bettany was being cheeky here in regards to Vision's more sensual side. So do with that information what you will.
'WandaVision' is very much a wholesome depiction of Wanda and Vision as a married couple
Regardless, whatever happens between Vision and Wanda in the bedroom stays in the bedroom, as it should be. They're quite a cute couple, whether they're brooding in Edinburgh or in an American sitcom in an alternate reality (if that's where they are in WandaVision).  
Even though the Marvel Cinematic Universe verges on PG-13 because of violence and some language — with Deadpool coming into the mix at some point and creating an R-rated MCU film for the first time — Vision's portion in the MCU has been decidedly very wholesome. And continues to be that, as well. 
Especially in WandaVision, Vision is the doting husband to his all-American wife. They have silly antics and he's been a bit more free to be funnier. He's not as serious as his real-world Vision self, or what fans saw of him in previous movies. Both Wanda and Vision are, in fact. That's partly because of the sitcom aspect of it, of course. But, things are hinting that that won't stay that way for long.