Paul Wesley Reveals the Moment He and Ian Somerhalder Bonded for Life
Hello, brother. Actors don't always become lifelong friends with their co-stars. But Paul Wesley and Ian Somerhalder very much did. In a recent interview, Wesley revealed the moment he and Somerhalder remember fondly as the night they truly connected while working on The Vampire Diaries.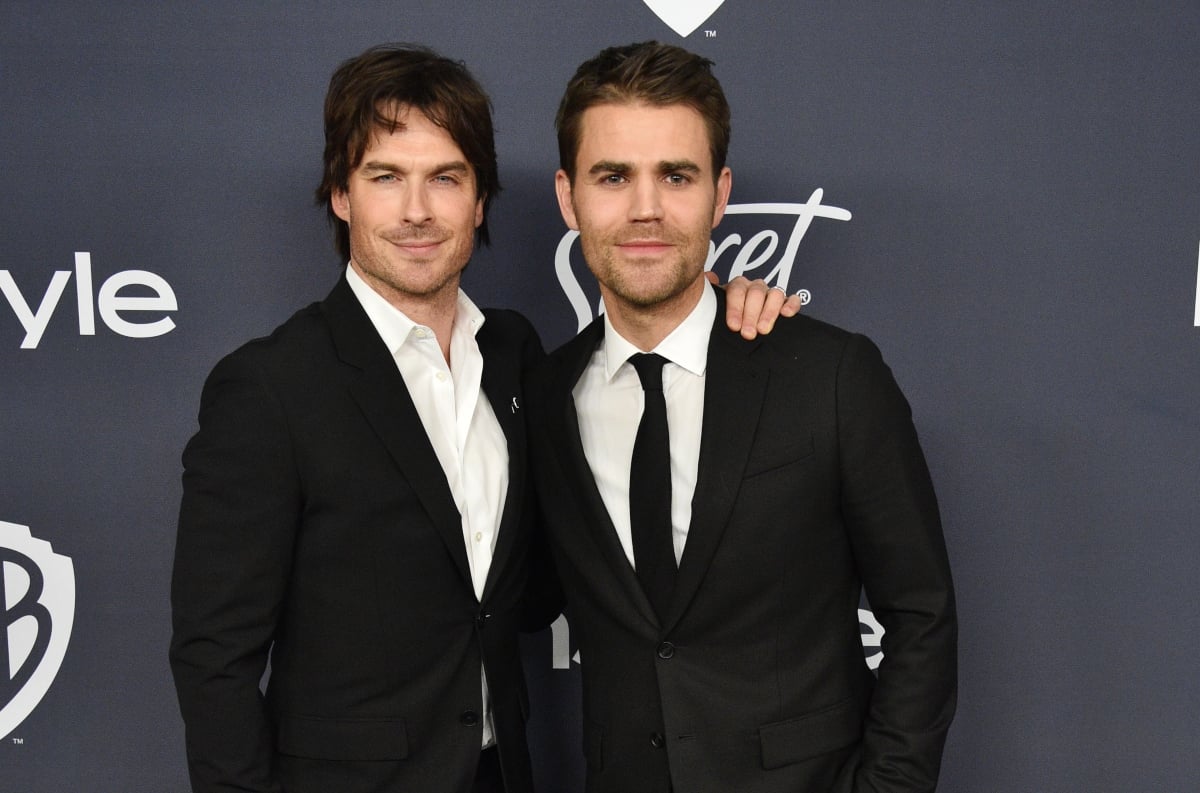 Are Paul Wesley and Ian Somerhalder brothers?
Wesley and Somerhalder played Stefan and Damon Salvatore in The Vampire Diaries. The Salvatore brothers' relationship was always a main part of the show. But when Nina Dobrev left after the season 6 finale, The CW show centered Damon and Stefan's bond.
The actors aren't brothers by blood in real life. But they did create a line of bourbon called Brother's Bond. And one of the signature Brother's Bond drinks is called the Blood Brothers cocktail, an ode to Damon and Stefan. The Blood Brothers cocktail is their take on a whiskey sour. You add Port wine to the drink to make it look like you're drinking blood. What can they say? They know their audience.
Their new business venture was inspired by how they would spend their time off camera. Somerhalder and Wesley spent most of their downtime while filming The Vampire Diaries together. In fact, they lived in the same apartment building while filming season 1 so they could run lines whenever they wanted.
Paul Wesley and Ian Somerhalder connected while doing press for 'The Vampire Diaries'
It was after a Vampire Diaries press event in Europe that Wesley and Somerhalder bonded for life. Wesley told SiriusXM Urban View's The Mike Muse Show:
"I just remember first of all, we were on this journey together on this show, Vampire Diaries, and it was such a huge sort of grind for us emotionally, physically. The show was extremely popular, there was a lot of pressure to perform, et cetera. And I just remember one time we flew to London or to England rather, somewhere in Northern England actually to do some press. I don't remember why.

I remember through all the kind of chaos, we had a night and finally to ourselves and Ian said, 'Hey, do you want to go get some cigars?' I'm not kidding and have a drink and go sit on this like awesome bench in this old castle in the garden. And I was like, 'Yeah, absolutely.'"
Wesley continued:
"I just remember we did that, and we sat there. And It was late and you couldn't hear anything, couldn't see anyone. We were drinking bourbon and we were having these cigars, and we literally just talked about how grateful we were for the lives that we had been living. We hadn't really stopped for a moment to think about how great everything was. You spent your whole life hustling as a young actor, trying to get to that next thing, this, that, you never really enjoy it because you're always putting pressure on yourself. I still do that.
Paul Wesley and Ian Somerhalder's friendship is a brotherhood
This moment gave Wesley and Somerhalder a chance to reflect on how much their lives had been changed by The Vampire Diaries in so little time.
"That was a moment where we sat down and just were like, wow, this is so cool. We're so lucky. How great is this? We're having a cigar, we're in a castle in England, and we're on this great show. And that was a real moment of kind of gratitude and connection that we had with one another that I kind of think really stood out for both of us. We talk about that a lot."
Wesley also gave his personal definition of a brother's bond. He said:
"The thing about brotherhood is that it's deeper than friendship in a way, right? I have many friends, acquaintances, whatever. Brotherhood is a thing where you know that you're kind of connected, kind of forever in some sense, whether you can not talk for two years, but you're always going to be brothers kind of thing."
While their time as Damon and Stefan may be over, Wesley and Somerhalder's friendship is still going strong. You can check out Wesley's interview on The Mike Muse Show when it airs on Sunday, Aug. 29, at 11 am EST.