'Peaky Blinders' Season 6: Fans Suspect Gina Gray is Faking Pregnancy to Overthrow Thomas Shelby
Gina Gray entered 'Peaky Blinders' in season 5 as Michael Gray's wife -- and fans don't trust her. Now, some fans suspect Gina is faking her pregnancy in order to overthrow Tommy Shelby and help Michael take over the family business. Here's what may happen in 'Peaky Blinders' Season 6.
Fans can't wait for Peaky Blinders Season 6 to air, as they've followed the Shelby family on TV for years. Thomas Shelby (played by Cillian Murphy) continues to lead his family deeper into politics and gang warfare. But he might've met a new foe in season 5 in the form of Gina Gray. Here's why fans think Gina is faking her pregnancy in an attempt to overthrow Tommy.
Who is Gina Gray in 'Peaky Blinders'? Her character entered in season 5
Michael Gray, the son of Polly Gray, looks to play a major role in Peaky Blinders Season 6. So far, we've seen Tommy and Micheal butt heads when it comes to the direction of the Shelby family business. It seems Michael would love to take control and leave Tommy in the dust — and his wife, Gina, might help him with this task.
In season 5, Gina (played by Anya Taylor-Joy) meets Michael in the U.S., and she returns with him to England after marrying and becoming pregnant. While in England, she takes an interest in the Shelby family business. Michael initially proposes the idea of him and Gina heading back to the U.S. in an attempt to restructure the company, but Tommy dismisses the idea. This results in a huge, blow-out fight between Gina, Michael, and Tommy.
Director Anthony Byrne talked about Gina's character, and he already teased her influence may come more into play in season 6 as well. "She's from an influential family on the east coast of America," Byrne told GQ. "She's incredibly ambitious. She has great street smarts, but they haven't been honed. She's a fish out of water [in the U.K.]. She's followed Michael on a whim, but very quickly starts to exert her own control on him."
Fans suspect Gina Gray is faking her pregnancy to overthrow Thomas Shelby in season 6
Given what fans already know about Gina, they suspect more nefarious activity from her and her family in Peaky Blinders Season 6. And many suspect she's also faking her pregnancy in order to get Michael to have further conflict with Tommy and overthrow the Shelby family business.
A Reddit user recalled when Polly said she wished she could've heard the heartbeats of Gina's baby, indicating perhaps the pregnancy was faked. "I remember when Gina was pregnant and Polly said 'I wish I heard the heartbeats of that baby,' which leads me to believe that Gina was not actually pregnant," the user noted, according to the Daily Express. 
"Also, Gina tried to avoid Ada [Shelby] when she was going to check for a heartbeat," the fan added. "Why was that?"
Others suspected Gina was working with Oswald Mosley to overthrow the Shelbys as well, giving her more motive to fake a pregnancy and rid her and Michael of Tommy's reign.
When does 'Peaky Blinders' Season 6 air?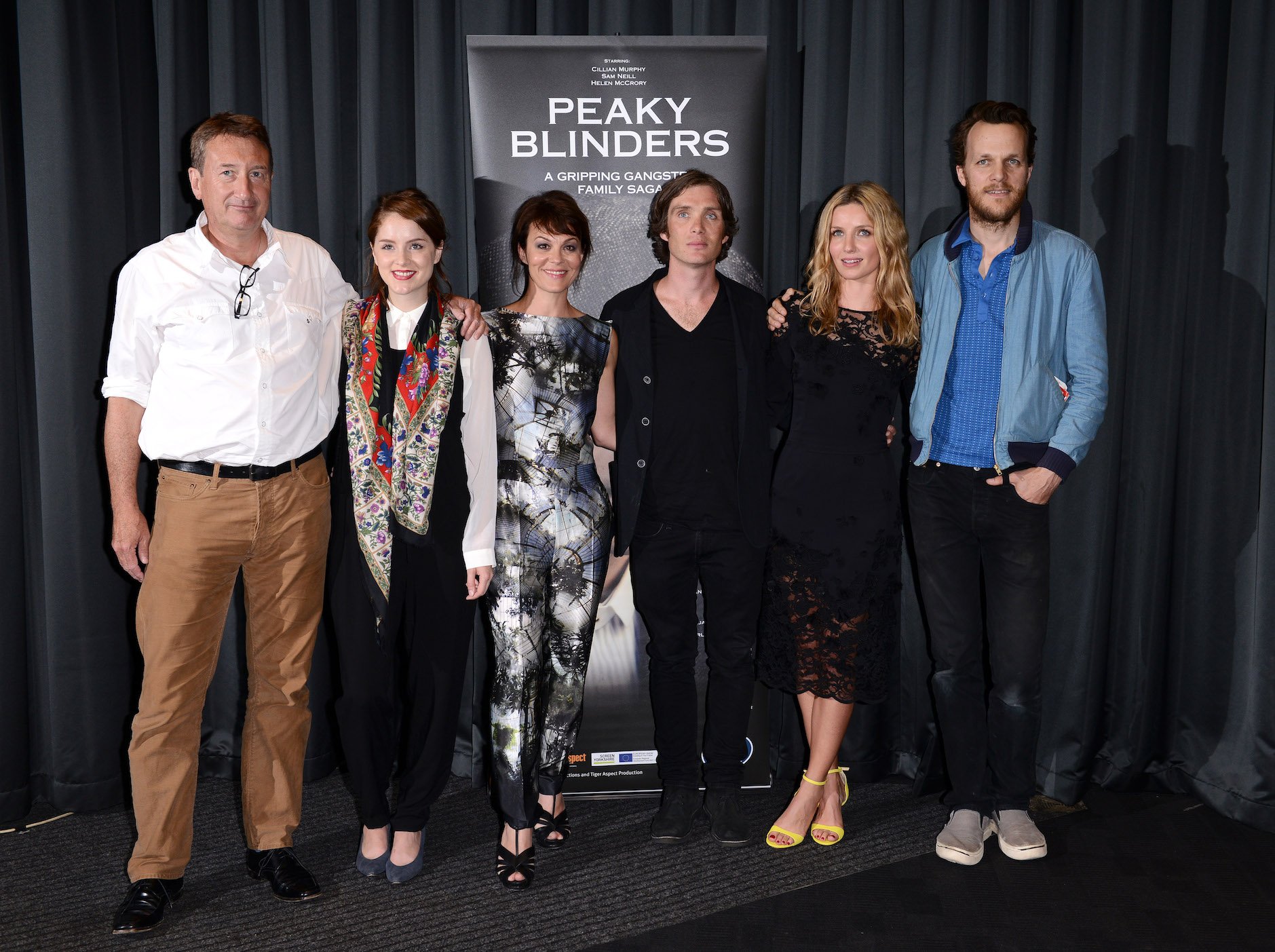 So, when can fans expect to see Peaky Blinders Season 6? Some reports noted the season may air as early as September 2021, but this seems optimistic. The show creators just finished filming in May 2021, so we're willing to bet there will be at least six months of post-production. This might put the premiere toward the end of 2021 or early 2022.
"It's a wrap!" the Peaky Blinders Twitter added on May 28, 2021. Huge thanks to the cast and crew of #PeakyBlinders season 6. You've given this one everything. And it's going to be epic."
We're certainly excited to see what happens with the Shelby family in the final season.
Check out Showbiz Cheat Sheet on Facebook!