'Persuasion': Release Date, Cast, and Everything Else to Know About Netflix's New Jane Austen Adaptation
TL;DR:
Netflix's Persuasion hits the streaming service July 15. 
A trailer for the movie, which stars Dakota Johnson, Henry Golding, and Cosmo Jarvis, drew mixed reactions from fans of Jane Austen's novel. 
Johnson says she was drawn to the "modernized" take on the classic book.  
Another Jane Austen adaptation is coming to a screen near you. Persuasion hits Netflix this July. It stars Dakota Johnson as a woman who must choose between letting go of the past or following her heart when her first love suddenly reappears in her life. A recently released trailer for the film is drawing a mixed reaction from die-hard Austen fans, who aren't impressed with the more modern take on the classic story. 
'Persuasion' is based on a book by Jane Austen  
Persuasion is based on Jane Austen's 1817 novel of the same name. Here's how Netflix describes its take on the story:
Living with her snobby family on the brink of bankruptcy, Anne Elliot is an unconforming woman with modern sensibilities. When Frederick Wentworth — the dashing one she let get away — crashes back into her life, Anne must choose between putting the past behind her or listening to her heart when it comes to second chances. 
Dakota Johnson plays Anne, Cosmo Jarvis plays Frederick Wentworth, and Henry Golding plays the other man in Anne's life. Richard E. Grant plays Anne's vain, spendthrift father, Sir Walter. The movie was directed by Carrie Cracknell.
The 'Fleabag'-esque vibe of the movie isn't sitting right with some Austen fans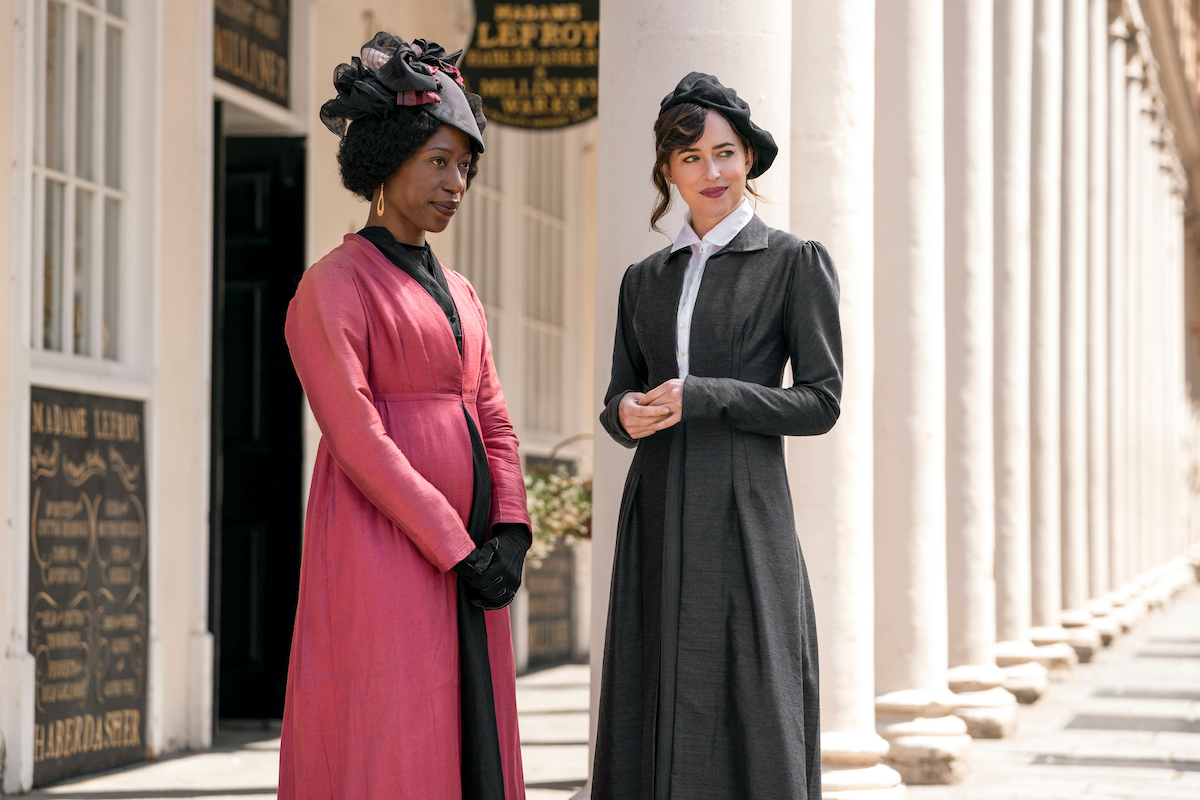 RELATED: Fans Outraged Over the 'Sanditon' Season Finale: 'Jane Austen Is Spinning In Her Grave'
Based on the trailer, Netflix's Persuasion seems to be taking a cue from Fleabag and HBO's Gentleman Jack by breaking the fourth wall. Johnson's Anne directly addresses the camera, informing the viewer that she "almost got married once" but that she was "persuaded by my family to give him up."
But Wentworth unexpectedly returns, much to Anne's dismay. "Now we're worse than exes. We're friends," she says. The arrival of a dashing stranger (played by Golding) further complicates the situation.
Persuasion seems to be taking a more light-hearted, comedic approach to Austen's story, and that doesn't sit right with some fans of her work. When the trailer dropped, they were quick to share their opinions on Twitter.
"Why is Anne looking at the camera and flirting with men and saying 'exes'?" one wondered.
Others complained that the movie was "bastardizing" Austen's "most mature novel" by turning its main character into a quirky, rom-com character.
"This isn't Anne's personality," one wrote.
"Just wondering if you guys have actually read Persuasion??" asked another.
Dakota Johnson says she was drawn to the more modern take on Jane Austen
Persuasion has been adapted several times, including a 1995 movie starring Amanda Root and Ciarán Hinds and a 2007 TV movie with Rupert Henry-Jones and Sally Hawkins. Cracknell has said she wanted the Netflix version to appeal to contemporary audiences. 
"I think the humor [in Persuasion] absolutely speaks to Jane Austen's writing, but it also has a sort of modernity," she told Vogue. "We really hoped it would help the material to connect with a new or younger audience." 
Johnson said she was drawn to the more modern take on Austen's story.
"I was drawn to the occasionally modernized language and themes, breaking the fourth wall and speaking directly to the audience, and the fact that a strong-willed woman remains as much a topic of discussion these days as it was then," Johnson told the magazine.
Persuasion is streaming on Netflix on July 15.
For more on the entertainment world and exclusive interviews, subscribe to Showbiz Cheat Sheet's YouTube channel.
RELATED: 'The Courtship': Nicole Rémy Opens Up About Dating, Regency-Style, and Her Favorite Jane Austen Movie