Will Pete Davidson Appear in 'The Kardashians' Alongside Kim?
Kim Kardashian recently revealed whether fans can expect to see her boyfriend, Pete Davidson, in the new Hulu reality series' The Kardashians.'
The Kardashian family's new Hulu show, The Kardashians, will premiere soon, and there's plenty that fans want to see in the reality series. The famous family ended its iconic E! Network reality show in 2021, and now the Kardashians are ready to let the cameras into their lives again. But with little known about the show, fans aren't sure what to expect. Still, the famous family has dropped a few juicy hints recently. In particular, Kim Kardashian recently offered insight into her romance with Pete Davidson, revealing whether fans can expect to see her boyfriend in the new reality series.
When did Kim Kardashian and Pete Davidson start dating?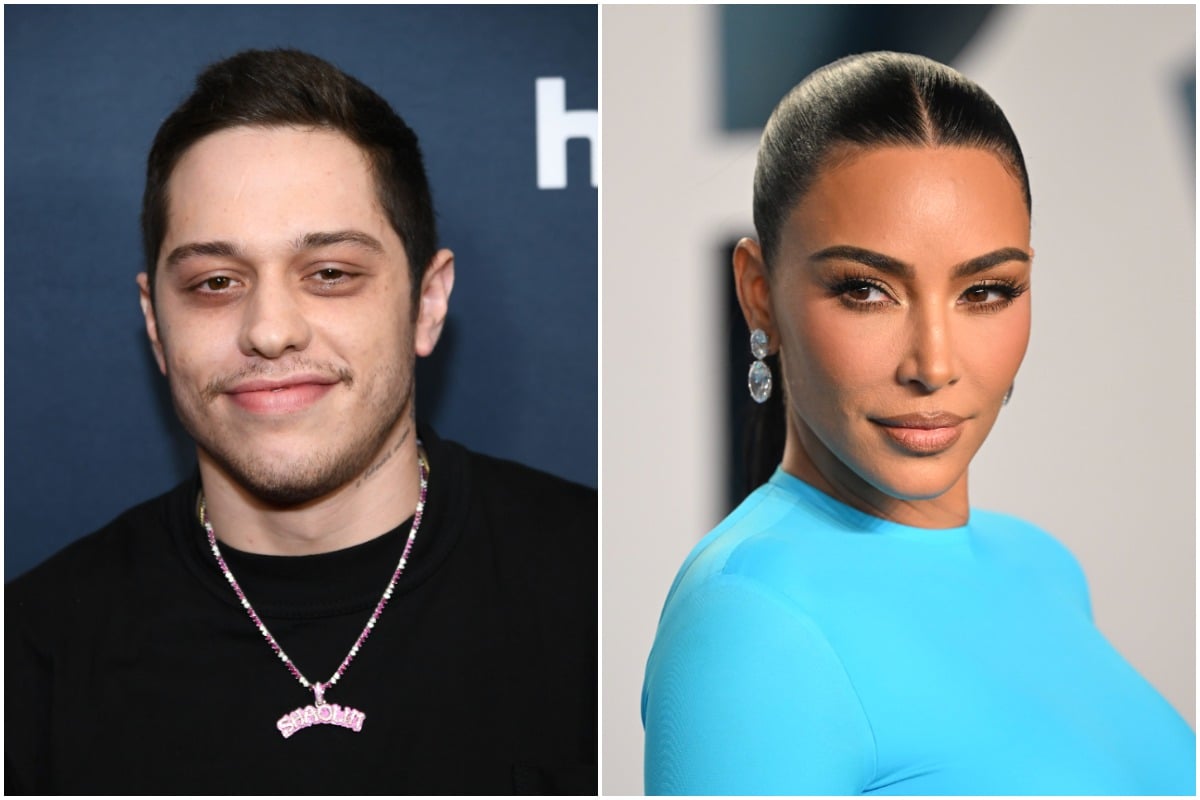 Fans might never have imagined that reality star Kim Kardashian would date a much younger comedian. But that's exactly what happened.
Kardashian was first linked to Davidson in October 2021 after her stint hosting Saturday Night Live. Though insiders initially claimed there was nothing serious between the two, by November 2021, they had made the transition to becoming a couple, Brides reported.
Over the past few months, the couple has weathered plenty of storms, including dealing with a tirade of social media posts from Kanye West, Kardashian's estranged husband. Through it all, Kardashian and Davidson have remained together.
But fans have had little opportunity to learn about their dynamic, with photos of the two together released sporadically and Kardashian keeping their relationship low-key. Still, fans are rabidly curious about what their romance is like and how they see their future together. 
What did Kim say about Pete Davidson appearing on 'The Kardashians'?
Though Kim Kardashian is remaining mum about Pete Davidson for now, she's not averse to talking more about him in the coming months.
In a recent interview with Variety, the Skims mogul opened up about how he will feature in The Kardashians. She revealed he wouldn't appear in the first season.
"I have not filmed with him. And I'm not opposed to it. It's just not what he does," she revealed. "But if there was an event happening and he was there, he wouldn't tell the cameras to get away."
The reality star went on to tease future appearances in the show. "I think I might film something really exciting coming, but it wouldn't be for this season," Kim added.
Kardashian's comments hint viewers might see the elusive couple together — just not for a while. Still, fans can expect to get the details on how she and Davidson began dating and how they established their connection. "I'm definitely open to talking, and I definitely explain it," she told Variety.
When will 'The Kardashians' premiere on Hulu?
Even if Kim Kardashian and Pete Davidson won't appear together onscreen in The Kardashians Season 1, debuting on Hulu on April 14, viewers will see plenty of Kourtney Kardashian's intense romance with rocker Travis Barker.
Early teasers for the series indicate that a focal point of the first season is her engagement to Barker and their journey to having a baby together. Some scenes even show Kourtney going to fertility doctors. 
Additionally, viewers will likely learn more about Kylie Jenner's second baby with Travis Scott and Khloé Kardashian's complicated relationship with Tristan Thompson.
In many ways, it appears The Kardashians will continue the storylines and themes that fans became used to "keeping up" with on Keeping Up With the Kardashians.