Pete Davidson Flaunts Tattoo of Kim Kardashian's Name in Bizarre Texts to Kanye West
Eagle-eyed fans spotted what appears to be a Kim Kardashian tattoo on Pete Davidson in the selfie he sent Kanye West in their bizarre text exchange.
Kanye West and Pete Davidson recently exchanged some shocking text messages, and now fans think the comedian got the rapper's ex, Kim Kardashian, tattooed on his chest. Here's what you need to know about the texts and Davidson's new ink.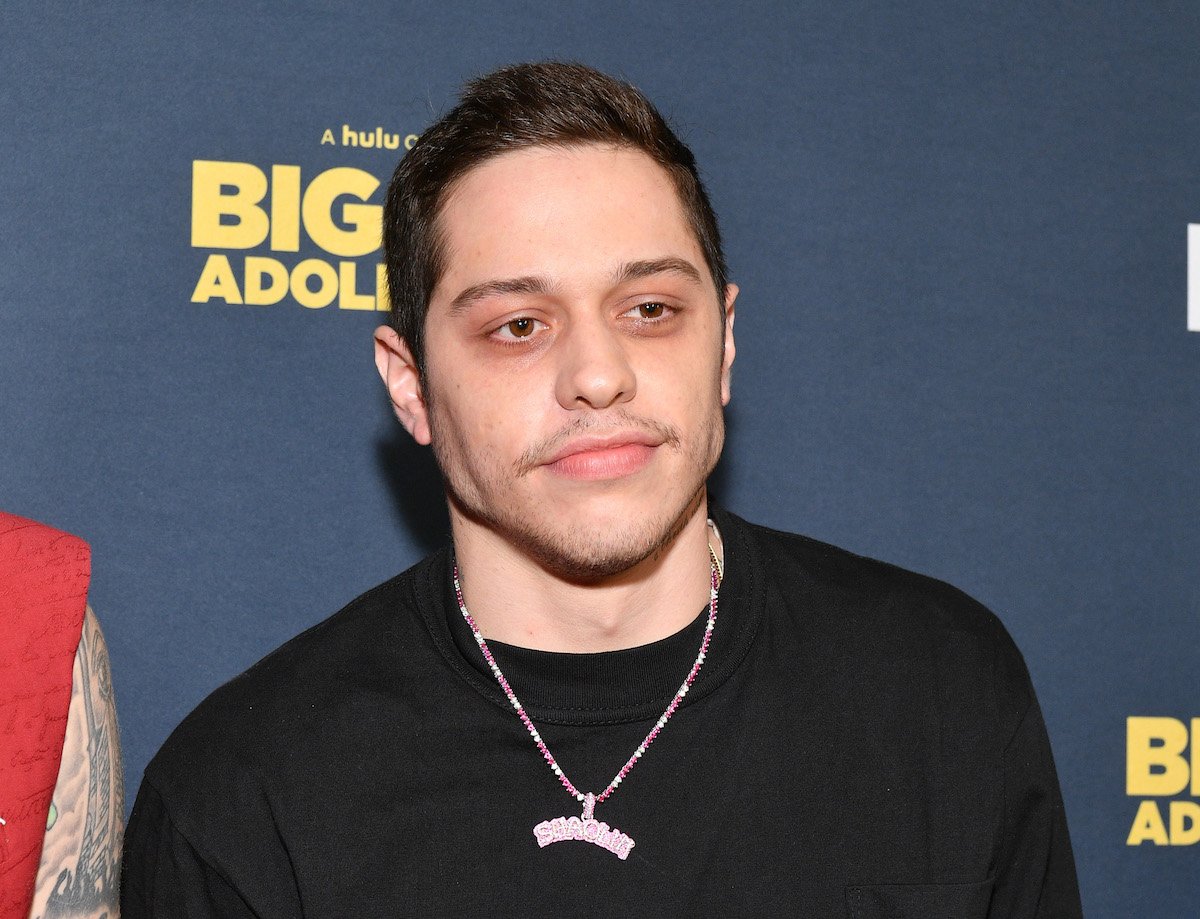 Pete Davidson and Kanye West recently exchanged barbs over texts
On Mar. 13, text messages between Pete Davidson and Kanye West were made public. The Saturday Night Live star's friend Dave Sirus released screenshots of messages between West and Davidson in a since-deleted Instagram post. It's likely that the comedian, who is not on social media, gave his friend permission to share the texts since Sirus has posted on Davidson's behalf in the past.
Throughout the exchange, Davidson switched between antagonizing the Donda rapper and offering to help him. When West sent a message saying, "Where are you right now?" Davidson responded, "In bed with your wife," adding a shirtless photo of himself in bed, sticking out his tongue and flashing a peace sign.
West replied, "Happy to see you're out the hospital and rehab."
Pete Davidson showed off a tattoo of Kim Kardashian's name in his texts to Kanye West
Eagle-eyed fans quickly noticed that the heavily tattooed comedian was rocking some new ink in the selfie he sent Kanye West. 
Amanda Hirsch, host of the Not Skinny But Not Fat podcast, shared an Instagram post highlighting Pete Davidson's new tattoo. It appears to be Kim Kardashian's first name on his chest. "Omg you guys: PETE HAS A KIM TAT 😱," the podcaster captioned the post. 
One fan commented, "Is that Kim's handwriting? How Kravis of them!" in reference to Travis Barker posting a video of Kourtney Kardashian giving him a tattoo.
Another fan agreed with the guess that Kardashian drew the ink on Davidson by commenting, "Also I know how to tattoo, I just don't do it anymore. But it looks like something done by someone who doesn't tattoo. I have a big guess that he let Kim do it 😍"
And another fan pointed out that the lettering looks like the font used in Kardashian's shapewear brand, writing, "I thought it looked kind of like the font used for SKIMS."
Kim Kardashian isn't the first girlfriend the comedian has gotten a tattoo for
Pete Davidson is known for dating several famous women, and Kim Kardashian isn't the first girlfriend he has gotten a tattoo for. 
When he was in a relationship with Ariana Grande, the SNL star got several tattoos to commemorate their love. One was Grande's Dangerous Woman era bunny mask, which Davidson got inked behind his left ear. After their split, he covered it with a black heart. He also got Grande's initials tattooed on his finger.
The former couple got at least three matching tattoos during their courtship (per People). Grande and Davidson got the words "mille tendresse" inked on the backs of their necks, "reborn" on their thumbs, and "H2GKMO" on their hands, which stands for "honest to God knock me out," one of Grande's favorite sayings.