Pete Davidson Pees Next to Kim Kardashian West's Rolls Royce After Getting Turned Away From Weed Store
Pete Davidson drove girlfriend Kim Kardashian West's Rolls Royce while visiting her in California. The comedian took Kardashian West's car to a marijuana dispensary, where he was denied entry, before making an emergency stop to urinate on the side of the road.
Kim Kardashian West and Pete Davidson's relationship is heating up. The reality star gave her comedian boyfriend the keys to her car, which he drove to a marijuana dispensary. He was turned away from the weed store and then urinated by Kardashian West's Rolls Royce on the way home. 
Pete Davidson was turned away from a marijuana dispensary in Kim Kardashian West's hometown
On Dec. 23, Davidson was denied entry to the marijuana dispensary MedMen. He was in Los Angeles, California, likely on a visit to his girlfriend, Kim Kardashian West, who lives there. Davidson lives in New York, where he works as a writer and actor for Saturday Night Live.
The comedian was dressed casually in a gray hoodie and sweatpants, a black jacket, a black baseball cap, white sneakers, and pink socks. 
Davidson was turned away at the store's door, possibly because he didn't have the proper ID. The store allows any adult over the age of 21, as long as they have a valid government-issued photo ID. Davidson was seen "fumbling with his wallet," according to Page Six, so perhaps he left his ID behind, or it had expired. 
Pete Davidson was driving Kim Kardashian West's car and peed next to it
Davidson drove Kardashian West's car, a gray Rolls Royce with an orange interior, to the dispensary. According to Page Six, the comedian was also recently spotted taking the vehicle to a jewelry store – possibly to buy last-minute Christmas gifts for his new girlfriend and her famous family.
After failing to enter the dispensary, Davidson made an emergency bathroom stop. He pulled over in Kardashian West's car to urinate on the side of the road.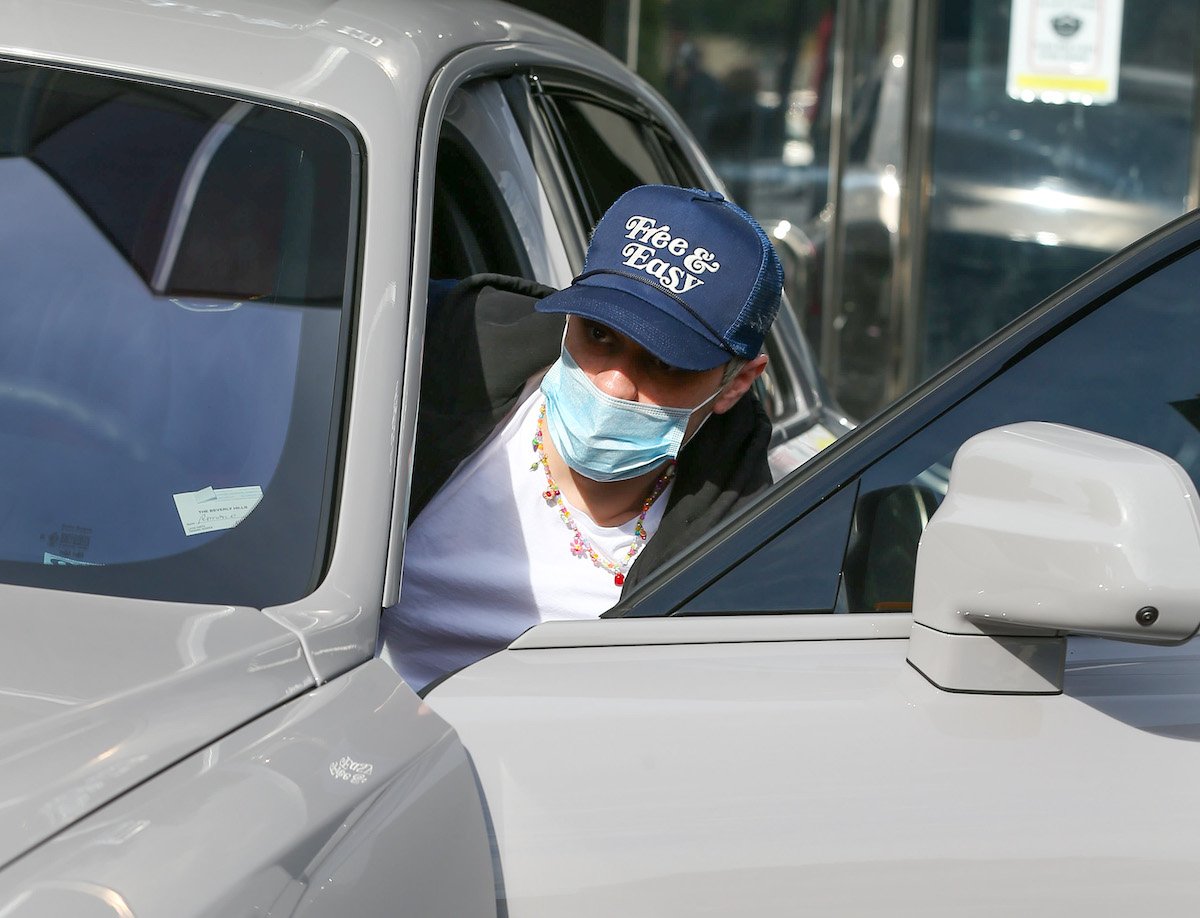 The reality star did not include her comedian boyfriend in her holiday photos
Pete Davidson and Kim Kardashian West have been spotted together several times since starting their rumored romance in October. But it looks like the lovebirds may have spent the holidays apart.
On Christmas Day, the Keeping Up with the Kardashians star posted the Kardashian-Jenner family Christmas card on her Instagram. The annual photoshoot is something fans look forward to each year. This year, the card featured Kim, Khloé, their children, and their mother, Kris Jenner, with Rob Kardashian's daughter, Dream. Davidson, nor any of the women's significant others, appeared in the photos.
On Dec. 28, Kardashian West posted another montage of photos on Instagram with the caption, "Christmas Eve 2021 🎄🎅🏼." The pictures showed Kardashian West celebrating the holiday with several family members, but again, Davidson was nowhere in sight. 
Perhaps the couple agreed to spend the holidays in their respective hometowns, or maybe Kardashian West just didn't post any images of Davidson with her famous family. Kanye West, whom she is in the midst of divorcing, may have also been at the holiday gathering.