Phil Collins' Oscar-Winning Song Was Supposed to Be Performed by This 'Tarzan' Actor Who Couldn't 'Get It' Right
Find out which 'Tarzan' star was meant to sing its Phil Collins-penned theme song 'You'll Be In My Heart.'
When the Disney hit film Tarzan premiered in 1999 its soundtrack, and in particular the song "You'll Be in My Heart," captured the hearts of audiences and critics alike.
Little-known, however, is that the sweet tune was originally supposed to have been performed by a Tarzan actor who, according to the song's composer Phil Collins, was not able to get it right.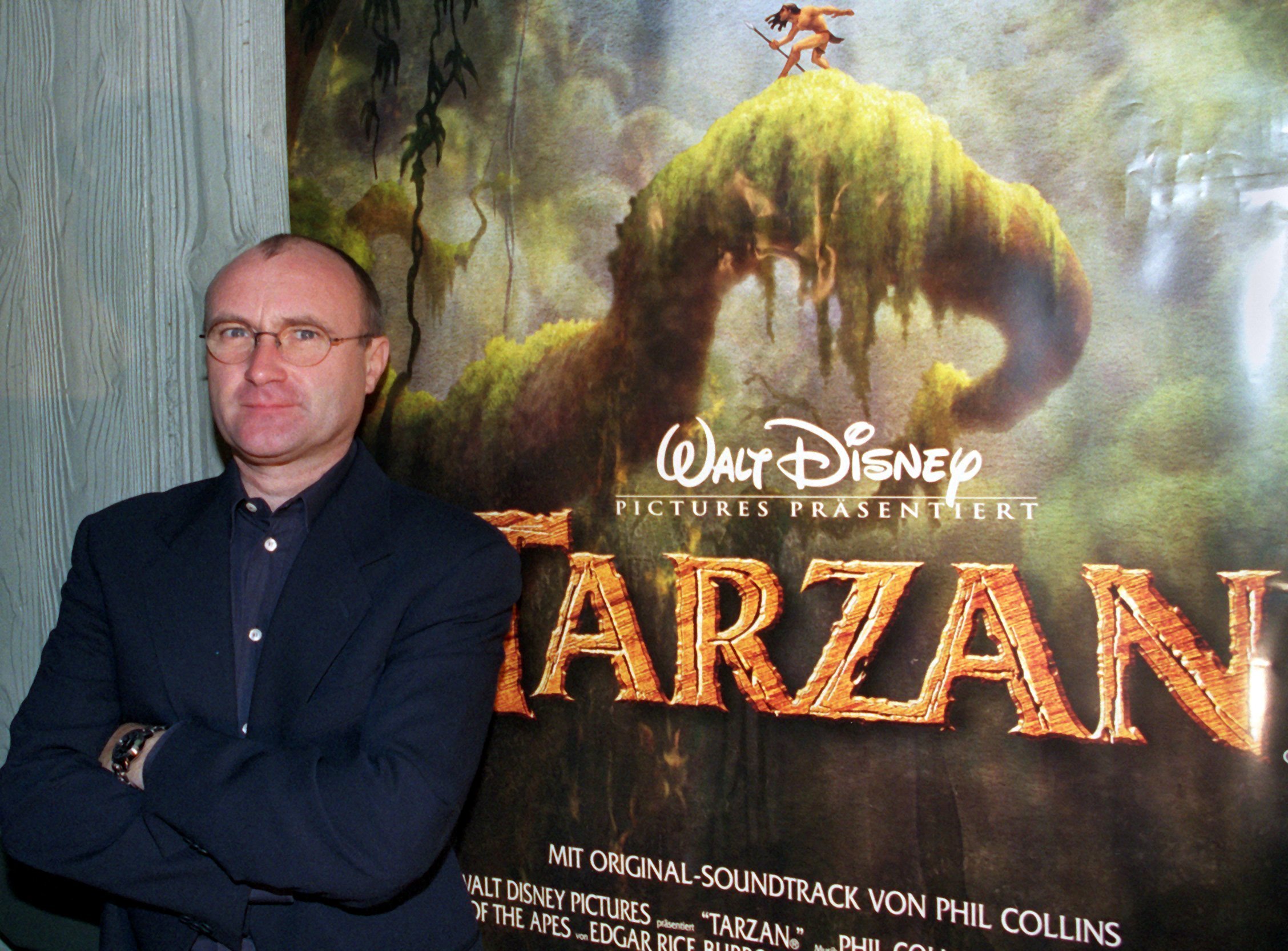 Collins imagined 'You'll Be in My Heart' as a lullaby for his daughter Lily
Collins' just-as-well-known daughter, actor Lily Collins, revealed that her father penned the endearing song as a lullaby for her.
The song appeared in the Disney animated film based on the story Tarzan of the Apes by Edgar Rice Burroughs. It is featured in the film during a scene in which an infant Tarzan is soothed by his adoptive mother, a gorilla named Kala.
In his memoir Not Dead Yet, Collins wrote that the tune, which won an Academy Award in 2000 for Best Original Song, "began life as a melody I imagined singing to a baby Lily."
Lily, whose mother is Phil's second wife Jill Tavelman, told EW of the hit, "We grew up watching Disney shows and movies together, so ["You'll Be in My Heart"] was his way of kind of being able to do it for his kids. It was so special."
The 'Tarzan' actor who was meant to sing 'You'll Be in My Heart'
Disney executives had intended for "You'll Be in My Heart" to be sung by the actor who voiced the character of Kala in the film, Glenn Close. Despite numerous attempts at rehearsing the song, however, the Emmy- and Tony-Award winning actor, according to Collins, "just can't get it."
"She's a Broadway singer, and she can sing. But there's a basic rhythmic disconnect happening here," Collins wrote, saying that after even more attempts to get it right, the "Disney brass" sitting in on rehearsals seemed to be getting nervous.
"Glenn's frustration is also mounting," he continued. "She's a lovely lady, no diva by any stretch of the imagination, but I can see through the studio glass that she's reaching the point of no return."
Finally, Collins recalled, the Disney execs told him, "Well, Phil, you're going to sing it."
In fact, it's decided that the multiple-Grammy award winner will sing four out of the five songs in the film.
"The idea of characters singing goes out of the window, which is the first time this has happened on a Disney movie," Collins said. The music for Tarzan went on to win the 1999 Grammy Award for Best Soundtrack Album.
Collins was stunned to win the Oscar for the tune
As pleased as he was with "You'll Be in My Heart," the songwriter wasn't sure it would win an Academy Award.
"Cher is presenting the music category," Collins wrote. "When she opens that envelope and says my name – I've won the Academy Award for Best Original Song – I stand there in disbelief."
"You don't know what this means to me," he said on stage at the Shrine Auditorium in Los Angeles that year. "You don't know what this means to my kids, it's fantastic."