'Point Break': Patrick Swayze and Keanu Reeves Classic Was Almost Named after a Doors Song
Patrick Swayze and Keanu Reeves' classic action movie 'Point Break' was nearly named after a song by The Doors.
As astonishing as it might be, Keanu Reeves had never made an action movie until 1991's Point Break. That movie sees Reeves play an undercover FBI agent on the tail of mysterious surfer Bodhi (Patrick Swayze). As it turns out, director Kathryn Bigelow's crime thriller almost had a couple different titles. And one would have been borrowed from a hit song by The Doors.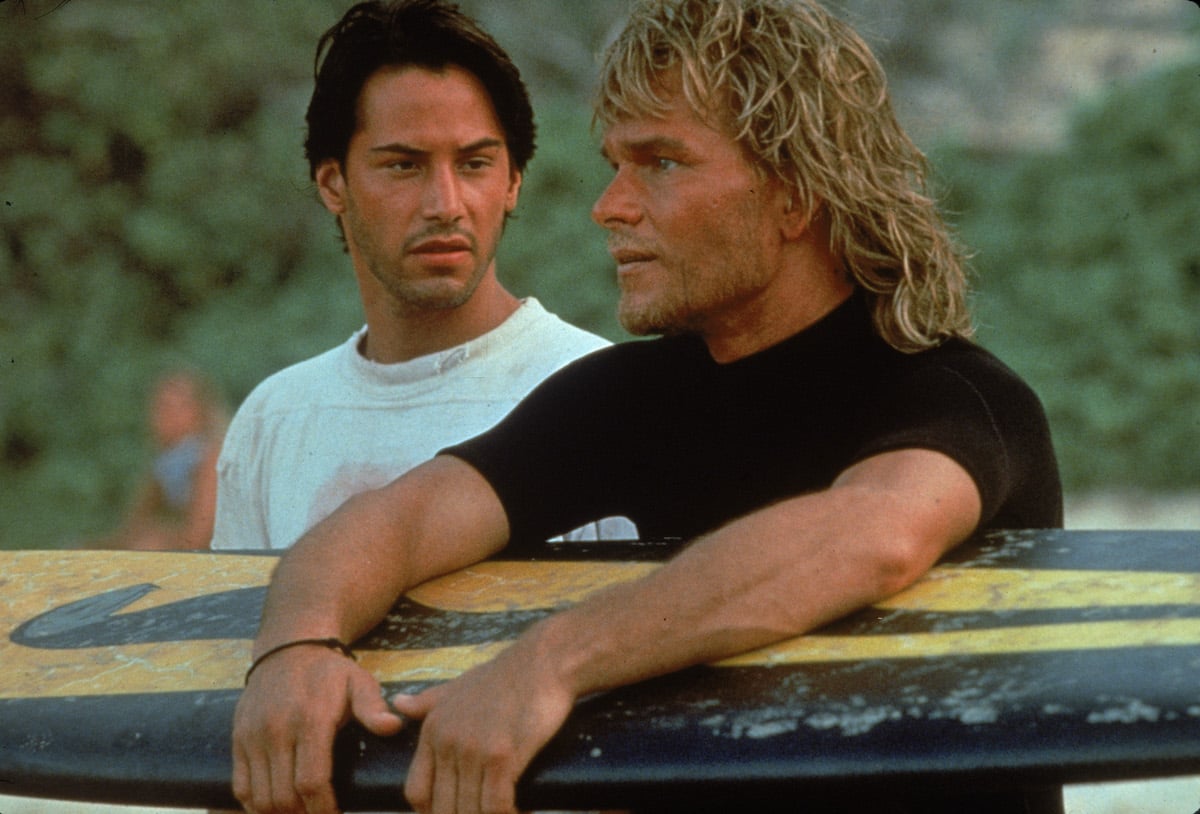 Patrick Swayze and Keanu Reeves star in 1991's 'Point Break'
Produced for just $24 million, Point Break earned $83.5 million at the worldwide box office, according to Box Office Mojo. But only about half of that total came from domestic theaters. As such, the film was a modest hit. But its reputation and fan base has only grown since its initial release. For several reasons, it's become of the most influential action movies of its era.
For instance, Swayze was at the height of his power — just four years past Dirty Dancing — when Point Break landed. But the movie was the launchpad upon Reeves' action career would be built. The actor has appeared in movies such as Speed, The Matrix, and John Wick. But Point Break still remains one of his most iconic roles. Meanwhile, Bigelow's become an Oscar-winning director, thanks to 2009's The Hurt Locker.
The action movie had several other titles before settling on its final one
A big part of what makes Point Break so distinctive is the role surfing plays in its story. This extreme sport provides the perfect backdrop for Bodhi and Johnny Utah's (Reeves) friendship. And it has helped Bigelow's film carve out its own place in cinema history. But its title almost had no connection to surfing at all.
According to the Point Break DVD, the movie nearly used the title Riders on the Storm, inspired by The Doors. This title carried a bit of a connection to the surfing theme, since Bodhi rides waves and contends with storms in the film. But the lyrics to the song "Riders on the Storm" didn't match the movie. Conversely, "point break" is a term explicitly tied to the sport.
In particular, it refers to "a surf break where the shoreline extends out to sea creating a headland," according to SurfGirl Magazine. Fans will never know if the movie would have connected with audiences with its Doors-inspired title or Johnny Utah, another proposed option. Ironically, Reeves has played many characters with that first name, including John Wick.
'Point Break' was unsuccessfully remade in 2015
Over the years, Point Break — and its iconic bromance — became so popular that Hollywood attempted a remake. The 2015 version stars Luke Bracey and Édgar Ramirez as Johnny Utah and Bodhi, respectively. But its release only underscored just how rare and special the original movie is.
Unlike the original's critical acclaim and commercial success, the Point Break remake fell flat. It earned poor reviews and only $28 million domestically against a production budget of $105 million. Even its solid international total couldn't help it turn a profit. Talk about a wipeout.