Prince Harry on Meeting Camilla Parker Bowles in 'Spare': 'This Is Nothing'
TL;DR: 
Prince Harry recalled his first meeting with Camilla Parker Bowles in Spare. 
He remembered wondering if she'd be "cruel" like storybook "wicked stepmothers" before a "mere formality" of an introduction. 
Prince Harry claimed he and Prince William later asked King Charles III not to marry the "other woman."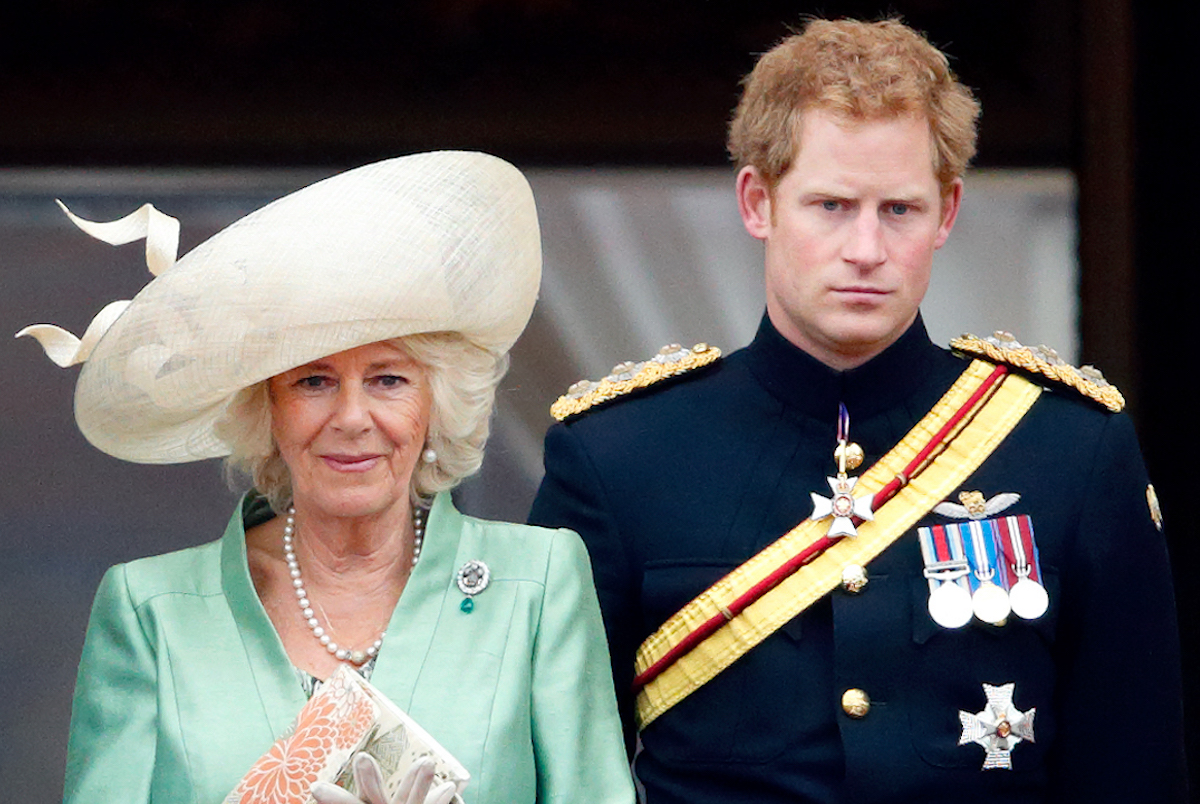 Among the many personal anecdotes in Prince Harry's Spare memoir is his recollection of meeting Queen Consort Camilla Parker Bowles. What the Duke of Sussex had to say about meeting his stepmother for the first time and why he called her "dangerous," ahead. 
Prince Harry wondered if Camilla Parker Bowles would be like storybook versions of 'wicked stepmothers' before meeting her
In Spare, which dropped Jan. 10, Harry looked back on when he met the "other woman." Noting he and William were aware of her presence in their father's life, Harry remembered meeting Camilla after she and King Charles III went public with their romance following Princess Diana's 1997 death. 
"I remember wondering … if she would be cruel to me; if she would be like all the wicked stepmothers in the stories," Harry said (via Hello). 
William, he noted, had already met Camilla when it came time for his own introduction to the now-Queen Consort. 
"I told myself: No big deal. Just like getting an injection. Close your eyes, over before you know it," Harry said. 
Harry meeting Camilla: 'She wasn't my mother, and I wasn't her biggest hurdle'
The Duke of Sussex went on to share what he still remembered about meeting his stepmother.  
"I have a dim recollection of Camilla being just as calm (or bored) as me," he wrote. "Neither of us much fretted about the other's opinion." 
"She wasn't my mother, and I wasn't her biggest hurdle. In other words, I wasn't the Heir," he continued. "This bit with me was mere formality." 
While he couldn't remember what exactly they talked about during that first meeting, Harry guessed they'd probably discussed horses, one of their common interests. 
Ultimately, the now-38-year-old felt "real gratitude" when he discovered Camilla wasn't like the "wicked stepmothers" in stories and wanted his father to be happy.  
"Yes, Camilla had played a pivotal role in the unraveling of our parents' marriage. And yes, that meant she'd played a role in our mother's disappearance," Harry wrote. "But we understood that she'd been trapped like everyone else in the riptide of events. We didn't blame her, and in fact we'd gladly forgive her if she could make Pa happy."
Harry said in 'Spare' he and William asked Charles not to marry Camilla
In a Jan. 8 episode of 60 Minutes, interviewer Anderson Cooper asked Harry about his Spare claim that he and William asked King Charles not to remarry. 
"We didn't think it was necessary. We thought that it was gonna cause more harm than good, and if he was now with his person, that— surely that's enough," Harry replied (via CBS News). "Why go that far when you don't necessarily need to? We wanted him to be happy. And we saw how happy he was with her. So, at the time, it was, 'OK.'"
King Charles and Camilla married on April 9, 2005. Elsewhere in Spare, Harry also called Camilla "dangerous," which Cooper asked Harry to explain.
"Because of the need for her to rehabilitate her image," Harry said in response to why Camilla was "dangerous." 
"That made her dangerous because of the connections that she was forging within the British press," Harry continued. "And there was open willingness on both sides to trade of information. And with a family built on hierarchy, and with her, on the way to being queen consort, there was gonna be people or bodies left in the street because of that."