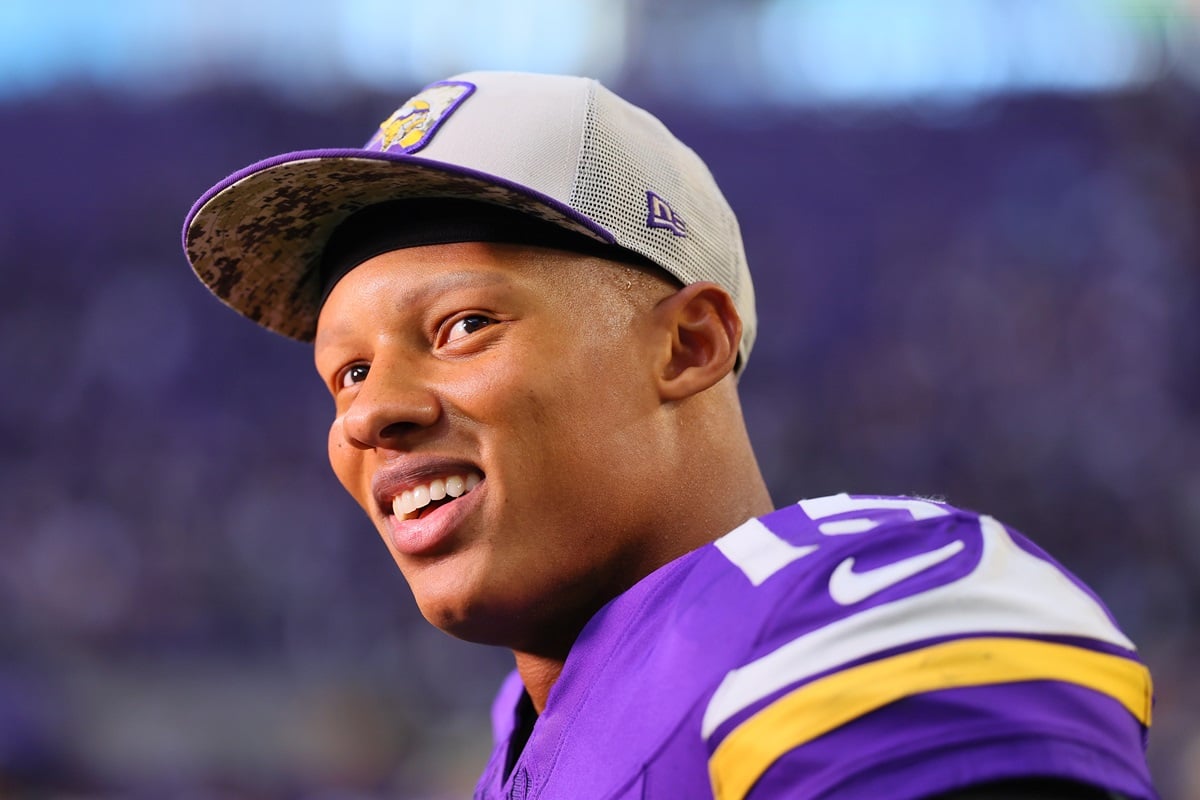 Who Is Quarterback Joshua Dobbs' Girlfriend Jocelyn Lara?
Get to know more about current Minnesota Vikings signal caller Josh Dobbs and the woman he's in a relationship with.
Quarterback Joshua Dobbs was selected by the Pittsburgh Steelers in the fourth round of the 2017 NFL Draft. After a couple of years with the Steelers, Dobbs became a journeyman having stints with several other teams including the Cleveland Browns, the Detroit Lions, the Tennessee Titans, and the Arizona Cardinals.
On Oct. 31, 2023, Dobbs was traded from the Cardinals to the Minnesota Vikings. Days later he entered his first game for the team after quarterback Jaren Hall, who had taken over for Kirk Cousins following his season-ending Achilles injury, suffered a concussion. Since Dobbs became the team's starter fans have had questions about the athlete's life off the field. Here's more on Dobbs and his girlfriend Jocelyn Lara.
When did Dobbs and Lara meet?
Lara was born on Dec. 10, 1996, to parents Delmy Zelaya and Jose Lara. She has two siblings, Jessica and Arnold, and grew up in Chelsea, Massachusetts.
After high school, Lara attended the University of Tennessee and that's where she met Dobbs. He was the quarterback for the Volunteers and she was a football recruiting assistant for the school. They started dating and have been together ever since.
What is Lara's occupation?
Lara graduated with a degree in supply chain and marketing. In 2020, she participated in the NFL Women's Careers in Football Forum and worked as a client relations coordinator at Team IFA. In addition, she served as an executive assistant to the head football coach at the University of Minnesota.
Today, she is an account manager at Generation Adidas International.
As for Dobbs, he graduated with a 4.0 GPA in Aerospace Engineering in 2016 and was an intern with NASA. He talked about how his education helped prepare him for the NFL and learning new offenses.
"We're not out there doing engineering equations out there on the field but the study habits for sure, I had to cram for a lot of engineering tests and procrastinated a little bit in college, this is very similar to that," Dobbs said via Sports Illustrated. "Having to process a lot of information because of my trade in school definitely prepared me for situations like this."
Dobbs is an advocate for those with alopecia
Dobbs is also an advocate for people living with alopecia, a disease that causes hair loss. He was diagnosed with alopecia areata when he was a child.
The signal caller told NIH MedlinePlus Magazine: "My diagnosis was a little different than many people with alopecia. My first diagnosis came when I was in third grade. I woke up one morning with a small bald spot on my head. My parents were understandably worried and quickly took me to the dermatologist. Soon after, I was diagnosed with alopecia. My dermatologist gave me a topical cream to apply to my scalp, and my hair grew back. But during my sophomore year in high school, my hair got patchy again. Cortisone shots kept my alopecia at bay again until my senior year, when my eyebrows and eyelashes started to fall out.
"In college, I had to get weekly cortisone shots to help prevent hair loss, but even those became less and less effective for me. So after football season my junior year, I decided to shave my head. After that, my hair stopped growing and I have been completely bald ever since."
He has spoken about his work with the National Alopecia Areata Foundation and has a message for anyone living with the disease: "Keep in mind that all of your dreams can be accomplished without your hair. Alopecia shouldn't stand in your way. You do live in a society that is filled with social media and a focus on beauty. But at the end of the day, if you are comfortable in your own skin–whether you have long hair or no hair–you can be successful and happy."