Relax 'Outlander' Fans — Sam Heughan Is Aware That He Is Not as Tall as Jamie Fraser
ARTICLE HIGHLIGHTS
Outlander author Diana Gabaldon based Jamie Fraser's looks on her husband.
After five seasons, Sam Heughan is very aware that he is not as tall as the character he plays.
Heughan is not the only Outlander character with a height difference from the actor that portrays them.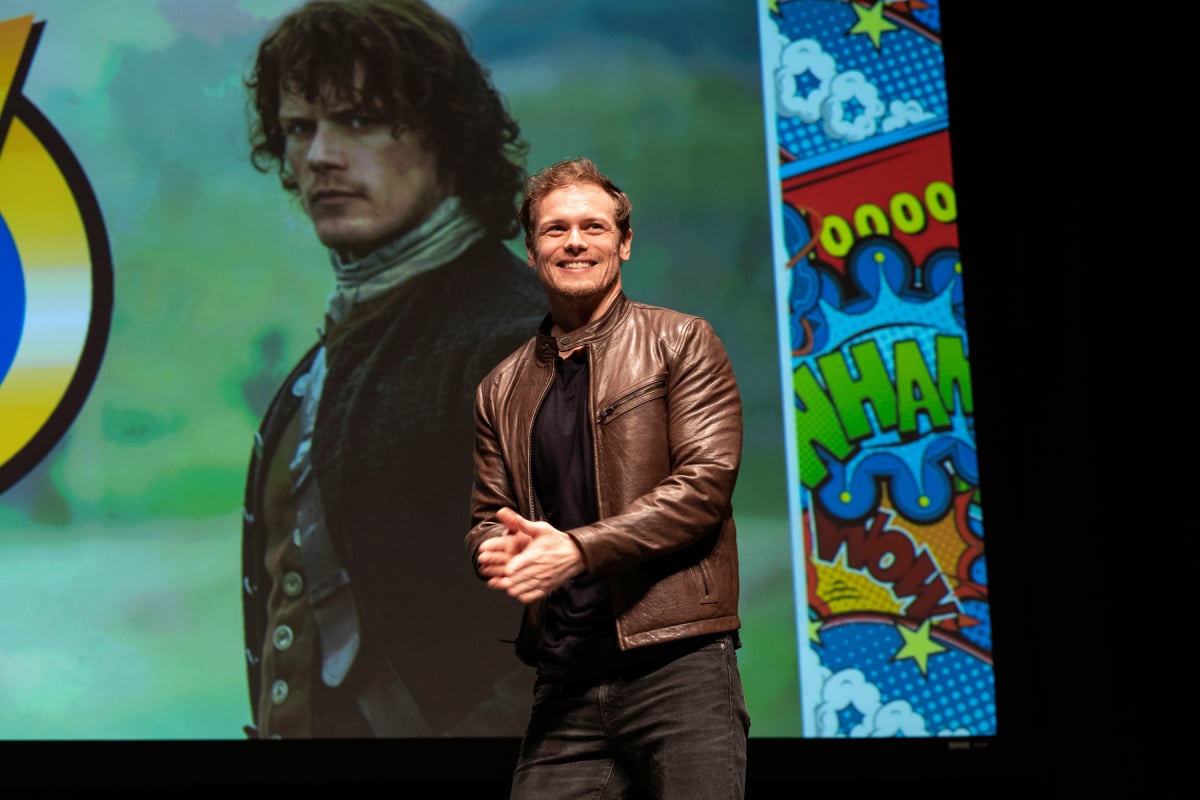 Outlander author Diana Gabaldon was very specific when she described Jamie Fraser in her first novel. He is a proud and brave Highlander, who is strikingly handsome and unusually tall, with wild red hair, piercing blue eyes, and fair skin.
It's safe to say that producers pretty much nailed it when they found then-unknown actor Sam Heughan for the role. But five seasons into the Starz series, the Scottish actor is still very aware that he is not as tall as his character is supposed to be.
The 'Outlander' author found inspiration from her husband
When Gabaldon started writing her first Outlander novel in the late 1980s, she found inspiration for the Jamie character from her husband, Doug Watkins. She described the proud Scotsman as not only handsome, but kind and honorable.
At a Random House event in 2015, Gabaldon told fans, "Well, I have been married to a tall redhead with a sense of humor for almost 45 years."
RELATED: 'Outlander': Sam Heughan Says Jamie and Claire's 'Cracks are Really Starting to Show' in Season 6
When Heughan auditioned for the role of Jamie Fraser in 2013, he was an unknown six-foot-two blonde actor who Gabaldon says didn't give off those Jamie vibes.
Diana Gabaldon wasn't sure about Sam Heughan
According to the Outlander author, when she first saw Heughan, he looked and sounded nothing like she'd described Jamie Fraser in her books. And, the author had her doubts.
"Well, you know what he's like, he's a total chameleon. He changes with each show for each character. I was thinking, 'Well, he doesn't look like Jamie Fraser except for a little bit around the edges,'" Gabaldon revealed on Outcasts, the unofficial Outlander podcast.
"On the other hand, [I thought] he looks really different, so maybe he'll be fine and of course, he was. But that was my first reaction. I was like, 'Are you sure?'"
'Outlander' star Sam Heughan is very aware he's not as tall as his character
When recalling Heughan's initial audition, she says he "didn't look anything like his pictures, he looked fine." As she watched the audition tape, Gabaldon says that "five seconds later he was gone, and it was Jamie Fraser there. I was astonished."
RELATED: 'Outlander': Sam Heughan Admits the Show Has Been 'Life-Changing' — and Not Just For His Career
At six-foot-three, Heughan's height does make him the tallest actor on the Outlander set. But, he's very aware that he's not as tall as the six-foot-four Jamie Fraser. He says that fan reaction to his appearance away from the set is always a bit of a shock because they are expecting a towering, red-headed Scottsman in a kilt.
Sam Heughan says 'Outlander' fan reaction is always genuine
Heughan shared that the common fan reactions to his real-life appearance include "you're not as ginger as I thought", "you're not as Scottish as I thought," and "where's the kilt?"
"Anytime we meet fans, they're just so genuinely enthusiastic and supportive," Heughan told Vanity Fair. "Sometimes in the strangest places — the gym, or the changing room at the gym. Or, recently, on a flight to New York I had a woman approach me. And as I said before, they're always really, genuinely enthusiastic about the show."
Caitriona Balfe is taller than Claire Fraser
Screen adaptations of popular novels are never easy, but Outlander casting was pretty spot on with their main characters. The only exception was height, with Heughan being a couple of inches shorter than Jamie. And Caitriona Balfe being a couple of inches taller than Claire.
RELATED: 'Outlander' Stars Sam Heughan and Caitriona Balfe Had to Re-Shoot 1 'Nookie Scene' Because It 'Wasn't Sexy Enough'
The Outlander heroine is described as being of average modern height, or five-foot-six. But as a former fashion model, Balfe stands at five-foot-nine. With Heughan being shorter than Jamie and Balfe being taller than Claire, there's no on-screen illusion of him towering over her. But, considering all of the character details they had to work with from Gabaldon's novels, they got everything else absolutely right.
Outlander season 6 premieres Sunday, March 6 on Starz.