Robert Downey Jr. and Matt Damon Were Compared in 'Leading Man' Twitter Debacle, Now They're Co-Starring in 'Oppenheimer'
Robert Downey Jr. and Matt Damon are in talks to co-star in Christopher Nolan's Oppenheimer. This marks Downey and Damon's first movie together, and Downey's first movie with Nolan. But in August, the actors were weirdly connected in some Twitter controversy about leading men. The debacle started when an interview with Damon was published. Damon didn't say anything about Downey himself. Rather, the interviewer used the Marvel star as an example of the waning power of leading men. The comments sparked lots of debate. And now, Downey and Damon will be leading men together. Isn't it ironic?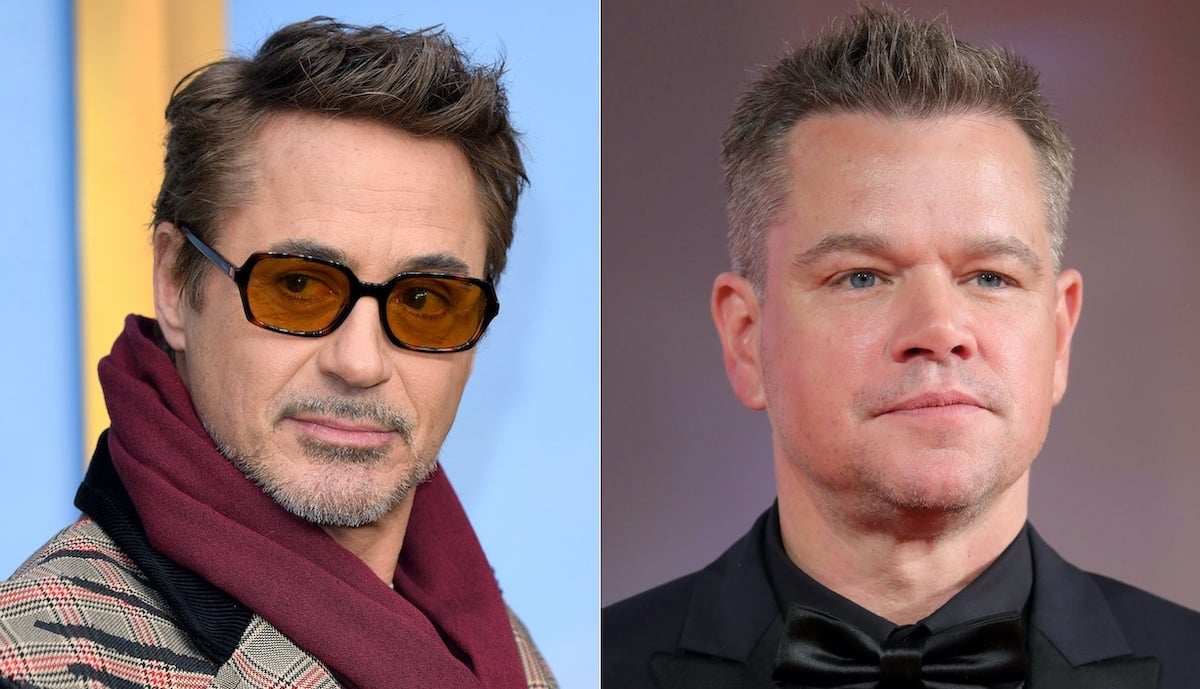 Robert Downey Jr. and Matt Damon to co-star in Christopher Nolan's 'Oppenheimer'
According to Deadline, Downey and Damon are in talks to co-star in Oppenheimer. Nolan's upcoming movie is about J. Robert Oppenheimer, the physicist who helped create the atomic bomb. Oppenheimer is based on the Pulitzer Prize-winning book American Prometheus: The Triumph and Tragedy of J. Robert Oppenheimer by Kai Bird and Martin J. Sherwin.
Damon and Downey's roles in Oppenheimer haven't been disclosed. But Oppenheimer will begin production in 2022 and will come out in theaters July 21, 2023. Oppenheimer will also star Cillian Murphy in the title role and Emily Blunt as his wife, biologist Katherine Vissering Oppenheimer.
In August, an interview with Damon was published in The Sunday Times. It was titled "Is Matt Damon the last of Hollywood's leading men?" The article argued the power of movie stars is waning in Hollywood, saying franchises built around beloved characters is the new go-to. This is true. The MCU alone proves as much. But the DC Comics movies, the new additions to the Star Wars franchise, and now even Dune add to this. Studios are opting to create franchise films with stacked casts rather than bank on just one movie star anymore.
RELATED: 'Venom 2′ Director Andy Serkis' Acting Advice Will Change Your Perspective on Auditions
Robert Downey Jr. reference in recent Matt Damon interview sparked Twitter debate
Here's where Downey comes in. The writer argued the success of Iron Man and the subsequent films is more due to the character itself than Downey's performance.
"Robert Downey Jr. is a leading man, but his Iron Man could be played by almost anyone with wit," they wrote. "The character is more important to audiences than the actor."
Fans could't have disagreed more. The article was shared countless times across Twitter, with people saying Downey's role in making Tony Stark/Iron Man popular shouldn't be understated.
"Bad take," one Twitter user said. "Iron Man was not a popular hero before RDJ. The MCU made Iron Man what it is today. And they couldn't have done it without RDJ in the role. Blatant misread of culture."
"This take ignores that much of the 'wit' and other specifics that made Tony Stark/Iron Man so compelling and popular were innovations of Robert Downey Jr.," another user tweeted. "A different actor might be able to mimic his Iron Man now, but they wouldn't have come up with it in the first place."
RELATED: Andrew Garfield Explains Why David Fincher Makes Actors Do so Many Takes—and Why It Works so Well
Marvel fans defended Robert Downey Jr.'s influence on the MCU
Even Guardians of the Galaxy director James Gunn weighed in. One Twitter user said they "couldn't disagree more" with a tweet saying other actors could have done what Downey did with Tony Stark. This specific user said Ben Affleck, Paul Rudd, or Sam Rockwell could have done a similar job.
Gunn tweeted "100% with you" in defense of Downey's influence on the role and the MCU at large.
Iron Man is the birth of the MCU as we know it. Before its release, Marvel movies weren't nearly as popular. Downey's performance took a B-list Marvel Comics character and made him the face of the entire franchise. And the success of Iron Man taught Marvel that taking lesser known comic characters and elevating them to main characters was a hugely popular structure.
The most recent example of this are WandaVision and The Falcon and The Winter Soldier. WandaVision's Agatha Harkness (Kathryn Hahn) is getting her own spin-off too. These shows wouldn't exist without Iron Man. Indeed, it's hard to imagine anyone looking at Downey's last decade of movies and declaring his character is more of a movie star than him.
Damon did express concern over the changing landscape in the industry in the interview. But his concerns were about movies coming out on streaming services and younger audiences not paying attention as much while watching. His comments had nothing to do with Downey. But now that they're set to co-star in Oppenheimer, it's interesting to imagine them discussing this debate.
And what's even more ironic is that outside of Oppenheimer being a Nolan film, Downey is now probably one of its biggest draws. Avid fans will undoubtedly flock to theaters to see one of his first dramatic performances since Avengers: Endgame came out in 2019.