Ron Howard Said Andy Griffith Had a Quirky Way of Keeping 'The Andy Griffith Show's Actors Motivated
In his recently published memoir, The Boys, actor and Oscar-winning filmmaker Ron Howard explained that on the set of The Andy Griffith Show, once the show was a success in the ratings the show's star Andy Griffith could sense some of the cast getting comfortable.
It was at those times, Howard wrote, that Griffith would use his own unique routine for rousing the talent. And it worked every time.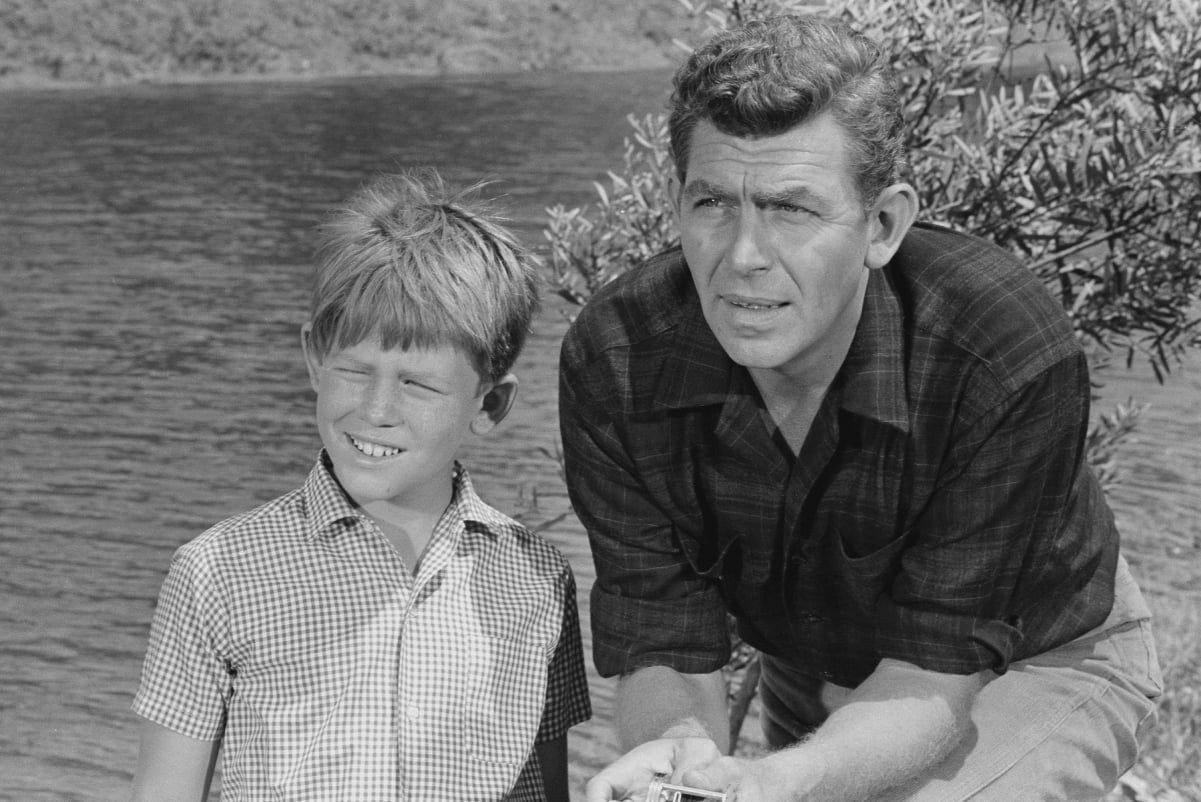 Howard revealed that Griffith really was like a father to him
Ron Howard wrote in The Boys that his view of Andy Griffith from his boyhood was of a warm-hearted, kind mentor. Once he was older, Howard co-starred with Griffith in the 1986 television reunion movie Return to Mayberry, and realized not much had changed.
"Andy, now white-haired, was beginning work on his long-running legal series Matlock," Ron wrote. "It came as a great relief to find that my childhood perception of Andy was not romanticized; he was as wonderful and bighearted as I recalled him being in the 1960s."
How Andy Griffith got the show's actors to focus
The Griffith Show star also helped out with the comedy's scripts and scenes. When he saw the actors were getting too lax or losing their focus in rehearsals, Griffith had a tried-and-true method for recentering them on the task at hand as Howard explained in his memoir.
"Andy had a wonderful facility for getting everyone, actors and writers alike, to up their game for the cause," he wrote. "If he worried that our energy was flagging or that a scene wasn't coming together as it should, he summoned Carl and Ethel."
Carl and Ethel, the former child actor revealed, were "an imaginary couple watching at home, commenting on the show in real-time as we filmed." The gimmick worked, Howard said, with Griffith providing the dialogue.
"Carl, who sounded like a cranky relation of Andy's back in Mount Airy, would butt in to say, 'Well, Ethel, I think we can turn this off. It doesn't make any damned sense!' Or 'Well, Ethel, I've been waitin' 20 minutes to laugh at somethin'. Shoot, I'm gonna go get me somethin' to eat!'" The fictional pair, Howard admitted, were "an effective means to get the writers cracking, working on the fly to sharpen jokes and scenes."
Ron Howard on the painful side of the 'Griffith Show' theme song
In his just-published joint memoir with his brother, actor Clint Howard, the Hillbilly Elegy director shared his very honest thoughts on the Griffith Show's theme song and his bittersweet feelings about it.
"I've had a complicated relationship with that famous whistled theme song," Howard wrote. "By and large, I regard it positively: it evokes fond memories of Andy's warmth and the joy that we took in working together. But there were times in my life when that damned song was the bane of my existence. I'd be in a public place, ballcap pulled low, calling no attention to myself when I'd hear a faint version of the tune tooting from someone's lips — and that's when I'd know that I had been made."
Even more difficult for Howard was the teasing he endured as a young man from schoolmates because of his portrayal of Opie Taylor: "In school, I would sometimes be at my locker, minding my own business, trying to find a homework assignment that I had misplaced, when behind me I'd hear whistling along with derisive laughter — and that's when I knew that I was being mocked for some jerk's amusement."
RELATED: 'The Andy Griffith Show': Are Any of the Main Cast Members Still Alive?