Why Ron Howard's Father Rance Had to Tell Him at Age 5 'How Babies Are Made'
Find out what led to actor Rance Howard's having to explain the facts of his life to son Ronny Howard at the tender age of 5.
Rance Howard by all accounts can be considered one of Hollywood's best stage parents: tough when he needed to be, dedicated at all times, and providing immeasurable support to his acting sons Ron and Clint.
The devoted father, according to the former Andy Griffith Show star's biographer, was also unflinchingly honest and gave his older son "the birds and the bees" straight when the moment called for it.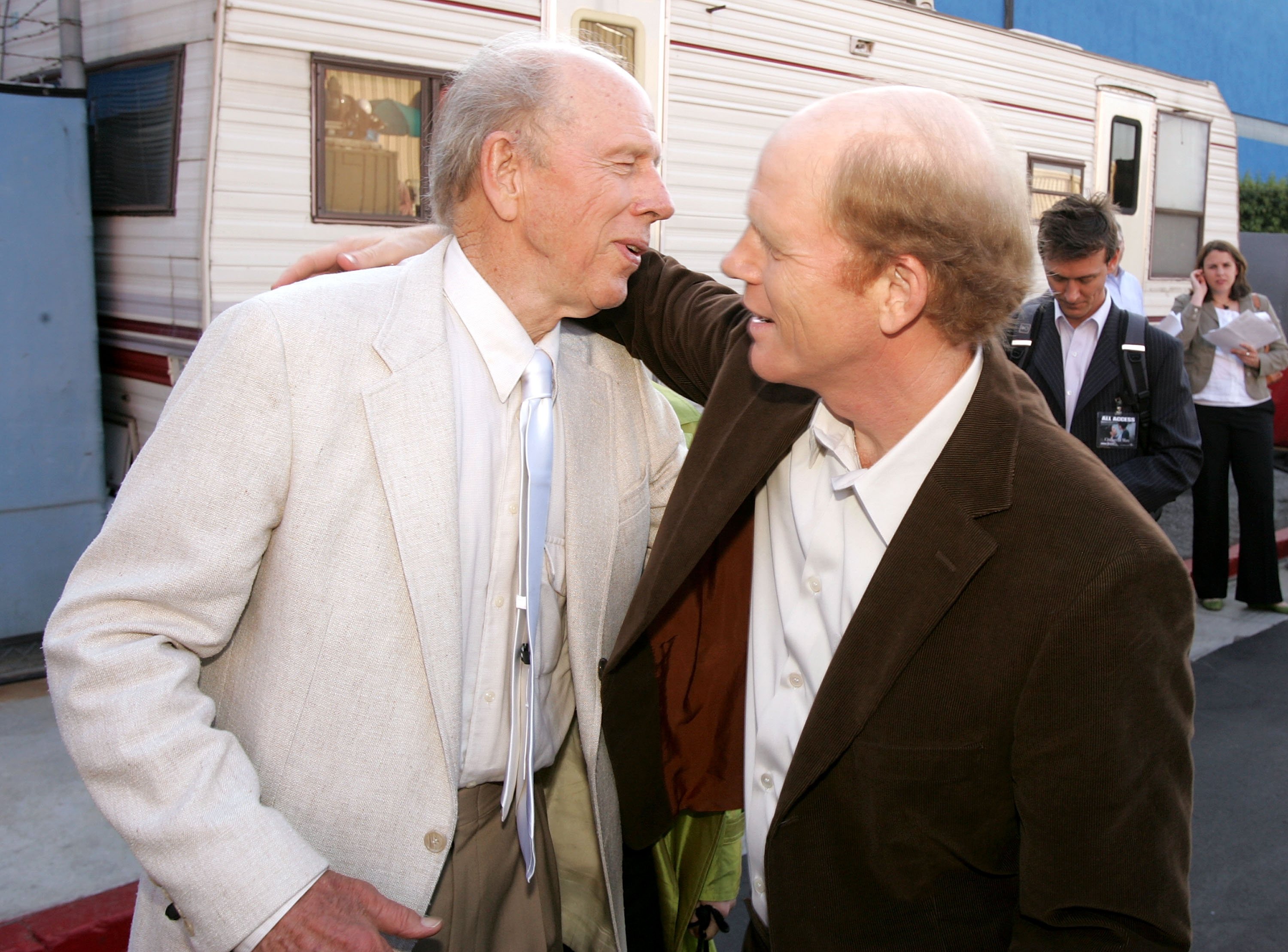 Rance Howard contributed greatly to 'The Andy Griffith Show's success
Thinking back to his days on The Andy Griffith Show, filmmaker Ron Howard spoke with the Television Academy Foundation about how his character Opie Taylor changed drastically early in the show because of his father.
The series was born out of The Danny Thomas Show and so, the character of Opie initially was modeled after Thomas' on-screen son, Rusty Williams from that program. Rusty was a wise-cracking, smart-mouthed kid and Opie was as well until Rance spoke up.
"Early on, they wrote Opie a little differently," Howard said. "More like the typical sitcom kids who were always kind of the wise-ass comebacks. Later I heard that my dad actually was talking to Andy about it."
Clint's birth forced Rance to explain the birds and the bees to Ron
As noted, Rance spoke to his sons with respect, explaining things that were unknown or mysterious to them. When it came to frank talk about sex, the father followed the same philosophy, according to Ron Howard biographer Beverly Gray, author of Ron Howard: From Mayberry to the Moon.
"As [Ron] would tell an interviewer from Playboy, he had known about male and female anatomy since the age of 5, when his mother was pregnant with [his brother, actor] Clint. Ronny asked the tough questions; Rance let out a deep sigh, then sat down and drew realistic diagrams to explain how babies are made."
The Howard brothers' forthcoming memoir
Ron and Clint have penned a collaborative memoir called The Boys about their experiences growing up in Hollywood as two successful and relatively unmarred child actors.
"By turns confessional, nostalgic, heartwarming, and harrowing, The Boys is a dual narrative that lifts the lid on the Howard brothers' closely held lives," publisher William Morrow stated. "It's the journey of a tight four-person family unit that held fast in an unforgiving business and of two brothers who survived 'child-actor syndrome' to become fulfilled adults."
Howard said in a statement announcing the book: "When our dad passed in 2017, Clint and I began reflecting upon our lives and realized that while our childhoods seemed normal, they were anything but."
Referring to his years (and his brother's) on The Andy Griffith Show and to his brother's years working with a bear on Gentle Ben, Howard continued, "Who grows up on a soundstage hanging out with Andy Griffith and Don Knotts, or with a trained bear? And what are the ways that particular childhood forever informed the choices I would make as a husband, father and filmmaker? We're excited to share the story of how our parents pulled this off — raising two show-business kids who had no clue that their lives were out of the ordinary while rooting them in a loving, slightly off-beat family."
The Boys is expected to release on October 12.