Ron Howard on How His One-Time Guest Appearance on 'M*A*S*H' Reminded Him of 'The Andy Griffith Show'
Ron Howard made quite a few career pit stops before becoming an Oscar-winning director.
Howard's early career as a child actor, his role as Opie Taylor on The Andy Griffith Show, and the several years during which he portrayed Richie Cunningham on the hit series Happy Days would be enough of a résumé on their own.
But he made a few appearances on various programs before getting behind the camera as a filmmaker, and one of those was on the television series M*A*S*H, which Howard recalled fondly.
The war drama/comedy, in fact, reminded the Hillbilly Elegy director a great deal of his first long-running role.
Howard's start in television
As a child actor, Ron Howard was busy even before The Andy Griffith Show. He appeared in television programs in the late 1950s and in 1960, including Playhouse 90, The Twilight Zone, and Dennis the Menace, among others.
In 1959 Howard, at 5 years of age, appeared on the television program General Electric Theater. Hosted by actor and future U.S. president Ronald Reagan, his appearance on the program led to his role as Opie Taylor the following year, as Howard told the Archive of American Television.
"I guess I didn't have much of a credit, but Ronald Reagan had seen the episode and at the end, he just ad-libbed this thing and said, 'Special thanks to little Ronnie Howard who did a wonderful job as Barnaby' or something like that," he recalled.
"And that led [The Andy Griffith Show producer] Sheldon Leonard to call my agent and say, 'I'm doing a series with Andy Griffith and we need a son."
His appearance on M*A*S*H
RELATED: Director Ron Howard Was Humiliated by Bette Davis on a Movie Set: 'I Popped a Couple of Tums'
Howard appeared on the Emmy Award-winning program in 1973 in an episode called "Sometimes You Hear the Bullet."
In the episode, the actor played a Marine with appendicitis who is only 15 years old. Howard's character, Wendell, is eager to get back to the front to kill more soldiers on the other side.
In a conversation with the Academy of American Television, the director remembered his appearance and the warm welcome he received from the military drama's cast.
"The M*A*S*H episode was really fun because I was treated as a TV vet on the show," he said. "I was going to college at that time. It happened to fit into my Easter break."
How 'M*A*S*H' reminded Howard of 'The Andy Griffith Show'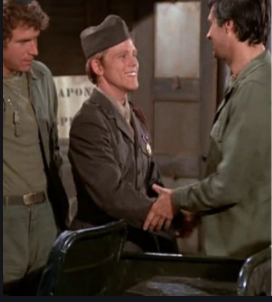 While Howard agreed to appear on the television series, he shared that he actually didn't know "anything about the show. I loved the movie.
"But, immediately, was made to feel so welcomed doing that episode. Alan Alda was cool. Wayne Rogers, I spent a lot of time talking to him.
"You know, I just had a great feeling. And it also was comfortable because it was a one-camera show. So it reminded me of the way The Andy Griffith Show was done. And [like the Griffith show] it did have some drama in addition to the comedy."