Ron Howard's Sweet Tribute to Betty Lynn, the Thelma Lou Actor on 'The Andy Griffith Show' Who Recently Died
'The Andy Griffith Show' actor Betty Lynn, who played Thelma Lou on the series, has died at age 95. Ron Howard paid tribute recently to his former co-star.
One of the last surviving cast members from the classic television comedy The Andy Griffith Show, actor Betty Lynn who played Thelma Lou on the series, has died at the age of 95.
Here's more on her life, the role that made her famous, and director Ron Howard's touching remembrance of the late actor.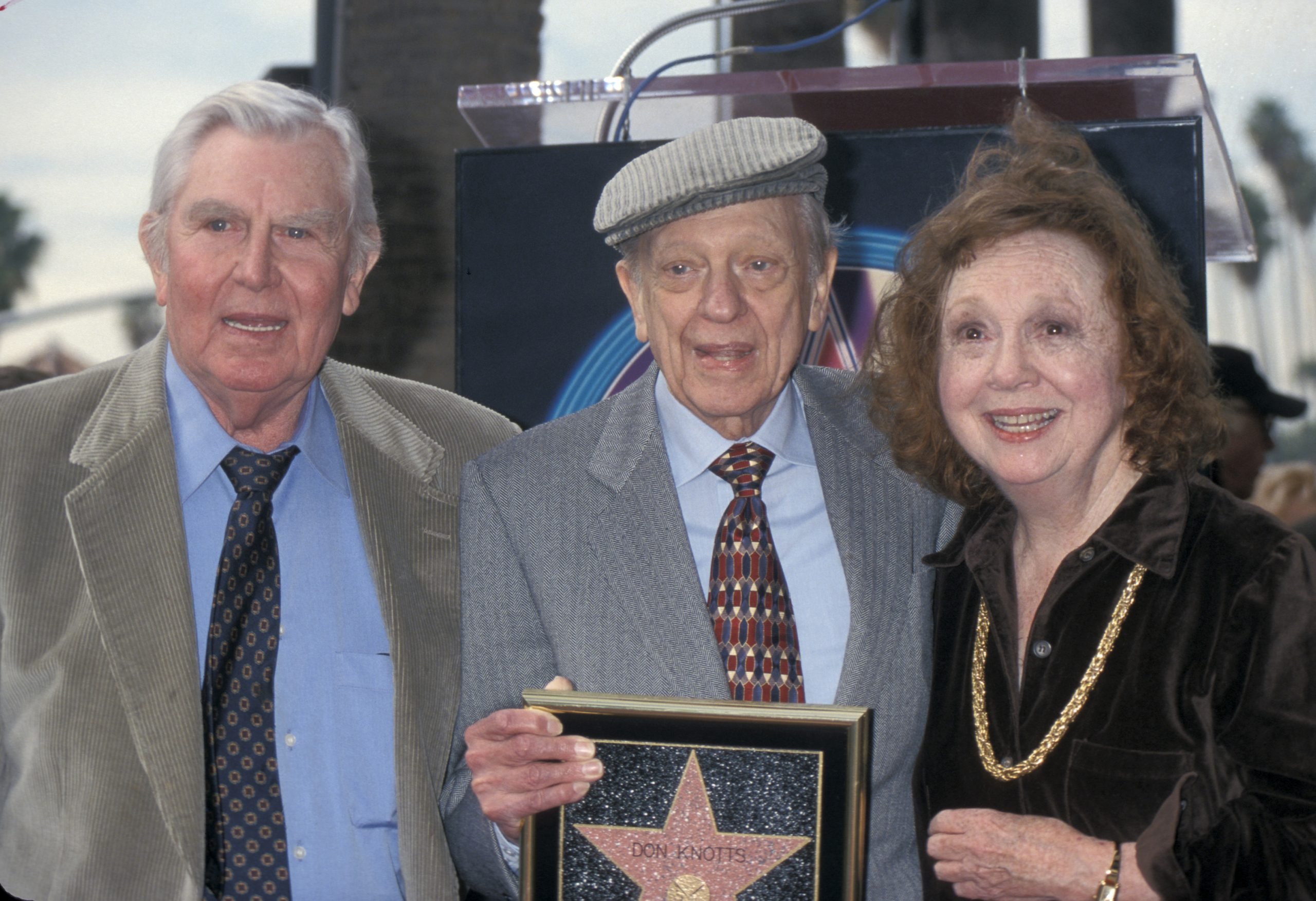 Betty Lynn was 1 of the last living cast members of 'The Andy Griffith Show'
Lynn took on the role of Deputy Sheriff Barney Fife's girlfriend Thelma Lou on the comedy in its first season in 1961 in the episode titled "Cyrano Andy."
By the show's fifth season Don Knotts, who played Fife, decided to leave the series and pursue a movie career. "[Leaving the show] was a tough time for me," Knotts told the Television Academy Foundation, "because I enjoyed the Griffith show so much. I hated to leave."
According to Andy and Don: The Making of a Friendship and a Classic American TV Show author Daniel de Visé, the show's producers considered keeping Thelma Lou on as a show character and perhaps having her open a beauty salon in Mayberry (viewers never really knew what Thelma Lou did for a living). But in the end, the author quoted Lynn as saying, "I didn't see that. My whole life was for Barney."
At Knotts' departure from the show, Lynn called it quits as well. Barney's character was said to have moved on to a new law enforcement job, while Thelma Lou's exit was never explained or addressed.
The two returned in the show's season six episode "The Return of Barney Fife" in 1966 and by then, Thelma Lou had married. In 1986, the fictional couple was brought together yet again in an Andy Griffith Show reunion television movie, Return to Mayberry. Knotts and Lynn reprised their roles as Barney Fife and Thelma Lou but this time the two, now unattached to others, tied the knot in the movie.
Her co-star Ron Howard remembered Lynn fondly
In a recent tweet Howard, who played young Opie Taylor on the comedy, honored Lynn's memory: "RIP Betty Lynn. She played Thelma Lou on #TAGS & brightened every scene she was in & every shooting day she was on set," The Boys coauthor wrote.
"I saw her last a few years ago where she still lit up the room with her positivity. It was great to have known and worked with her. She truly was 95yrs young."
Lynn died after a short illness, although her cause of death has not been reported.
The Andy Griffith Museum in Mount Airy, North Carolina saluted the Thelma Lou actor
Lynn made frequent appearances at The Andy Griffith Museum in Griffith's hometown of Mount Airy at its "Mayberry Days'" events.
The museum added a "Betty Lynn" tab to its website after her death reading in part, "Betty Lynn, the actress best known for her portrayal of Thelma Lou, Barney Fife's sweetheart on The Andy Griffith Show, died peacefully on Saturday, October 16, 2021, after a brief illness. She was 95. A private burial service is planned in Culver City, CA. A memorial service will be announced at a later date. The Andy Griffith Museum is grateful for Betty's many appearances at the museum and Mayberry Days®. Please visit the Photo Galleries page for many good memories of those visits over the years."
Here's to Betty Lynn, her sweet portrayal of Thelma Lou, and the bottomless pan of cashew fudge she made for Barney every Tuesday night.