'Sanditon' Season 2 Episode 2 Recap: Esther's Old Enemy Returns
Sometimes, the best way to deal with heartbreak is a distraction. In the second episode of Sanditon Season 2 on PBS, Charlotte Heywood copes with the loss of her beloved Sidney by throwing herself into work. But her career as a governess gets off to a rocky start. Meanwhile, her sister Alison falls for a handsome Army captain and Georgiana spars with Bohemian artist Charles Lockhart.   
[Warning: This article contains spoilers for Sanditon Season 2 Episode 1.]
Charlotte starts her new job in 'Sanditon' Season 2 Episode 2 
RELATED: 'Sanditon' Season 2 Release Date, Episode Schedule, and How to Watch
Charlotte (Rose Williams) is full of optimism about her new gig as a governess, but her first day on the job suggests her two charges – as well as her boss, Mr. Colbourne (Ben Lloyd-Hughes) – might be more than she can handle. 
Colbourne's daughter Leonora (Flora Mitchell) has no interest in ladylike pursuits and would rather spend her time learning about snails, much to her father's dismay. Meanwhile, his 18-year-old niece Augusta (Eloise Webb) has clearly spent her unsupervised free time mastering the art of the cutting remark. The idea of the unmarried Charlotte preparing her for a life as a society lady is "like having a riding instructor who has never sat in the saddle," Augusta says.  
Augusta's behavior toward Charlotte shifts from mean to malevolent later in the episode when she tricks her governess into opening up a locked spinet. The sound of music draws the attention of Mr. Colbourne, who angrily points out that the instrument was locked for a reason. (Obviously, it reminds him of his dead wife, of whom no one in the house ever speaks.) He rightly blames Augusta, but Charlotte takes responsibility, fully expecting to be fired as a result. Before she leaves, she bluntly points out Mr. Colbourne's faults as a parent and guardian. But her attitude seems to impress him, and he tells her to come back the next day. The way he looks at her as she leaves suggests that he's interested in more than just her skills as a governess. 
Alison falls for Captain Carter  
Charlotte might be a working woman now, but she still gets to have some fun when she attends a mess dinner hosted by Captain Lennox (Tom Weston-Jones). Of course, now that she's a governess, she's relegated to social Siberia at the lower end of the long dining table. Lennox apologizes for the unavoidable slight as he twirls her around the dancefloor in this season's first ballroom scene. He also offers a few tips on "battle strategy" to help her deal with her new charges. But when she mentions her new employer's name, he looks grim. Lennox doesn't share any details, but it seems there's history between him and Mr. Colbourne. 
For Charlotte's younger sister Alison (Rosie Graham), the dinner is first real social outing in Sanditon. Though her elder sibling has sworn off love, Alison is ready to be swept off her feet. She's fallen hard for Captain Carter (Maxim Ays), the dashing soldier who rescued her after episode 1's carriage accident. He's smitten as well, but he isn't above telling a few white lies to impress her. When she praises a certain poet, he fakes like he knows what she's talking about. Later, he enlists his friend Captain Fraser (Frank Blake) as his Cyrano, hoping to get his advice on how to charm a "woman of refinement." What are the odds that Fraser starts to fall for Alison himself? We'd guess they're pretty good.
Charles Lockhart makes an impression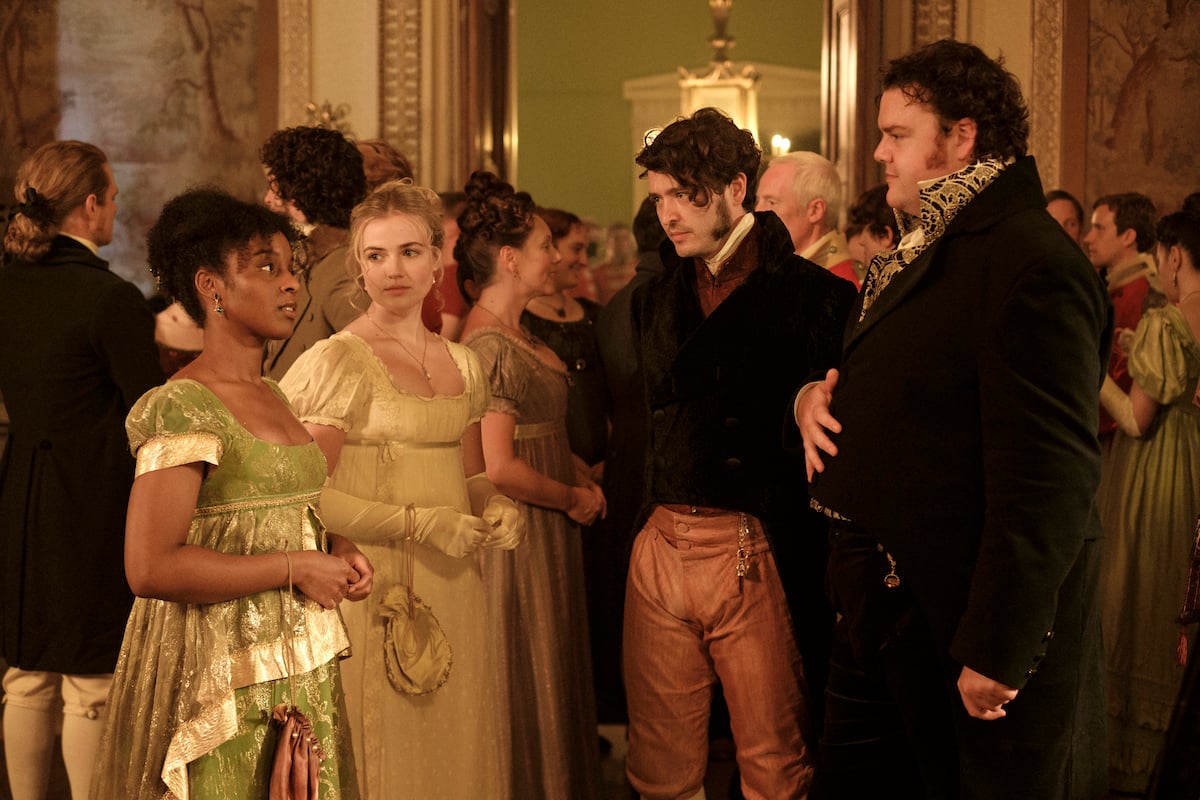 As for Georgiana Lambe (Crystal Clarke), she ends up sitting next to the artist Charles Lockhart (Alexander Vlahos) at dinner, thanks to a last-minute intervention from Arthur (Turlough Convery). Lockhart has his eye on Georgiana, but she's dismissive, and the conversation devolves into sniping. Then, after the rest of the table toasts the king, Lockhart – who delights in being deliberately provocative – toasts to Napoleon, praising the emperor for abolishing slavery. Though he denies it, it's a transparent attempt to impress Georgiana. It also angers everyone else at the dinner, which is hardly a surprise given that he's in a room of army officers and England is currently at war with France. 
Georgiana persists in giving Lockhart the cold shoulder, but later, during a conversation on the balcony, she seems to be warming up to him. His desire to flout society's conventions appeals to her. The sensible and cautious Mary Parker (Kate Ashfield) looks more than a little concerned when she spots the two having a tête-à-tête. Georgiana has a rebellious streak, and Mary is likely worried she'll run off again in a repeat of last season's failed elopement with Otis Molyneux. 
Clara returns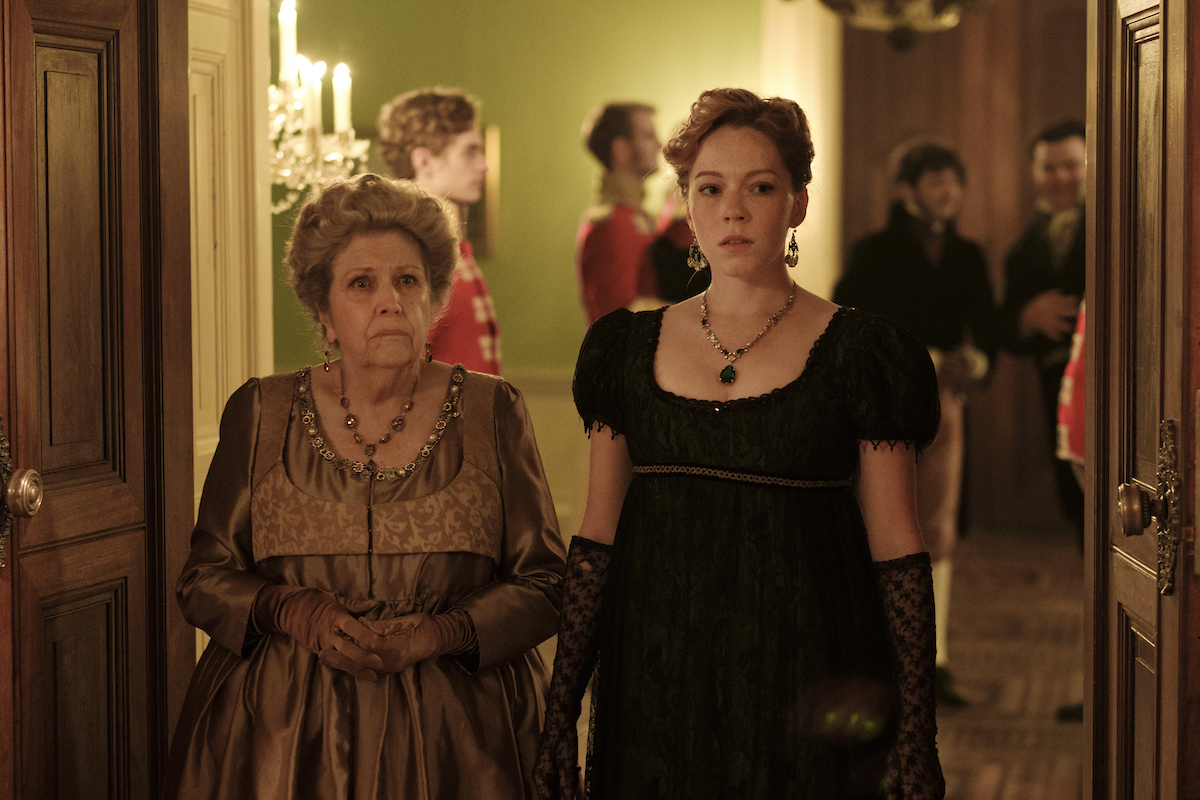 Meanwhile, sneaky Edward Denham (Jack Fox) is doing his level best to convince Esther (Charlotte Spencer) and Lady Denham (Anne Reid) that he's reformed. Both are skeptical, and for good reason, it turns out. The episode ends with the unexpected return of Lady Denham's estranged niece Clara (Lily Sacofsky). And surprise, surprise, she's pregnant. Lady D is ready to throw her out again, but then Clara reveals that Edward is the father. The timing is right, given Clara and Edward's tryst on the floor toward the end of season 1. But does Edward know about the baby? It's possible this is all part of another scheme to get their hands on their aunt's considerable fortune.
What else happened in this episode of 'Sanditon'
Elsewhere in this episode of Sanditon:
Esther gets a tip about a midwife who might be able to help with her infertility. 
Colonel Lennox has charmed Tom Parker (Kris Marshall), who now has grand plans to build a permanent barracks for the army in Sanditon. But can Lennox be trusted? Arthur seems wary, especially when the Colonel lures the notoriously profligate Tom into a dice game. 
Arthur is willing to help Lockhart win over his friend Georgiana, but he seems to have a bit of a crush on the artist himself. 
New episodes of Sanditon Season 2 air Sundays at 9 p.m. ET on PBS.
Check out Showbiz Cheat Sheet on Facebook!
RELATED: 'Sanditon' Season 2: What Happened to Young Stringer (Leo Suter)?