Sandra Bullock Remembers Her First Impression of Jennifer Aniston
Sandra Bullock remembers her first impression of Jennifer Aniston, for it 'was on the tv.' See what the Oscar winner thinks of 'The Morning Show' star.
Today, Sandra Bullock and Jennifer Aniston remain two of Hollywood's most beloved actors. Aniston rose to fame starring alongside a talented ensemble in Friends, and she has since gone on to appear in major blockbuster films such as We're the Millers, Just Go With It, Office Christmas Party, and more. Recently, she took home the SAG Award for her leading role as Alex Levy in The Morning Show. She was also nominated for the Golden Globe and the Emmy for the performance.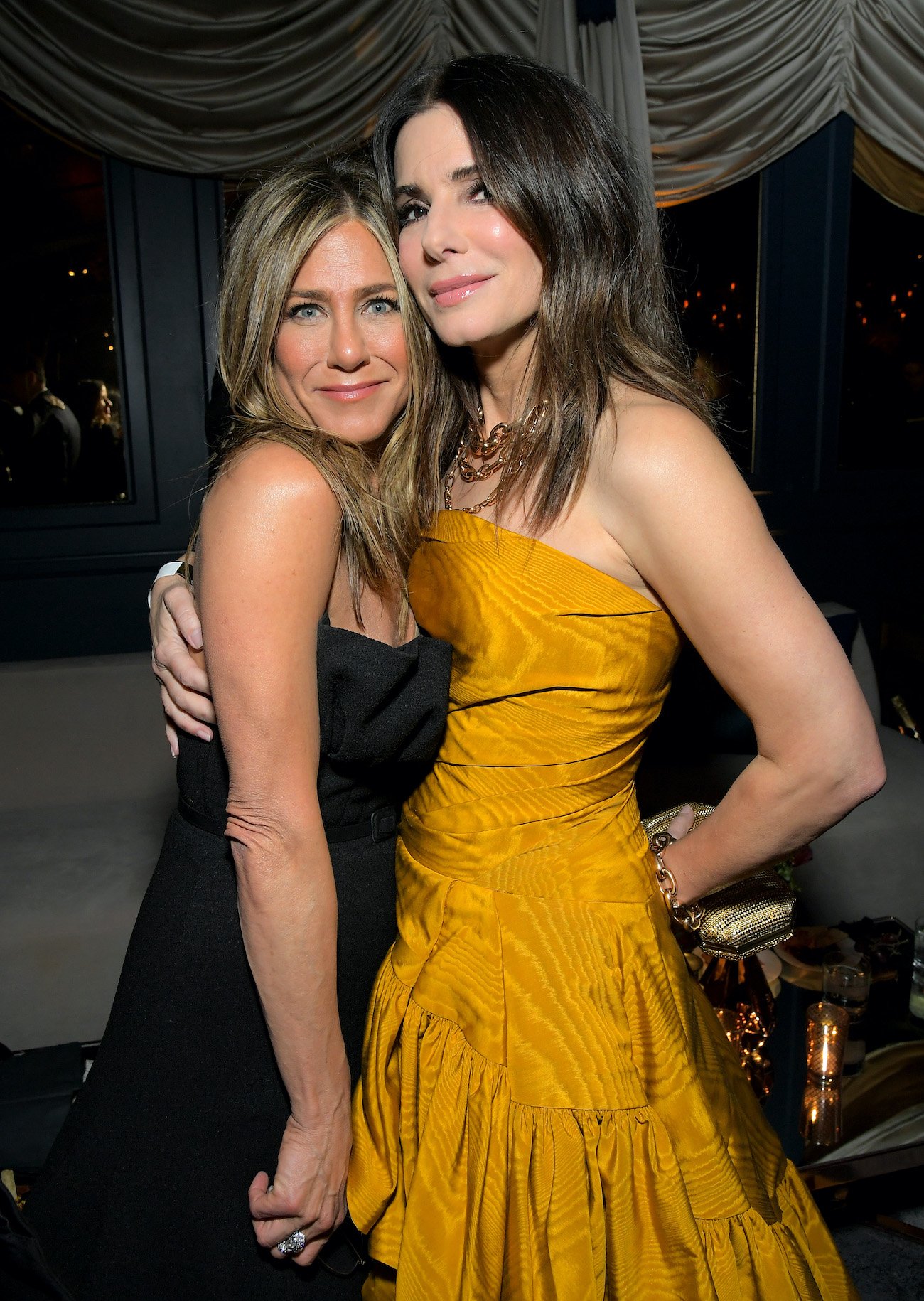 As for Bullock, the rom-com legend is also a two-time Oscar nominee and a one-time winner for The Blind Side. She recently led a talented cast in Ocean's 8 and has starred in memorable movies like Gravity, Miss Congeniality, The Proposal, and more. Bullock and Aniston had a discussion for Interview Magazine in 2020, during which Bullock tried to remember her first impression of Aniston — one that was intimately intertwined with her Friends character, Rachel Greene. 
Sandra Bullock said her first impression of Aniston was 'on the television'
Bullock told Aniston that she got a feel for the actor on TV — and trying to separate that character from the real Aniston was not an easy task. She shared: 
"I was trying to think of my first impression of you, and, like almost everyone's first impression of you, it was on the television. And I was trying to remember if that was the person who I got to meet. I remember the first thing I thought of you was, 'A beautiful woman who has extraordinary timing is almost impossible to find.'"
Bullock complimented Aniston on her timing — likely comedic and otherwise — and shared the positive vibe she got from the actor before noting the woman she hoped she would be. 
Sandra Bullock on watching Aniston be 'foolish, heartbroken, clumsy' and more 
Bullock went on to explain: 
"You allowed yourself to look foolish, heartbroken, clumsy, like an idiot. I think that's why everyone feels so comfortable in your presence. You said, 'Yeah, I might look like this, but guess what? I have the same failings and insecurities you do.' I remember thinking, 'God, I hope she's really like that. If she's not, I'm going to be so bummed.'"

Bullock | Interview Magazine
Bullock went on to note a character trait that Aniston pushes in both her work and life, stating: 
"You really have a way of pushing joy and positivity. You do that in your work, but you also do it so effortlessly with everyone you allow into your home and into your life."

Bullock | Interview Magazine
Aniston and Rachel Greene may not be the same person, but the character's vulnerability, joy, welcoming nature, and humor all seem to align with Aniston's personality as well.