'Schitt's Creek': How Many Levy Kids Starred In the Show?
'Schitt's Creek' was created by Dan and Eugene Levy, who starred in the series — how many Levy kids starred in the show?
By now, most people have at least some familiarity with Schitt's Creek, a show that started off with a small fan base but exploded in popularity by its final season. The show is famous for its quick one-liners, heavy doses of sarcasm, and genuine heart. That mixture earned Schitt's Creek several awards, including the most Emmy wins for a comedy series in a single season last year. Created by Eugene and Dan Levy, fans might not know there was another Levy on the series.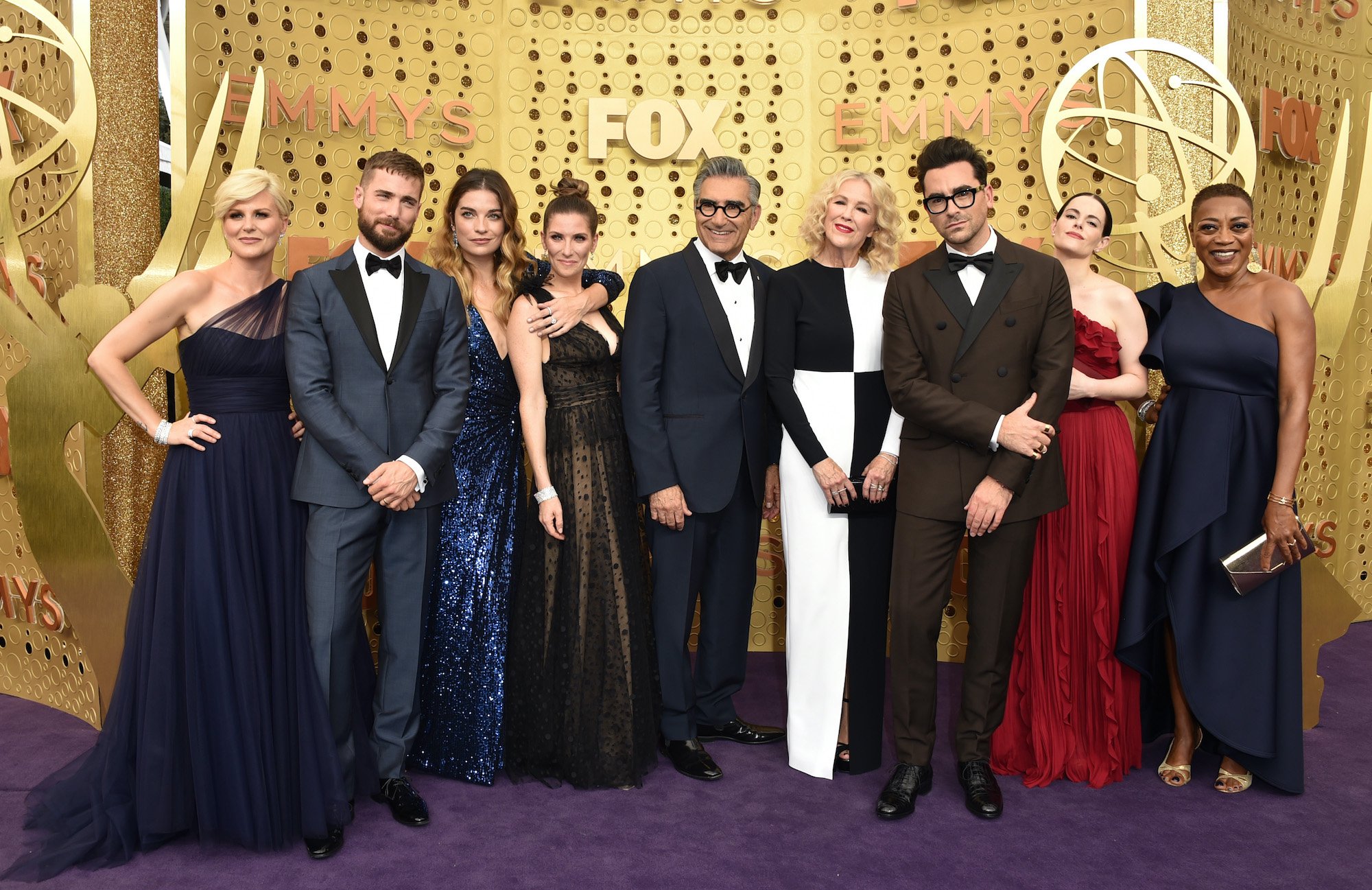 What is 'Schitt's Creek'?
Schitt's Creek is a Canadian sitcom that follows the story of the Rose family, which includes Johnny, Moira, David, and Alexis. The Roses start out as an ultra-rich family, thanks to Johnny Rose's video empire. After learning they have lost their fortune, they are forced to move to a town called Schitt's Creek that Johnny bought for his son David as a joke. The family lives in a local motel for the duration of the series, and they struggle to navigate their new financial situation and small-town life. 
Aside from the show's incredible humor, perhaps the best part of the entire series is watching the characters grow from pretentious and entitled into more caring and compassionate individuals. It's heart-warming to watch the family connect like they never have before and to see the local Schitt's Creek residents come together to support the Roses despite their differences. 
According to IMDb, Schitt's Creek ran from 2015-2020, and many attribute the show's ultimate success to its presence on Netflix after its third season. Schitt's Creek is now a favorite among people of all ages, and it has become a regular rotation among shows that many enjoy watching when they need a hearty laugh. 
Who created the series?
CBC reports that in 2013, Dan Levy created a production company with his father, Eugene Levy called Not a Real Company Productions. The pilot for Schitt's Creek was the first project the company produced, and it then went on to become the first series created by the company. Dan also wrote, directed, and produced on the show, and Eugene served as a writer and executive producer. 
Both Levy kids appeared in the show
Most people know that Eugene Levy is Dan Levy's father and that the pair created the show together, but some may not know that Eugene's daughter Sarah also played a prominent role in Schitt's Creek. Sarah Levy portrayed Twyla Sands, an incredibly kind and optimistic waitress at the local café.
Before Schitt's Creek, Dan made appearances in Degrassi: The Next Generation and Modern Family, and he has since acted in Happiest Season and Coastal Elites. In February 2021, Dan also hosted Saturday Night Live. According to The Hollywood Reporter, Dan signed a three-year deal with ABC in 2019 to create scripted content. 
Sarah had appeared in a few short films and full-length movies before her role on Schitt's Creek. IMDb reports that she played Irene Horowitz on the short-lived Canadian sitcom Working the Engels and Bridget in the short film Roomies. Her more recent roles include Kendra in the series United We Fall and a guest star role as Debbie Daines in All Rise. 
Clearly, the Levy family has had a major impact on the entertainment industry over the years, and it will certainly be interesting to see what they do in the future.