See All Six James Bonds Together, in Wax Form, at Madame Tussauds Exhibit in London
Actor Daniel Craig has defined an entire James Bond era. He's been starring in the iconic role since 2006's Casino Royale. The upcoming No Time to Die will be his final Bond portrayal. The movie suffered coronavirus (COVID-19)-related delays, but it's finally hitting theaters. No one knows where the franchise is headed, but Craig exiting the role brings the previous actors to mind. Madame Tussauds London is opening a Bond exhibition in honor of the legendary spy character.
Six actors have played the legendary James Bond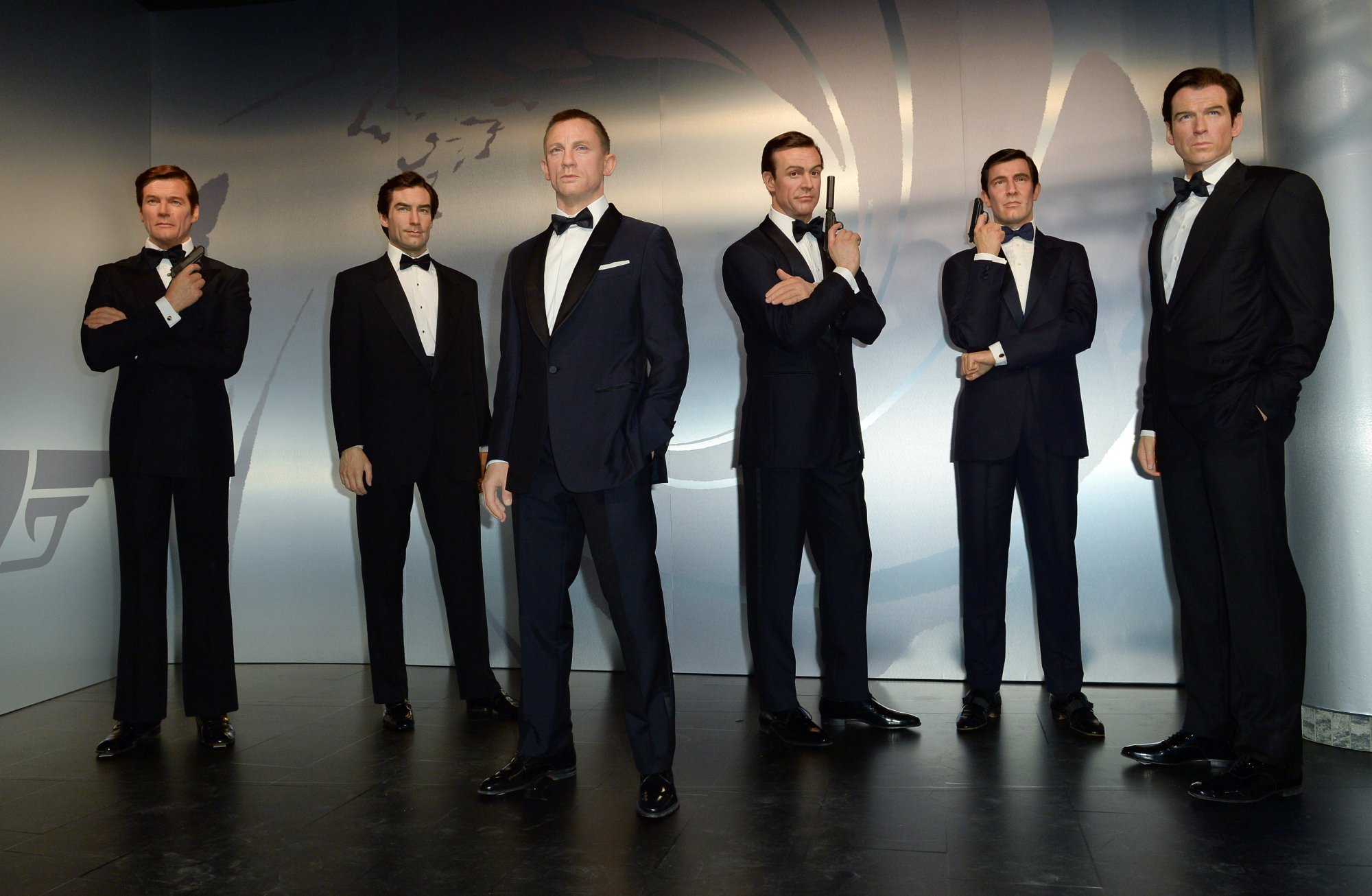 The Bond film franchise has been around since 1962's Dr. No. No Time to Die marks the 25th installment of the franchise. There are several different versions of the character and his adventures, which leads fans to have more individualized favorites.
Six actors have played Bond over the course of the 25 Eon Productions movies. Sean Connery was the first, who played the spy from 1962 until 1967's You Only Live Twice. George Lazenby only starred as Bond in 1969's On Her Majesty's Secret Service. However, Connery returned for one more outing in 1971's Diamonds Are Forever.
Actor Roger Moore took on the next Bond era from 1973's Live and Let Die until 1985's A View to a Kill. Next, Timothy Dalton briefly took over in 1987's The Living Daylights and 1989's Licence to Kill. Pierce Brosnan was next, starting in 1997's Tomorrow Never Dies until 2002's Die Another Day.
Finally, Craig has played Bond for five movies before he decided to ultimately retire the role. Many fans are sad who became accustomed to him playing the spy, but the Bond franchise isn't over.
The Madame Tussauds London exhibition brings all of the actors together in wax form
Euronews reported that Madame Tussauds London has decided to honor Craig's Bond by launching a special exhibition. It will feature all six actors who have starred as Bond in wax form. They can be found in the film zone at the Baker Street attraction.
They were designed to match the heights of the real actors. Regardless of which actor is your favorite, this exhibition will give fans the opportunity to take pictures with all six realistic-looking faces of Bond.
Tim Waters, General Manager at Madame Tussauds London expressed his excitement for this particular exhibition. "James Bond has been a legend of the big screen for almost 60 years and the excitement for this long-anticipated 25th instalment in the epic film franchise is palpable," he expressed." We wanted to be part of this historic moment in a way that only Madame Tussauds London can."
He continued: "By reuniting Craig, Connery, Lazenby, Moore, Dalton and Brosnan, fans across the generations get the inimitable opportunity to meet their favourite 007 – all in the same place, at the same time."
Madame Tussauds London is opening the exhibit starting Sept. 30. Tickets can be purchased through Ticketmaster.
No Time to Die will be exclusively in theaters starting Oct. 8.
RELATED: 'No Time to Die': James Bond Producer 'Can't Even [Think]' if It's Possible to Replace Daniel Craig