'Seinfeld': A Pregnant Julia Louis-Dreyfus 'Burst Into Tears' When Jerry Seinfeld Suggested Elaine 'Just Get Fat'
Julia Louis-Dreyfus' pregnancy during her time on 'Seinfeld' led to what she described as a weepy predicament for her on the show. Find out what happened.
Now a known "fun fact" to many fans of the long-running ensemble comedy Seinfeld, Julia Louis-Dreyfus was twice pregnant during her time on the show as Elaine Benes.
It was during that time that Jerry Seinfeld asked the Emmy Award-winning actor if she wouldn't mind having Elaine Benes put on a few pounds.
As the actor herself tells it, the idea did not go over very well. Or as Elaine might say, 'Get! Out!'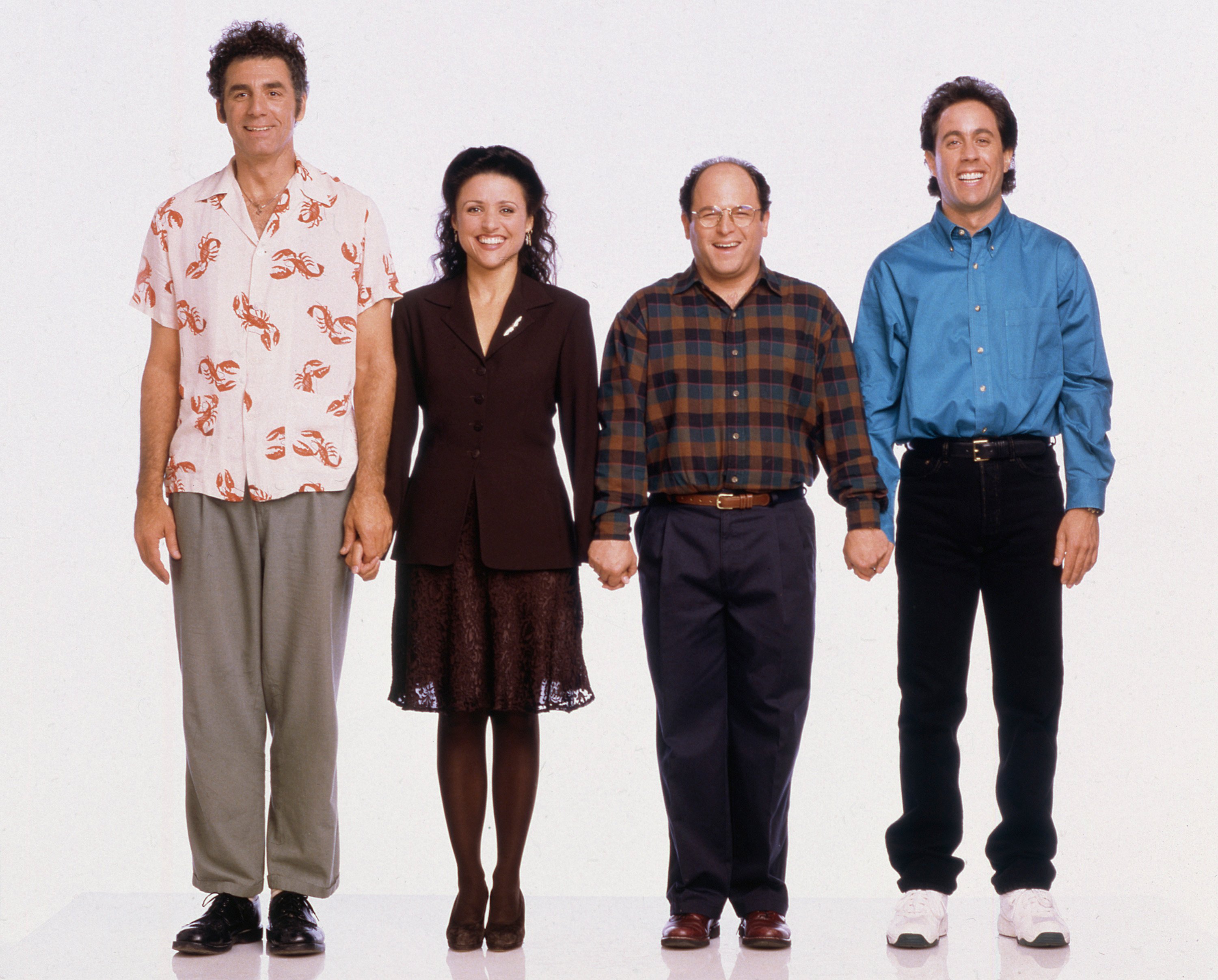 How Julia Louis-Dreyfus hid her pregnancy from viewers during 'Seinfeld'
Louis-Dreyfus' off-beat fashion styles for her character on Seinfeld came in handy when the actor became pregnant two times during the show's run. From her big shoulder pads, to her ankle-high socks with saddle shoes, Elaine Benes was most definitely unique.
"Frankly I was pregnant twice during Seinfeld," she told Vogue in 2019. "So all this oversized clothing was very helpful to me as a pregnant person, both getting more and more pregnant and then becoming less and less pregnant after giving birth."
What Jerry Seinfeld suggested
Louis-Dreyfus, in a conversation with the Television Arts Foundation in 2013, was asked if it had ever been suggested that either of her pregnancies be worked into a script.
"Yes, there was talk of that," she revealed. "Interesting you should ask. The second time I was pregnant, I was about three or four months into my pregnancy, and Jerry, I remember vividly, pitched to me…we were shooting outdoors. He pitched to me, 'Hey, how about this for this season, how about we write it in that Elaine just gets fat?'"
Louis-Dreyfus described her emotional response to her colleague's proposition. As she explained, she already felt overly conscious of her weight gain. His suggestion seemed a confirmation that her extra pounds during her early pregnancy must have been evident to all around her.
"Now, I burst into tears," she admitted. "Just started to bawl, uncontrollably. I was so humiliated and horrified. In his defense, I think it's actually a great idea. And, I should have embraced it. I was just so self-conscious about getting huge that there was no way that was going to happen."
"And by the time I was pregnant the second time, we didn't even bother to hide it. I just walked around with this big belly and no one talked about it."
Julia Louis-Dreyfus didn't deprive herself during her pregnancies
The Veep actor, as she told Harper's Bazaar in 2008, truly tried not to eat so much during her pregnancies. But it was an uphill battle.
"I went through two pregnancies over a nine-year period on Seinfeld," she said "and I gained 45 pounds both times. Maybe it was 40 pounds, but not less than that, and I'm five foot three. I really tried not to put those 40 pounds on, but I was hungry, man."
"I craved red meat and lemonade, and I cannot believe the amount of food I could take in. And it's really documented on TV. I was trying to hide the weight."