'Seinfeld': Julia Louis-Dreyfus Looks Back With Some Regret On Her 'Elaine' Dance – 'It's Embarrassing'
One of the funniest aspects of watching iconic comedy Seinfeld was witnessing Julia Louis-Dreyfus, who played Elaine Benes, dance so dreadfully, with comedic perfection.
If you thought she just came up with those moves on the spot, think again.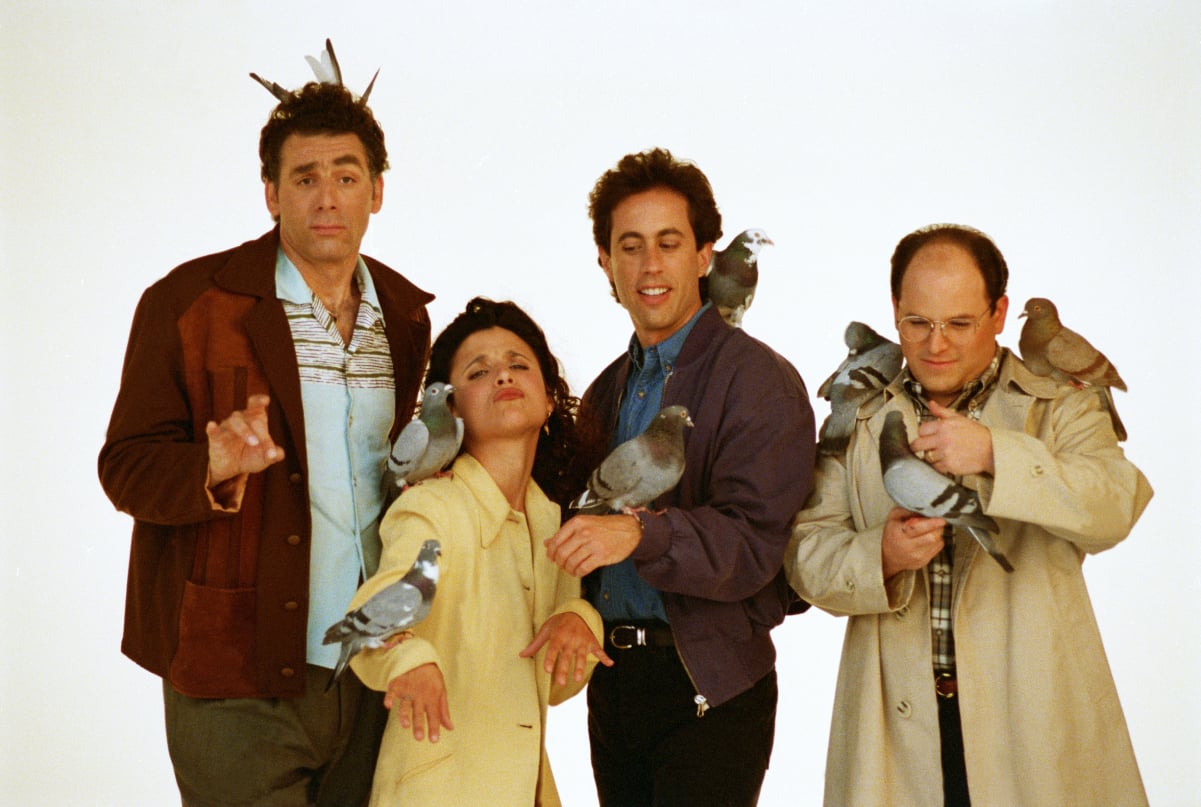 The entire cast of 'Seinfeld' reunited on 'Curb Your Enthusiasm'
In 2009, eleven years after Seinfeld ended its nine-season run, the whole cast got together again. Aptly, their reunion took place on Curb Your Enthusiasm, the show of Seinfeld producer and writer, Larry David.
Julia Louis-Dreyfus recalled in a 2013 conversation with the Archive of American Television how that idea came about.
"Larry called me and pitched it to me, it was his idea," she said. "And it seemed like a great idea, if you were going to have a reunion, it was sort of the anti-reunion reunion idea. And it worked, it totally worked."
The actor discussed walking back on the Seinfeld set that had been a second home to her.
"It was bizarre to go back to that set, which they rebuilt" she said. "On the same g*ddamn stage and there we are, and all of a sudden, it felt as if we'd never been gone. So weird."
"It was as if we'd never left. There was no beat missed."
Julia Louis-Dreyfus won an Emmy Award for her work on 'Seinfeld'
As the only woman in an all-guy ensemble for almost ten years, Louis-Dreyfus truly set herself apart on the show. She fit in well and yet remained thoroughly feminine. She won an Emmy in the show's 5th season.
"Up until that point, I'd been nominated so many times, which was wonderful to be nominated," the actor said. "I just assumed I would lose. So I remember very vividly the year that I won."
"When the camera cut to me, and they said my name, I couldn't believe it. I was so shocked. But I was happy to win, because I really, really wanted to win. That's the truth. I really did."
Louis-Dreyfus can't watch the 'Elaine Dance'
Elaine Benes' dance, described by George Costanza as "a full-bodied dry heave set to music," was not born of spontaneity. It was planned and practiced by Louis-Dreyfus, according to the Veep actor.
"It had been written [in the script] that Elaine danced badly at this work party," she explained. "So I just went home and worked in front of the mirror, minus music, to come up with whatever the stupidest looking thing was I could come up with."
Louis-Dreyfus admitted that looking at that dance after the fact is difficult for her.
"It's hard to watch," she said. "Because I had to commit to it. I had to commit to feeling cool while doing it. It really has a humiliating…you're really laughing at her. I'm really glad that it worked but I don't watch it very often because it embarrasses me."
As rough as it is for the actor watch that dance again, here's hoping she knows it brought joy to so many needing to forget their troubles for 30 minutes.