'Seinfeld': Julia Louis-Dreyfus Reveals the Inspiration Behind Elaine's 'Wall of Hair'
Julia Louis-Dreyfus dishes on the reason why her 'Seinfeld' character, Elaine Benes, wore a 'wall of hair.'
In the iconic sitcom Seinfeld, one of Elaine Benes' often-remarked-upon characteristics was her fashion sense and style, including how she wore her hair. Elaine Benes definitely stood out from the crowd. The Emmy Award-winning actor who portrayed her, Julia Louis-Dreyfus, explained how the character's coif, known as the "wall of hair," came to be.
How Julia Louis-Dreyfus got the part of Elaine Benes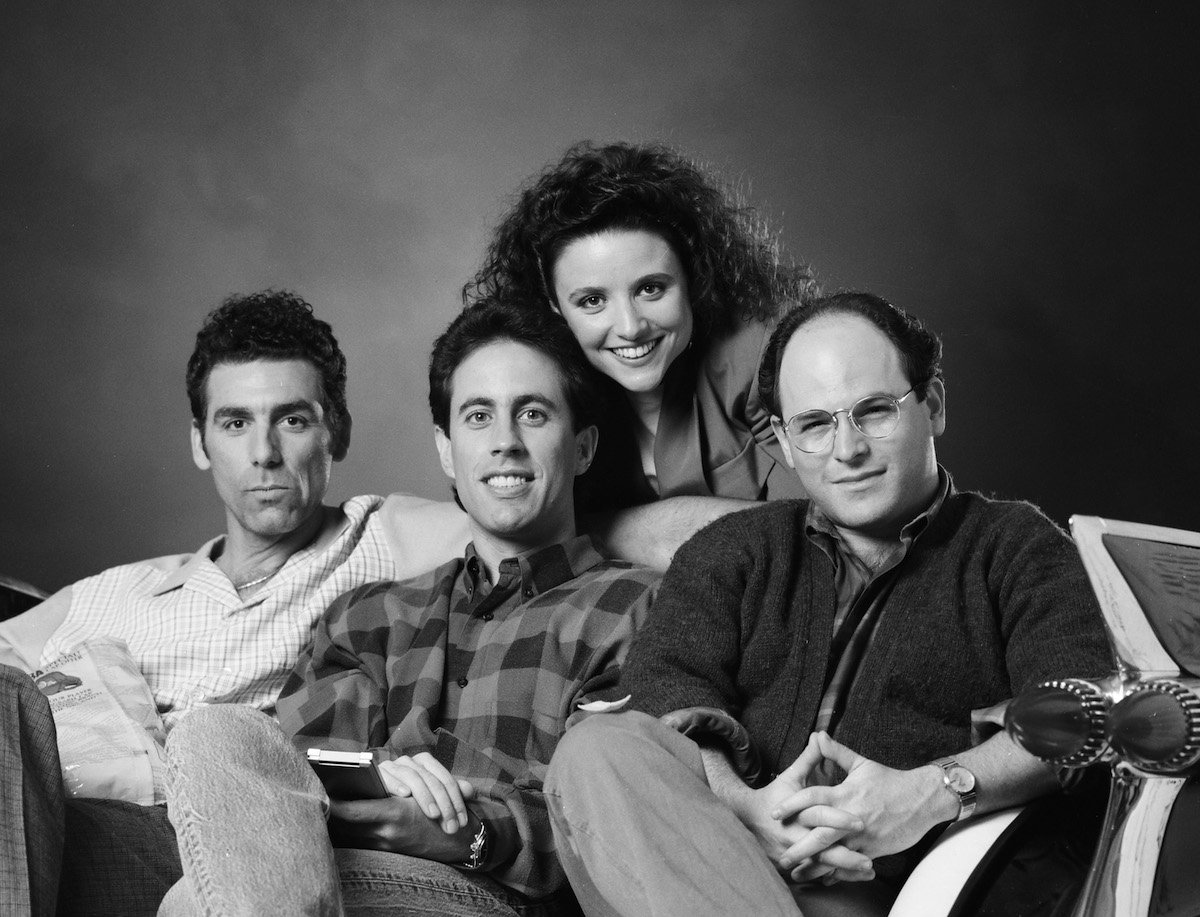 In 1990, Julia Louis-Dreyfus landed the role of Elaine Benes on Seinfeld. She explained to the Television Academy Foundation in 2013 how that transpired.
"I remember thinking to myself, 'This is so good,'" the actor said, recalling when she looked over four scripts from series co-creator Larry David.
"I went and I saw Larry, and I met Jerry, having never met him before … and I liked him very much when we met each other. We read a scene together … and it felt very comfortable … So we made a deal."
The 'wall of hair' Elaine Benes wore on 'Seinfeld'
In her interview, Louis-Dreyfus humorously explained Elaine Benes' hair. She described how, in developing a look for Elaine's 'do, she was inspired by the film A Room With a View, based on the book by E. M. Forster.
"OK, look, in my defense," she began, "first of all, the hair. Now, I have very curly hair … and around the time when Seinfeld was first starting, there was this fabulous movie that came out called A Room With a View. And Helena Bonham Carter played the lead. And she had her hair in this Victorian thing with this big wall of hair. And I thought it was incredibly beautiful, and it was.
"You know, I think Helena Bonham-Carter still wears her hair like that! Yes, she does," the Veep actor mused.
"And I thought, 'Oh my gosh, that could work for my hair.' That's where my hair came from, that big wall of hair. And it kept growing and growing."
Louis-Dreyfus' style for Elaine Benes changed throughout each season of Seinfeld, but we'll always remember her most popular wall-of-hair style.
And we'll never look at Helena Bonham Carter the same way.
Louis-Dreyfus realized 'Seinfeld' was like nothing else on TV
The cast got to work immediately on filming the four episodes NBC had commissioned. The mother of two had her doubts the show would get picked up for more episodes.
"After we did the four [episodes], I remember thinking, 'This is too good for network television,' and it's so 'off' as far as what people are used to seeing, what audiences are used to seeing, that it probably won't make it," she recalled.
"I mean, at that time, what was on the air? I don't know, Cosby and Jake and the Fat Man and Cheers. I don't mean to disparage those shows; in fact, I'm not. I'm just saying that the tone of Seinfeld was nothing like those shows.
"And then it got picked up for 13 episodes. And then it began."