'Seinfeld': Netflix Will Stream All 180 Episodes in October
Television's most popular and in-demand sitcom, Seinfeld, is coming to Netflix. In 2019, Netflix announced they planned to bring the series to the streaming platform after buying the exclusive global rights for a pretty penny. Seinfeld last streamed on Hulu to a public audience on June 23 of 2021. Jerry Seinfeld and Larry David developed 180 episodes total in the show's run on television. The "Summer of George" and Kramer's (Michale Richards) cooky antics will finally be available once again to binge-watch in October.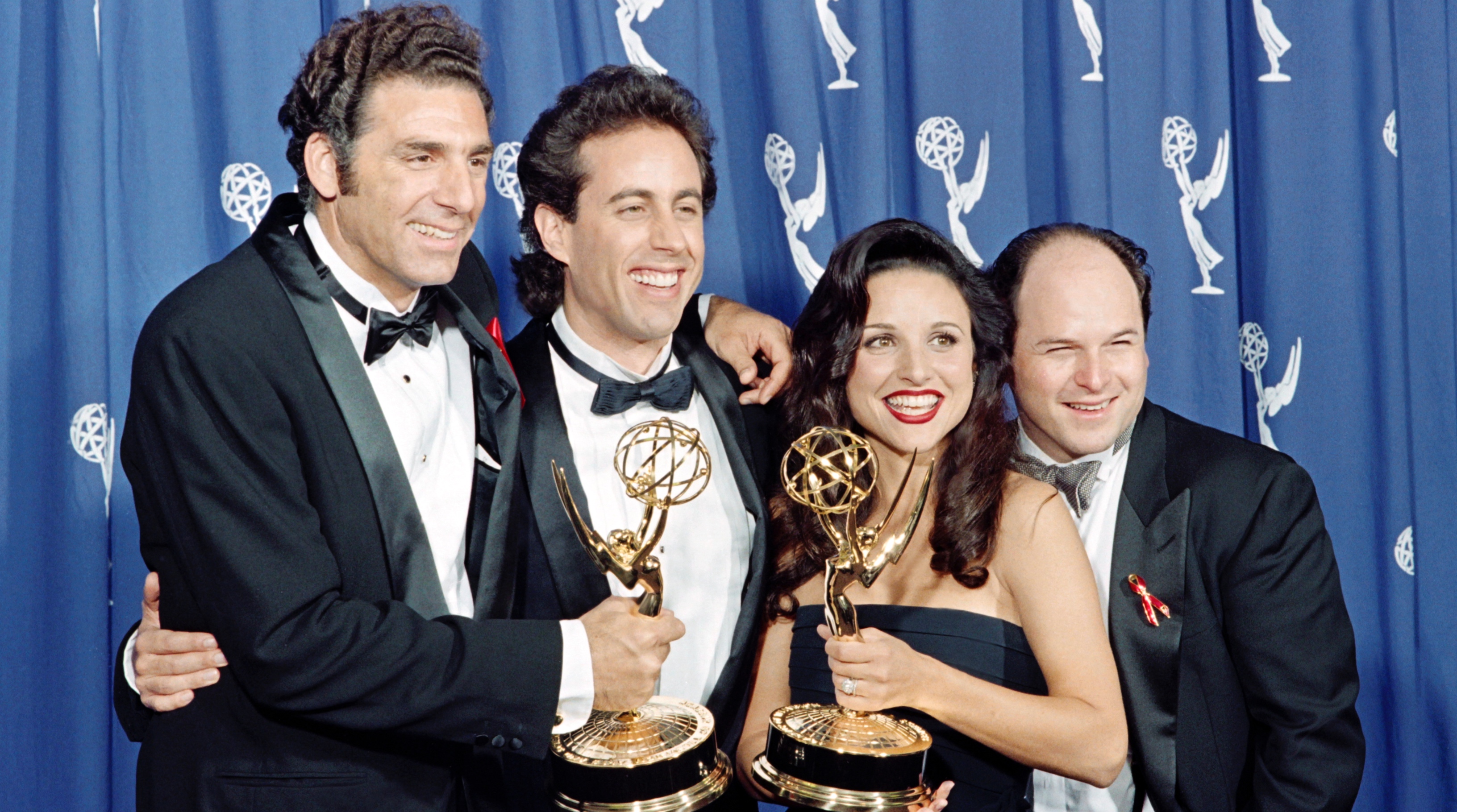 'Seinfeld' became televisions highest-rated sitcom in history
There are a handful of sitcoms series that became pop culture phenomenons. From Friends, The Office to Frasier, Seinfeld was one of television's major success stories. The series aired in 1989 and was created by stand-up comedian Jerry Seinfeld and Larry David. What better way to describe the series than "a show about nothing." Seinfeld plays himself as a stand-up comedian living in New York City.
Jerry is joined by his three friends Elaine (Julia Louise-Dreyfus), George (Jason Alexander), and Kramer. They deal with everyday absurdities, relationship drama, and the frustrations of adult working life. The sitcom gained fame as each character had their own unique traits. George has a stingy personality, Kramer's eccentric nature, Elaine's habit of being too brazen. Jerry serves as a voice of reason amongst the bizarre occurrences of everyday life.
Netflix will stream all 180 episodes of 'Seinfeld'
RELATED: 'Seinfeld': Julia Louis-Dreyfus Thought Elaine Was 'Nuts' With a 'Self Esteem Problem'
According to Deadline, Netflix released the official premiere date for the sitcom. Fans get to watch Jerry, Elaine, Geroge, and Kramer in their ordinarily cooky lives on October 1, 2021. After Netflix lost the rights to Friends, the streaming service was adamant about gaining the global rights to Seinfeld and willing to pay a hefty price for it. Seinfeld was previously in a contract to stream on Hulu for five years, having ended in 2021. According to Deadline, the sitcom did moderately well on the Disney-owned platform but did not reach the success of Friends on Netflix.
Chief Content Officer for Netflix, Ted Sarandos, expressed his excitement for the sitcom's new streaming platform, "Seinfeld is the television comedy that all television comedy is measured against. It is as fresh and funny as ever and will be available to the world in 4K for the first time." Sony Pictures Television Chairman Mike Hopkins calls the sitcom "a one-of-a-kind, iconic, culture-defining show."
Netflix had a fun way of announcing the sitcom's premiere date on the platform. A short trailer introduces viewers to "2021's hottest new show" with heartwarming love stories and lifelong friendships. They also call Jerry Seinfeld and Larry David "rising stars."
'Seinfeld' will stream in 4K for the first time
RELATED: 'Seinfeld': 1 Actor's Mistake Was So Funny, Producers Left the Error in the Series
The sitcom debuted back in 1989 when 4k quality content was still a distant dream. For the first time, Seinfeld will stream to its fans in 4k on Netflix. The sitcom in 4K means seeing every detail in Jerry's apartment and Kramer's patterned shirts in immense detail. The sitcom will indeed feel fresh and new compared to its original on-air quality. Netflix buying the streaming rights to Seinfeld creates another milestone.
This is the first time Seinfeld will be available to a global streaming audience. Previously, Hulu was only available to American users leaving out a huge chunk of fans from watching the hit sitcom. It is no surprise why Netflix and Sony Picture Television are excited for Seinfeld's new home, which means more user viewership ratings.