'Seinfeld': There's a Simple Explanation for Why Jerry and Elaine Don't End Up Together
Seinfeld wasn't made to be a feel-good show. Creators Larry David and Jerry Seinfeld tried to do something different with the hit comedy, which meant turning television conventions on their head. Their efforts resulted in a show that wasn't like anything else on the air.
But every TV series needs a romance, right? For Seinfeld, it wasn't so simple. Viewers learned early on in the series that Jerry and Elaine, two of the main characters, used to date but broke up and remained friends. Most people assumed they'd start dating again or even get married by the finale. But that's not what happened.
Jerry and Elaine have a surprisingly great relationship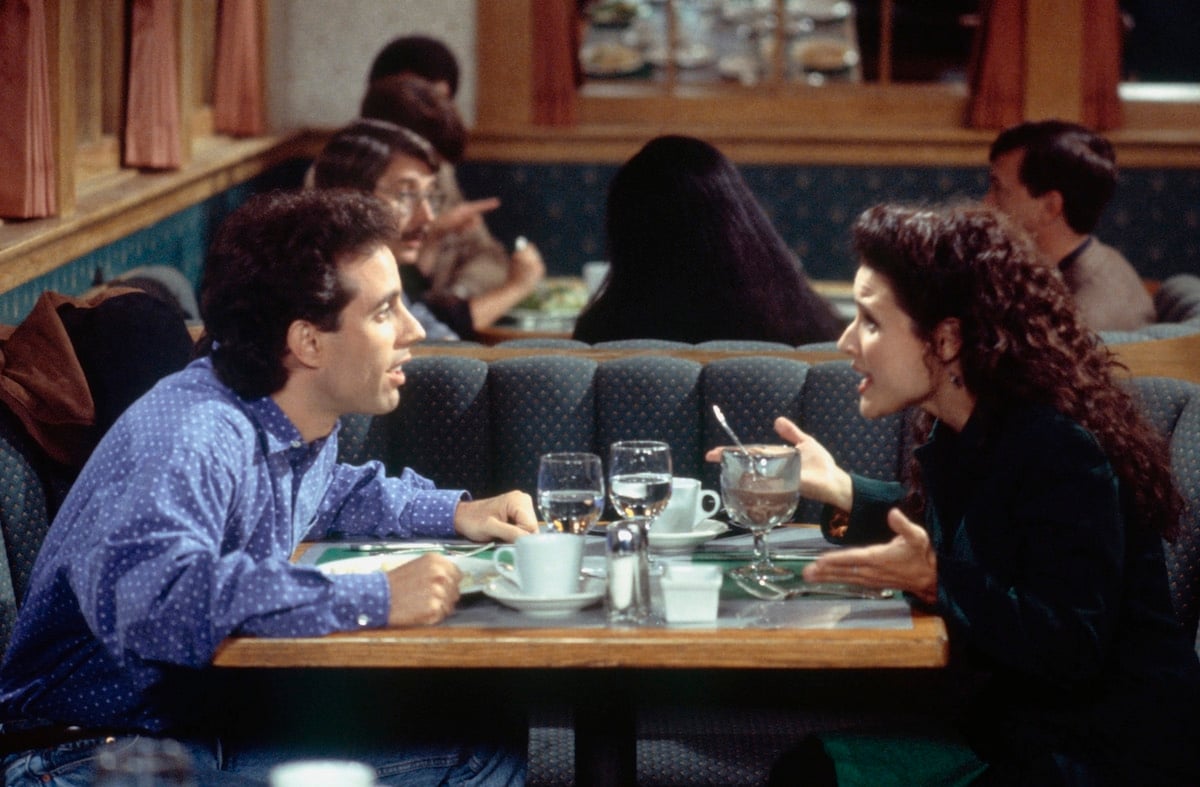 Staying friends with an ex in the real world can be complicated. But Jerry and Elaine on Seinfeld made it look easy. They enjoyed the joking, close relationship between two friends who knew one another's most intimate secrets. And somehow, that banter wasn't interrupted by awkwardness.
But Jerry and Elaine's relationship saw a few moments that forced them to confront their previous coupling and even a brief time when they gave love another shot.
Elaine admits to faking orgasms
Nobody wants to find out their significant other is less than satisfied during intimate moments. In the Seinfeld episode "The Mango," Elaine confesses she sometimes faked orgasms while dating Jerry. He's horrified by her admission and insists he'd like to make it up to her. Unfortunately, Jerry experiences erectile dysfunction during their encounter.
And that's not the only time Jerry and Elaine explore a sexual relationship again. In "The Deal," Elaine reveals she and Jerry had sex 37 times while they were dating, and during the episode, the pair has sex three more times.
Jerry and Elaine don't end up together because 'Seinfeld' wasn't meant to be neat and tidy
The sitcom Seinfeld didn't follow any rules except for the one Larry David set forth from the beginning: "no hugging, no learning." He never wanted the series to become a vehicle for moral instruction or a feel-good show like so many others. That's exactly why it makes sense that Jerry and Elaine don't get together in the end.
In the controversial series finale, Jerry and Elaine almost confess their love to each other when they think they're about to die in a plane crash. At that moment, Elaine says there's something she wants Jerry to know, and he replies there's something he wants her to know, too.
"Jerry, I've always …" she begins saying before the plane rights itself. With that, the moment is lost.
Many fans hated the 'Seinfeld' finale
Jerry, Elaine, George, and Kramer all prove they learned nothing throughout the show when they go to court for failing to help a carjacking victim. The four are still joking around even as they shuffle off to jail.
Fans hated the storyline, and the writers faced plenty of criticism for the ending's cynical nature. But for true Seinfeld fans, the show's conclusion made more sense than Jerry and Elaine tying the knot in a sappy ceremony. It wouldn't have made any sense. 
RELATED: The Worst 'Seinfeld' Episode Was So Cringeworthy NBC Had to Apologize