Sharon Stone Knew She Couldn't Turn Down Her Role in 'Ratched'
Sharon Stone made a rare TV appearance in Netflix's Ratched as Lenore Osgood. Lenore's quest for Dr. Richard Hanover's demise—and of course, her glamorous pet monkey, Petunia—were some of the highlights of the show's inaugural season, but what made Stone want to take on the sumptuous role?
In a press conference with the Ratched cast, Stone revealed that her excitement over the new Ryan Murphy show was in part inspired by Jessica Lange and Kathy Bates' performances in American Horror Story.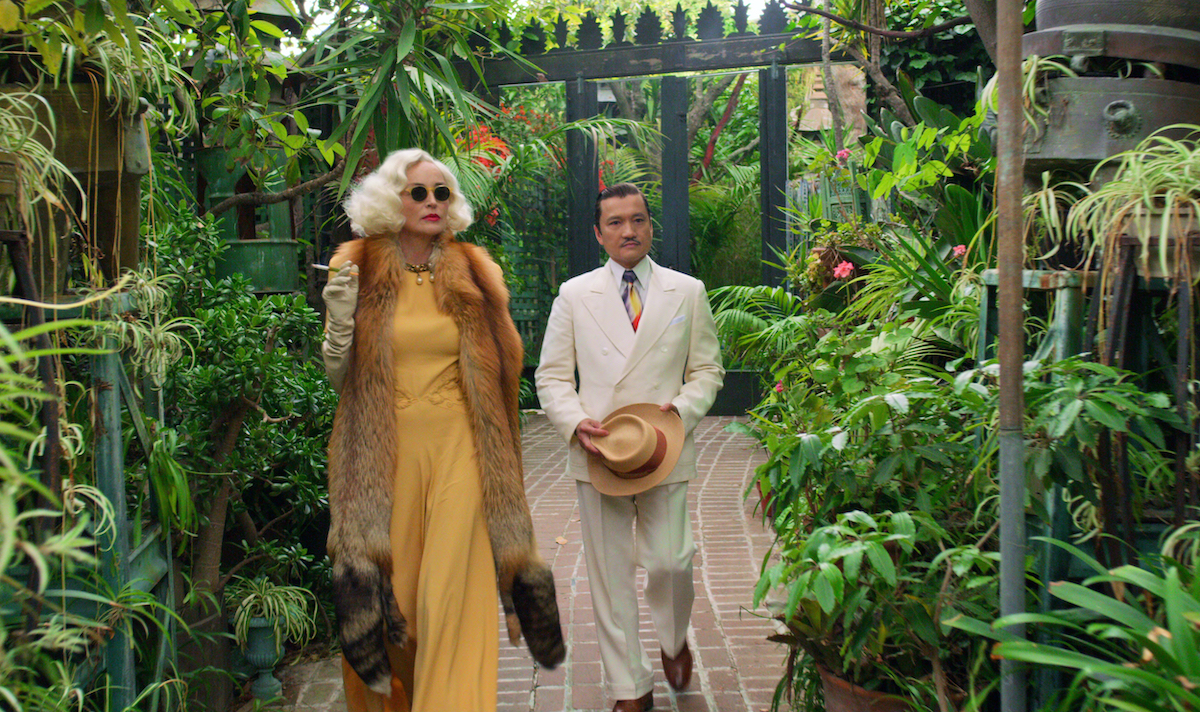 RELATED: There's Only One Similarity Between Ryan Murphy's Show and 'One Flew Over the Cuckoo's Nest
Sharon Stone loved watching Jessica Lange and Kathy Bates in 'American Horror Story'
As the star explained, "It's a series of things. A lot of things happen."
"When I heard that Ryan wanted to meet with me and that he had a part for me, [it was really exciting] because he's so brilliant," Stone continued. "And because I thought that other women that I had admired, like Jessica Lange and Kathy Bates, had done these incredibly interesting [kinds] of guest pieces in these other shows that were so interesting to me."
It's true that supporting characters in AHS are given plenty of room to shine. And the same goes for Ratched. Whether it be Gwendolyn Briggs feeding Mildred Ratched oysters in a picturesque seaside restaurant, a Bonnie and Clyde-type love affair between Edmund Tolleson and Nurse Dolly, or a triggered Charlotte Wells wreaking havoc on Lucia State Hospital, the Ratched supporting characters are to thank for some of the show's most memorable moments. It's not surprising Stone would be eager to get in on the action.
RELATED: If You Lived for Netflix's 'Ratched' You'll Be Obsessed With These 6 Shows
Sharon Stone saw Lenore Osgood as an interesting challenge
The 62-year-old star went on to share that Lenore and Henry Osgood's family secrets made for a fascinating acting challenge.
"As I started to look at the character," she said, "I liked that there were so many vagaries about her and that we had to figure out. First of all, why is she this kind of person? How the hell did she get there, to begin with? And what kind of backstory leads a person to be this thing? And so [in] building this character, [it's really] interesting because you have to find out what it is [Lenore's] covering up, and then what she's covered it with, and then what were those failures that made the character so insecure?"
Of course, viewers eventually learned of the reasoning behind Lenore's insatiable thirst for the death of Dr. Hanover. Henry had drugged the doctor and himself, leading to an intense trip that resulted in the teen taking a chainsaw to his own arms. That led to an infection that prompted the amputation of both his legs, leaving Henry limbless. Lenore blamed Dr. Hanover for her son's self-inflected misfortune because he promised he could cure Henry's mental illness.
RELATED: 'Ratched': Why Ryan Murphy Used So Much Red and Green in the Series
Petunia the monkey was more than just a pet in 'Ratched'
Stone explained that this troubled backstory was thrilling to explore, adding that Lenore's pet monkey became a physical manifestation of the chip on her shoulder.
"[There was] this enormous failure that caused this internal schism and that caused her to, ultimately, have a monkey on her back, both literally and metaphorically," she said. "What is the metaphorical monkey on the back, and what is the intimacy? What is the intimate relationship with the metaphorical monkey on the back? I thought all of this was really interesting."
As she continued, "I thought [at one point], we could erase the monkey at the end and that it would all be the same. The character would be the same character, even if we took the monkey out because it all ultimately meant the same thing for the character. And so it was just a really different process and a different type of character than I'd ever approached before. And I thought that that was going to be—and it was—very challenging and really interesting."