'Spider-Man: No Way Home': Tom Holland Shares That the Marvel Film Contains 'One of the Coolest Scenes' He's Ever Acted In
Tom Holland is notorious for accidentally revealing spoilers about the Marvel Cinematic Universe films. But he seems determined not to spoil what could be his last movie playing Peter Parker. Recently, Holland did an interview where he teased Spider-Man: No Way Home and discussed one of its scenes. But he remained tight-lipped on the exact details of the scene.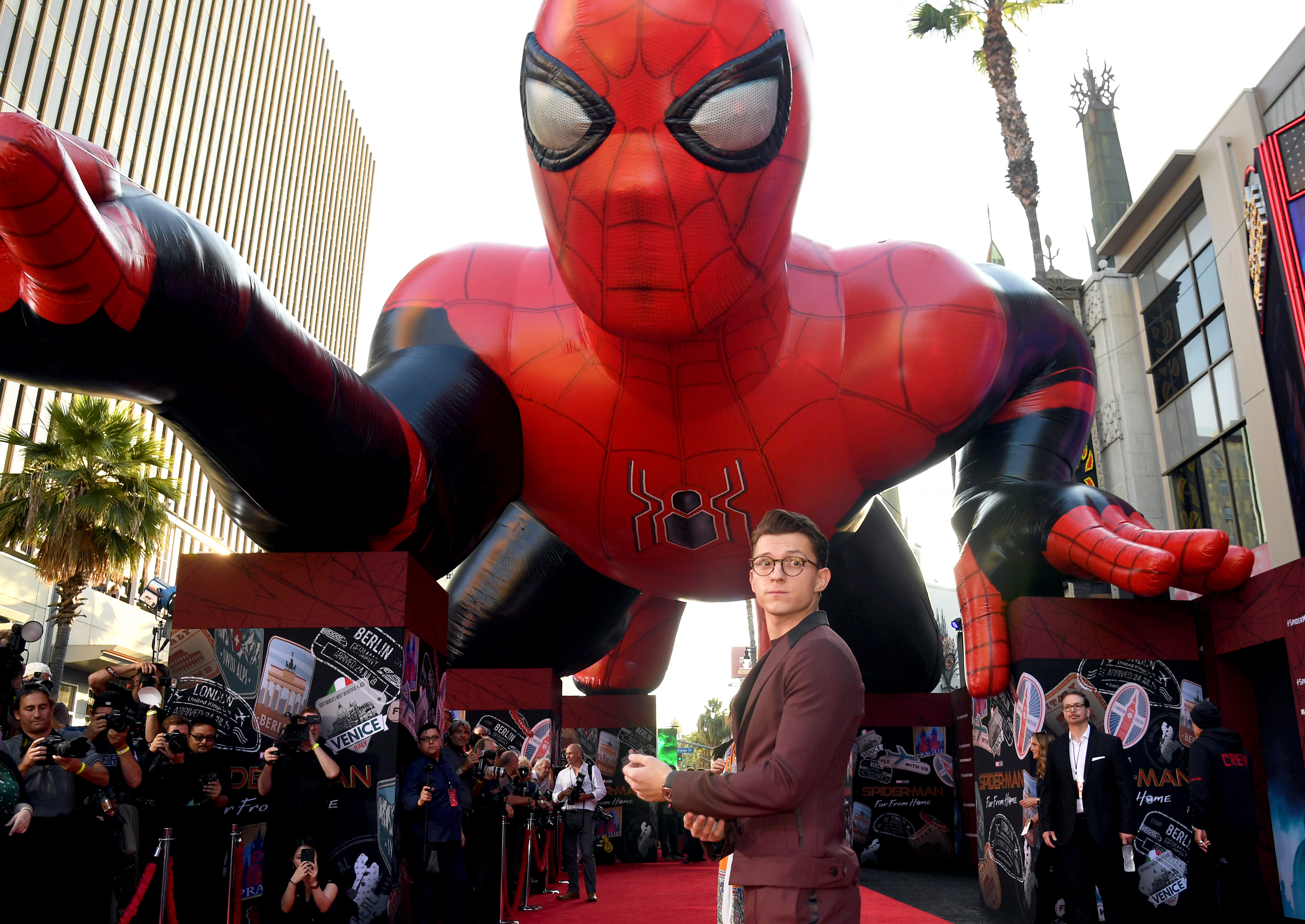 Tom Holland teases an epic scene in his new Marvel movie
The new issue of Empire's magazine features an exclusive interview with Tom Holland where he discusses Spider-Man: No Way Home. Holland told the publication that the film contains "one of the coolest scenes I've ever shot." And he teased that the scene in question includes a mystery character whose identity he can't reveal.
Holland did divulge that the scene contains four characters; himself as Peter, Marisa Tomei as Aunt May, Jon Favreau as Happy Hogan, and the unknown character. He said, "It's four people sitting at a table, having a conversation about what it's like to be a superhero, and it was amazing. The other day we watched the scene, my brother and I, and our jaws were on the floor."
Who could this mystery character be? Is it Benedict Cumberbatch as Doctor Strange? Or Robert Downey Jr. as Tony Stark after miraculously being brought back to life? Or, perhaps, the character is played by one of two actors who are rumored to appear in Spider-Man: No Way Home.
Will previous Spider-Man actors join Holland in the new MCU film?
Marvel fans will probably take Holland's comments as confirmation that Tobey McGuire and Andrew Garfield reprise their roles as Peter Parker in Spider-Man: No Way Home. And we wouldn't be surprised if one of the actors is the mystery person in Holland's favorite scene.
In the months leading up to Spider-Man: No Way Home, many fans have speculated that McGuire and Garfield are in the movie. As many know, the film introduces the concept of the multiverse. And what better way to portray the multiverse than get two previous Spider-Man actors to join in on the fun?
Of course, every party involved, from Andrew Garfield to Tom Holland, has denied this rumor. But if Marvel has taught their fans anything, it's not to trust what anyone says. Unfortunately, though, fans will just have to wait until Spider-Man: No Way Home hits theaters to see if McGuire and Garfield appear in the movie.
'Spider-Man: No Way Home' comes to theaters on Dec. 17
Spider-Man: No Way Home's premise reads, "With Spider-Man's identity now revealed, our friendly neighborhood web-slinger is unmasked and no longer able to separate his normal life as Peter Parker from the high stakes of being a superhero. When Peter asks for help from Doctor Strange, the stakes become even more dangerous, forcing him to discover what it truly means to be Spider-Man."
After Mysterio reveals Peter's identity to the world in Spider-Man: Far From Home, Peter has a lot on his plate. In the trailer for the third film, Peter turns to Doctor Strange for help. He wants to make the world forget he is Spider-Man, but he doesn't want his loved ones to forget too. Unfortunately, Peter's tampering with Doctor Strange's spell seems to break open the multiverse. And that's where Green Goblin and Doctor Octopus come in.
Spider-Man: No Way Home premieres exclusively in theaters on Dec. 17.