Stuart Martin Says William and Eliza Are 'One Step Closer' to a Relationship in 'Miss Scarlet and The Duke' Season 3
The will-they-or-won't-they vibes continue in season 3 of PBS's Miss Scarlet and The Duke. The mystery drama returns with new episodes on Jan. 8, and series star Stuart Martin says the romantic tension between his character and Kate Phillips' Eliza Scarlet is only becoming more pronounced. 
Stuart Martin weighs in on what's in store for Eliza and William
In the Miss Scarlet and The Duke Season 2 finale, William "The Duke" Wellington (Martin) was preparing to leave London for a new post in Scotland. That led to an emotionally charged scene in the final moments of the episode where it seemed like Eliza – London's first (and only) female detective – was about to declare her feelings to her childhood friend before he left the city for good. But when William revealed that he'd be staying at Scotland Yard, she backtracked, and we never heard what she planned to say to him. 
The moment was the strongest indication yet that Eliza has begun to accept that her feelings for William might be romantic. But fans shouldn't expect the two to dive into a relationship right away in season 3, though Martin says things might be heading in that direction. 
"In season 3, we start straight back in with The Duke and Eliza in their very sort of familiar relationship," Martin said in a video PBS shared on Twitter. 
"We get to see they've been on a few dates together," he said. "And we get to see them getting very close … you're one step closer to them moving forward with the relationship in a sense." 
However, any growing affection between the two detectives will be balanced by their ongoing rivalry. 
"You still have that pull and the competition and all those sorts of things there," Martin said.  
Kate Phillips says 'some deeper feelings are revealed' in 'Miss Scarlet and The Duke' Season 3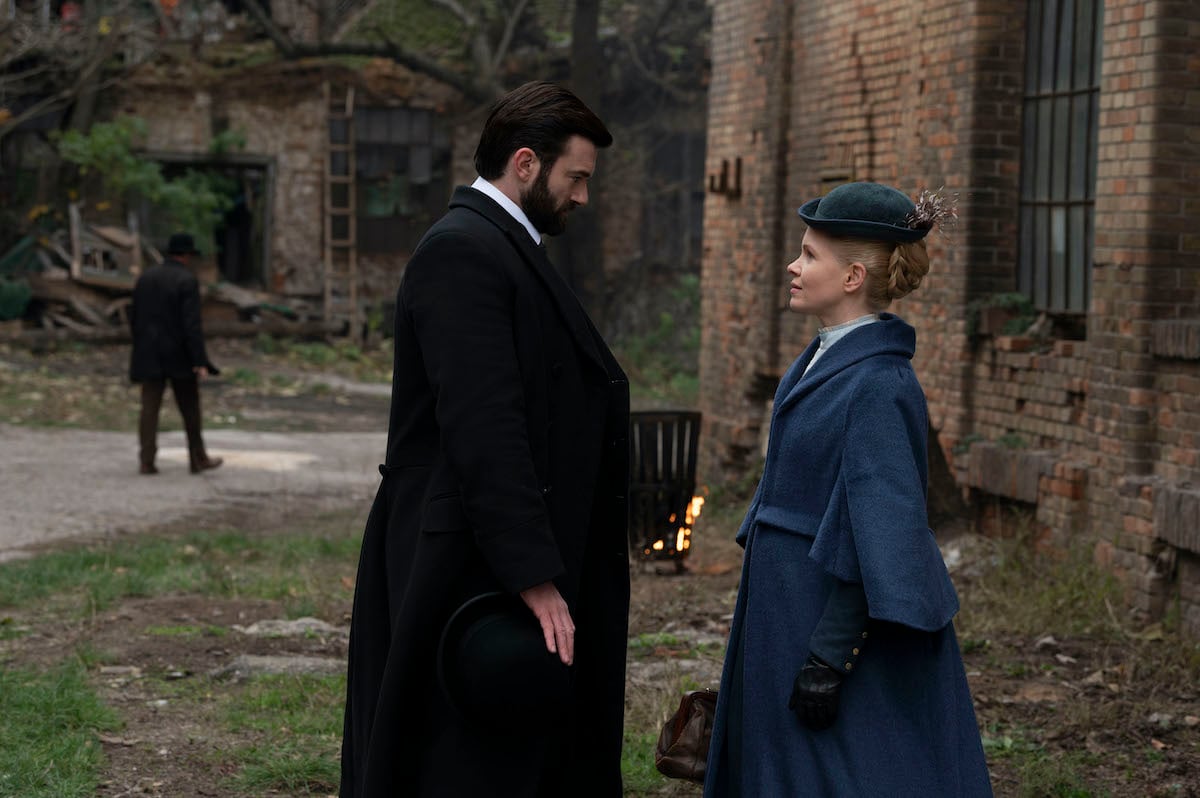 Phillips said that Eliza and The Duke's relationship is continuing to evolve. 
"I'd say that their relationship has matured and that the spark between them is still ever present," she said of Miss Scarlet and The Duke Season 3.
Could it take an outsider for the pair to finally admit how they feel about each other? Perhaps.  
"I think that anything deeper that they might share starts to become revealed when other people are brought into the fold and their relationship is tested and maybe some deeper feelings are revealed," Phillips said. 
What to expect in 'Miss Scarlet and The Duke' Season 3
Viewers will have to wait and see how Eliza and William's relationship evolves. But Phillips does promise that season 3 shows "a lot more of Eliza's vulnerability." 
"A couple of characters come on the scene that really test her emotional stability," she told PBS. In episode 2, for example, Eliza reconnects with a woman named Arabella who made her miserable when they were children. Her relationship with fellow private detective Patrick Nash (Felix Scott) also "comes to a head" in episode 3. But at the core is Eliza's dynamic with William.
"I think what the fans will enjoy most of all is really observing the strength of Eliza and Duke's relationship through everything that goes on over the course of Season 3," Phillips said. "There's a lot of obstacles that come their way."
Miss Scarlet and the Duke Season 3 premieres Sunday, Jan. 8 at 8 p.m. ET. All season 3 episodes are also now streaming on PBS Passport. 
For more on the entertainment world and exclusive interviews, subscribe to Showbiz Cheat Sheet's YouTube channel.