Suga's Favorite PSY Song Isn't 'Gangnam Style'
BTS' Suga wrote and produced PSY's 2022 release, 'That That.' Here's what he said about working with PSY and his favorite song from the 'Gangnam Style' artist.
Suga is one of the masterminds behind PSY's "That That." The BTS member even appeared as a featured artist in this song, dancing alongside PSY for the YouTube video. With several years separating these artists, Suga shared that he would listen to PSY's music as a child, even naming his favorite original by the "Gangnam Style" singer.
BTS' Suga is also the solo artist Agust D (and a songwriter/producer)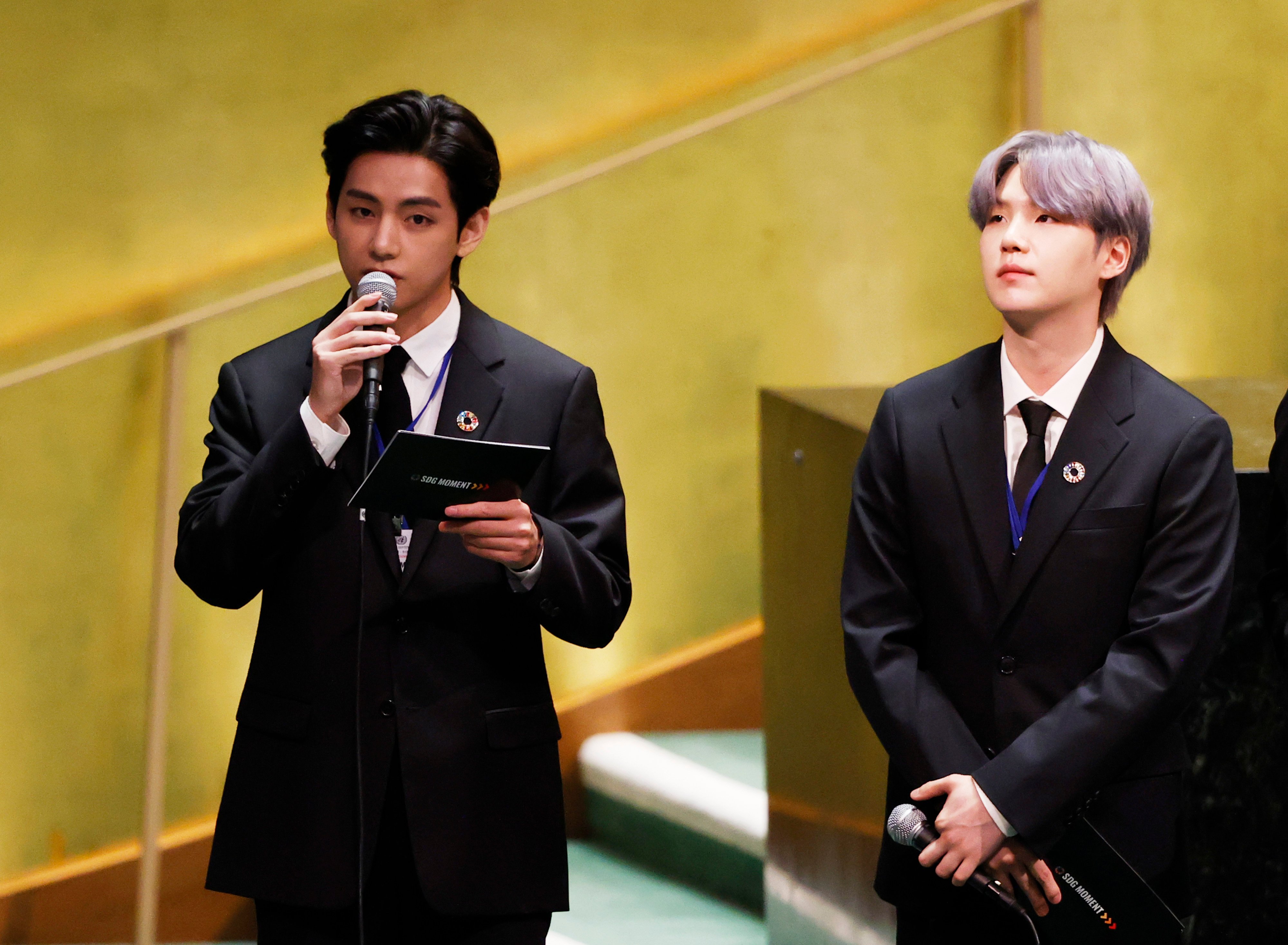 Best known as BTS' rapper Suga, Min Yoongi is also the solo artist Agust D, releasing "Daechwita" and other original hits. Suga also writes and produces music for other artists. Recently, that included the 7FATES: CHAKHO soundtrack, which featured BTS' Jungkook as a vocalist. 
In 2022, that included PSY's "That That." He even starred in the music video, dancing and rapping alongside the "Gangnam Style" singer. (PSY is also known for songs like "Gentleman" and "DADDY."
Suga said that his favorite PSY song is 'Shower'
Following the release of "That That," Suga took to V Live, chatting with fans about his experience writing and recording the song. One ARMY asked what kind of person is PSY. As the artist behind "Gangnam Style," PSY had already cemented his reputation as one of the biggest names in K-pop. 
"He's really — I don't know," Suga said, according to a translation on the YouTube video. "I grew up listening to his music, and many people know him for 'Gangnam Style.' But my favorite song by PSY was 'Shower.' He wrote it."
PSY originally wrote this song for Kim Jang Hoon following his second military enlistment. The artist later performed at Kim Jang Hoon's concert in 2011. 
"I listened to it as a kid, and he's like super senior to us, so I was worried at first, but he was so considerate, and he was so sweet. So I had a lot of fun working with him," he added. This wouldn't be the only time Suga commented on his experience working with PSY.
"To be honest, I haven't gotten that close with anyone I collab[orate] with. It's because I'm not usually the type to meet up with collaborators in person," Suga said during one promotional video. "But [Psy] he wanted to see me in person."
BTS' Suga shared some of the inspiration behind 'That That'
During the same live stream, this artist mentioned his songwriting process and how it differs between writing for himself, BTS, and other artists. He tried to capture PSY's "vibe" with "That That," also keeping the song's release date in mind. 
"Since summer is just around the corner, I wanted to write something that went well with the summer vibes," he said. 
Suga came up with this song's hook. He also worked as a producer on the track. However, this rapper's first idea for "That That" was scrapped by PSY's team. (Don't worry, Suga said he might use it for something later.)