'Survivor' Season 41: Jeff Probst Explains His Hoarse Voice, Says He 'Forgot How to Yell Properly'
Jeff Probst is more excited than ever now that Survivor Season 41 is finally airing. This season contains a quick 26-day gameplay and more twists than ever before. And fans noticed Probst's voice sounded hoarse during challenges and Tribal Council, especially in Survivor Season 41 Episode 6. Here's what Jeff Probst said about sounding sick in the new era of the show.
'Survivor' Season 41 Episode 6 features Jeff Probst yelling excitedly during the merge challenge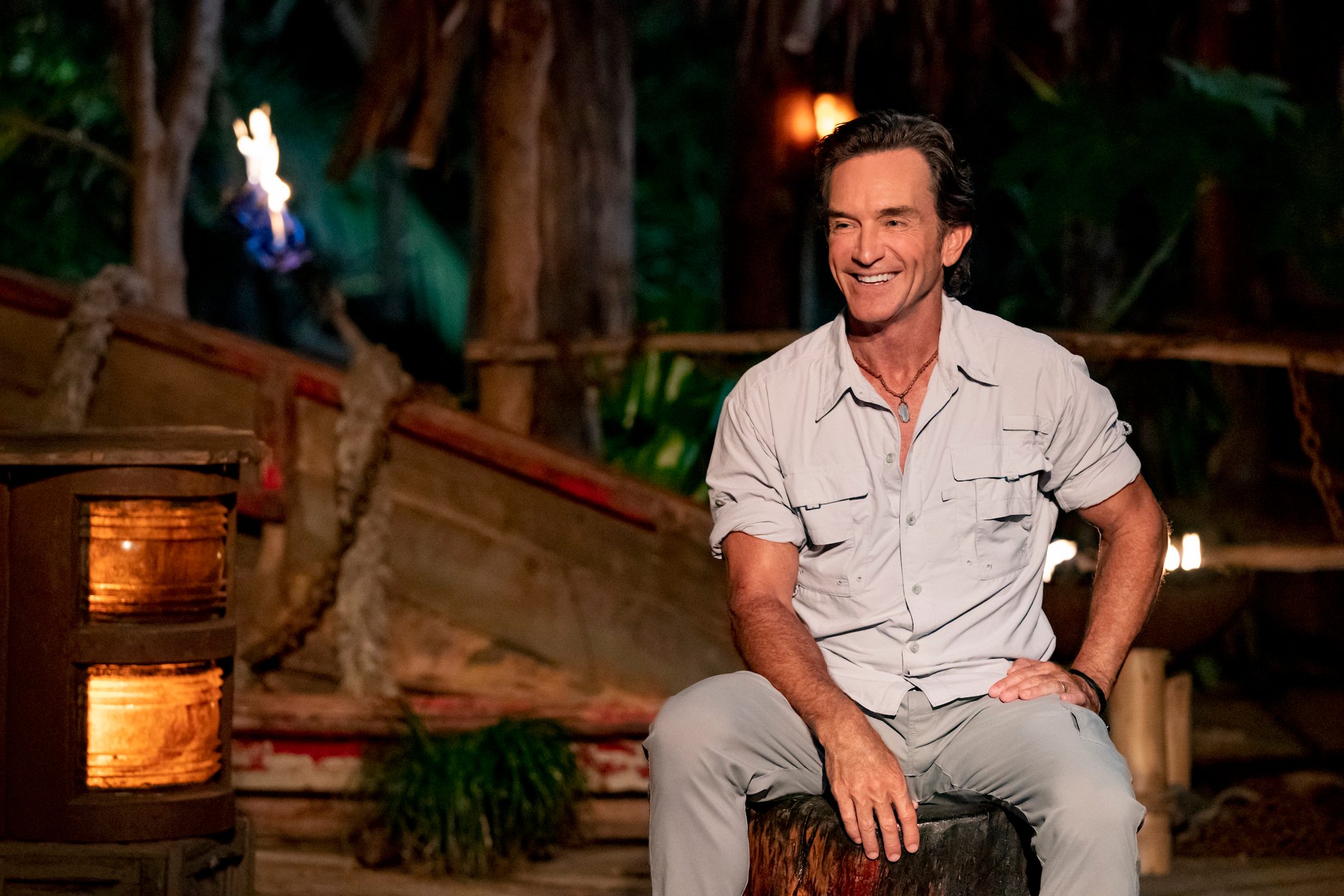 Jeff Probst is infamous for getting deeply invested in the gameplay, and Survivor Season 41 is no different. Fans see Probst excitedly commenting during each daily challenge, and he talked about how much he loves the group of players in season 41.
"I told you, I love this group of players," he told Entertainment Weekly. "I have no favorites. I hated every Tribal. I really did."
Fans can see Probst's enthusiasm during the merge challenge in Survivor Season 41 Episode 6, too. The remaining players dropped their Tribe buffs and split into two teams to compete for the merge feast and safety in the game. The daily challenge involved digging a giant boulder out of a sandpit and then creating a human ladder to climb onto a platform to solve a puzzle.
One moment of the merge challenge had Probst praising the yellow team for their incredible teamwork. "Look at that!" Probst yelled as Heather was pulled onto the platform. "One of the most amazing displays of teamwork in the history of this game!"
The host explained why some fans thought he was sick during the season
Some Survivor Season 41 fans worried whether Jeff Probst was sick after hearing his voice. Fans seemed to notice Probst sounded hoarser than usual during the daily challenges and at Tribal Council. And the Entertainment Weekly interviewer broached the subject with Probst once again.
Thankfully, it seems Probst didn't fall ill during the season. Instead, he explained he started to lose his voice because of the intensity of his yelling.
"Yeah, this is embarrassing," Probst noted. "I think my ANNOYING YELLING!!! is simply the result of me being away from Survivor for too long during COVID. I forgot how to yell properly. It's that simple. It is possible to be excited and full of adrenaline and still not lose your voice. Rookie mistake. I blame only myself."
Fans can anticipate even more yelling as the season progresses. Probst noted, "The back half of this season is just as strong as the first half," which likely means more intense challenges and shocking twists.
What would happen if Jeff Probst got sick? Who would replace him?
So, what would happen if Jeff Probst got sick while filming Survivor? Reddit users guessed it's already happened, and production stepped in to take over for Probst without fans realizing it.
"I always assumed this is what happened when they send the tribes those 'DIY challenge' kits on their beach in the later seasons and they perform the challenge with no Jeff interaction," a Reddit user explained. "Very curious what their plan would be long-term." Another fan guessed production would pay a popular Survivor alumni to temporarily take over, especially to host a reunion show.
The good news is Survivor Season 41 follows intense coronavirus (COVID-19) protocol, so the odds of contracting the virus while on the show remain quite slim.
Survivor Season 41 airs Wednesdays at 8 p.m. EST on CBS.
Check out Showbiz Cheat Sheet on Facebook!